HYBE subsidiary Big Hit Music is looking for new producers as part of its 2021 Next New Creator (NNC) with Big Hit Music' audition.
Since the NNC Project was first created in 2016, Big Hit says that it has discovered producers both in Korea and overseas and has "provided opportunities for them to present their musical prowess".
Big Hit says that it is "looking for a producer ready to step onto the global music industry stage".
Producers must specialize in pop music and anyone can apply regardless of age, education or experience, the company says.
Under 'preferences', the poster reads: 'a producer with an excellent understanding of the global music market and trends'.
Producers should submit between 2-5 demos, a complete track with melody and lyrics or only the track itself. Both individual or team submissions are welcome.
Demos should also sound "sufficiently competitive in the global music market (with potential to rank in the global major music charts) to show the best of your talents and tastes," the brief recommends.
---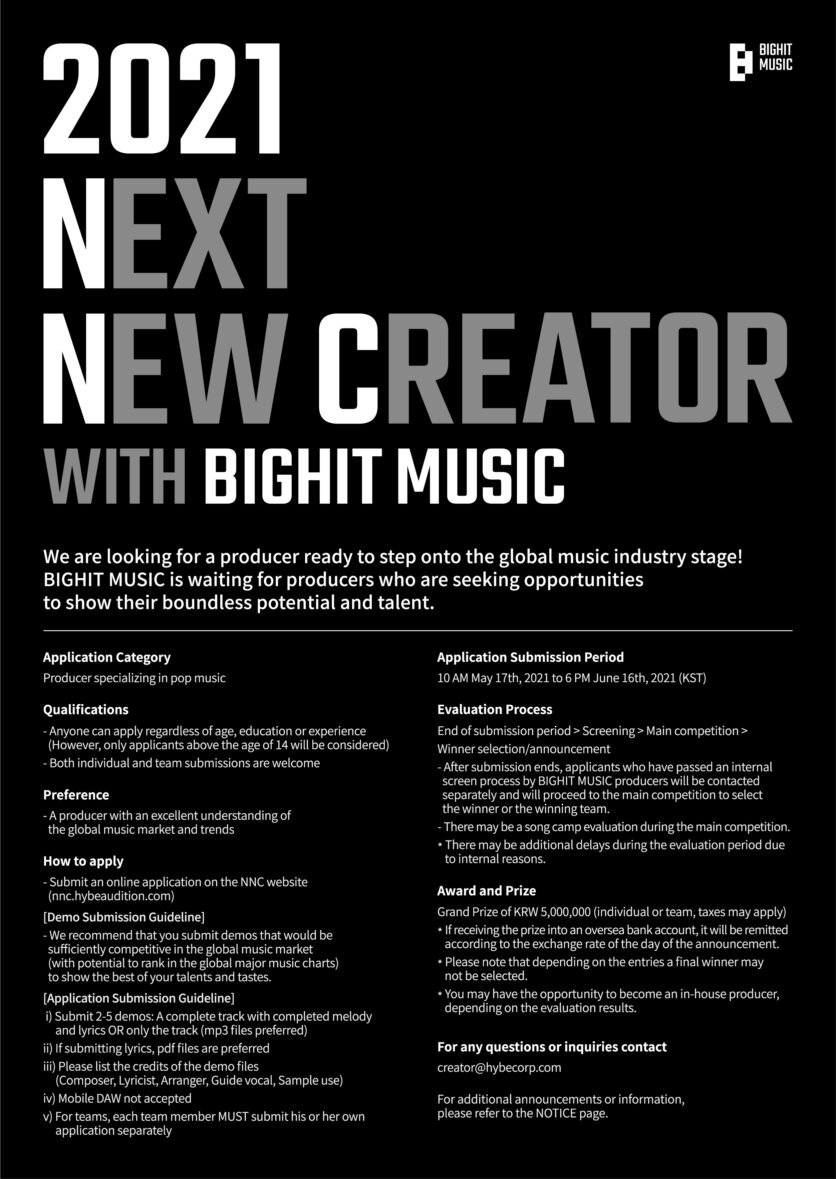 ---
After the submission period ends, applicants who pass an internal screening process by Big Hit producers will be contacted and proceed to the main competition. There may also be a song camp evaluation during the main competition.
The final winner – either individual or team – will be awarded a grand prize of KRW 5,000,000 ( approximately $4,500, according to current exchange rates as per the Financial Times).
The winner may also have the opportunity to work as an in-house producer of Big Hit.
Online applications opened earlier this week at 10 AM KST on May 17 and can be submitted through its website here.Music Business Worldwide