Tidal unveiled its first major artist exclusive on Saturday evening, and its source was no great surprise: Beyonce's new track, Die With You.
When the star's husband Jay Z took the wraps off his relaunched Tidal last Monday (March 30), he not only promised HD audio and visual content to subscribers, but teased exclusives from some of the world's biggest artists.
That came to pass within days, with 'exclusive' content on Tidal including concert footage from Alicia Keys plus playlists from the likes of Jason Aldean and Coldplay.
Beyonce's Die With You, however, is the first track to premiere on the $19.99/$9.99-per-month Tidal platform. It is currently unavailable – legally – elsewhere, including Spotify and iTunes.
But there's a problem. The nature of an 'exclusive' surely demands that fans don't rip the title and upload it onto YouTube – and that's exactly what they've done numerous times with Die With You.
In fact, it was on the video site within minutes of arriving on Tidal.
Sony Music Entertainment appears to have been submitting copyright claims left, right and centre on YouTube, but to little avail; Die With You, released on the seventh anniversary of Jay Z and Beyonce's marriage, just keeps on cropping up in new channels on Google's platform. It's easy to find: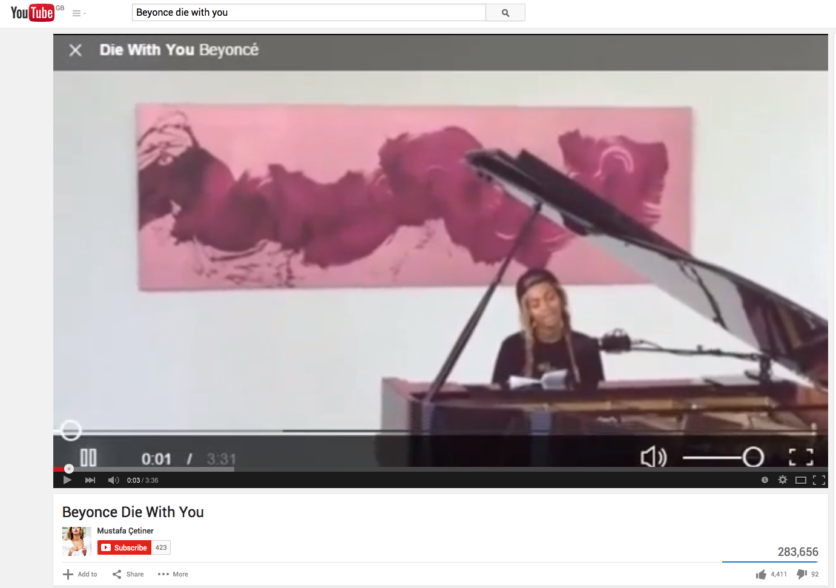 It's the same story for Rihanna's American Oxygen; the star's new single, another Tidal exclusive, which appeared on the service last night.
The two tracks are an interesting test case for the idea that premium content can be successfully released behind a pay-gate and held back from free services.
That's exactly the model that's got the likes of Lucian Grainge excited about Vessel, the $2.99-per-month video subscription service which will receive occasional windowed exclusives from Universal and Warner in the coming months.
Perhaps the most worrying element of the new Beyonce Tidal release is the culture of acceptance around free music that continues to prevail, both amongst fans and in the media.
Popular websites such as Pitchfork, Context and Quartz have all embedded the YouTube rips of the song in their reports of its release.
If a new video game or blockbuster movie appeared on torrent sites, would mainstream websites link to its whereabouts?
If not, then why is this acceptable for copyrighted music?
The answer to that question represents a real challenge to Tidal – not to mention any service asking fans to pay for artist 'exclusives' in an age where YouTube is the most popular online music player on the planet.

Music Business Worldwide