Each week, The MBW Review gives our take on some of the biggest news stories of the previous seven days. This week, we're take a speculative look at whether Lemonade – the greatest blockbuster album experiment for some time – is paying off for Beyoncé and her label. The MBW Review is supported by FUGA. (The views in these articles are those of the writer and are not necessarily endorsed by our supporter.)
---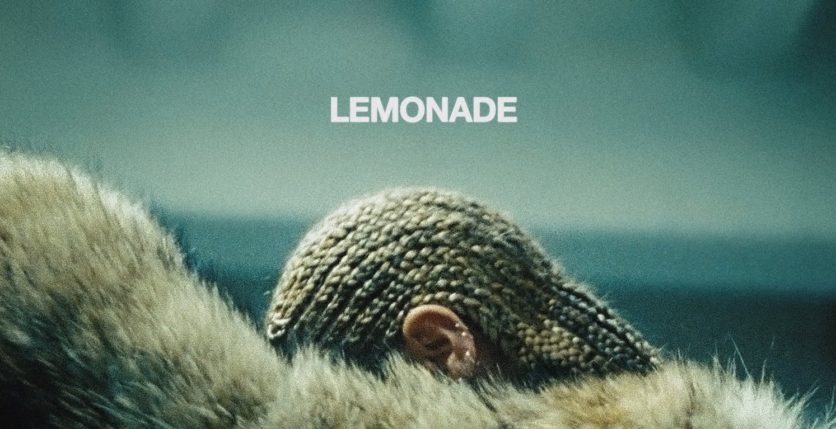 I'mma let you finish, but Beyoncé had one of the most hotly-debated album rollouts of all time.
As MBW reported over the weekend, the superstar's Lemonade appeared as a TIDAL exclusive on Saturday (April 23), spurring both a major boost for the streaming service – and rather a lot of piracy activity on torrent sites.
Yet those who thought the Texas-born superstar and her label, Columbia, had fluffed Lemonade's release will be eating their words now.
Because although the album took over 24 hours to come to iTunes, and isn't quite reaching the download heights of it predecessor, it currently has two huge things going for it:
(i) It's going to storm the US charts this weekend anyway; and
(ii) It's priced significantly higher than your average new blockbuster record – meaning every one of its 375k+ US online sales so far will have been extra sweet for Sony.
Last night, US sales monitor BuzzAngle told MBW that Lemonade is currently the No.1 album on its week-to-date chart – across the five days from Friday (April 22) through Tuesday (April 26).
As a result, it's looking odds-on to be the nation's No.1 this Friday.
Most importantly, BuzzAngle reports that Lemonade sold 439,830 album project units in the US across this period  – including 375,000 sales on iTunes/Amazon alone.
Now, Lemonade was released on TIDAL on Saturday night as its 'visual album' special aired on HBO.
Yet didn't land on iTunes in the US until the very early hours of Monday (April 25). So BuzzAngle's figures only really represent two days of full 'proper' album sales on non-TIDAL outlets.
In other words, Lemonade sold an average of 187,500 US downloads per day across Monday and Tuesday.
Here's the really killer thing, which has been a bit overlooked in amongst all of the TIDAL/piracy/did Jay-cheat-or-is-this-a-fictional-construct-oh-probably-the-latter debate: Lemonade is slyly priced at a premium on iTunes, at $17.99. (This isn't a US-only decision – it's £13.99 in the UK.)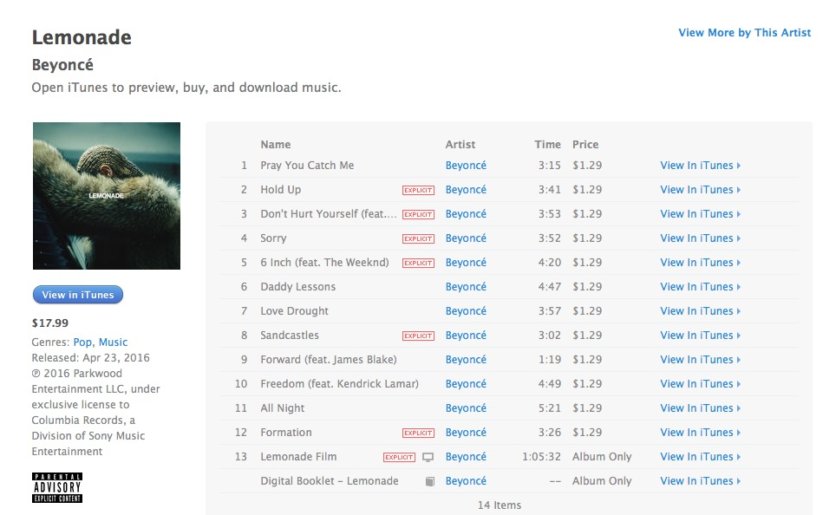 That's significantly higher than the standard album price on Apple store. Adele's 25, for instance, is $10.99 on iTunes in the US today.
Beyoncé's biggest rival for the No.1 US chart spot, Prince's Purple Rain (210,000 combined five-day sales, says BuzzAngle), is $9.99.
Lemonade's pricetag is even higher than the $15.99-per-unit cost of Beyonce's last big cultural moment – when she shock-released her self-titled previous studio album in December 2013.
So let's break that down.
If Lemonade is selling 187,500 downloads a day in the US right now, it's turning over $3.37m every 24 hours – on download stores alone.
Across just Monday and Tuesday – and remember, we haven't even touched streaming yet – that equated to $6.75m.
Now, back in 2013, Beyoncé's last album had much more going for it, sales-wise:
It wasn't available on any streaming services;
It hit iTunes on day one, rather than pushing impatient non-TIDAL fans to pirate services;
The US download market was very significantly stronger than it is now. (Total annual US music download sales, according to the RIAA, fell by more than $500m between 2013 and 2015.)
Estimates in the market from 2013 suggested that Beyoncé's Beyoncé sold 617,000 during its first three days on sale.
That works out at 205,666 copies per day – a chunk higher than the 187,500 per day we're crediting to Lemonade.
Don't panic.
Remember that Beyoncé's Beyoncé cost $2 less per unit than Lemonade ($17.99 > $15.99).
Therefore, Beyoncé was actually averaging $3.29m in album download revenue per day in 2013 – less than Lemonade is right now.
And get this. The 2013 album was only available to buy in full. Fans couldn't handpick tracks – it was all in, or nothing.
With Lemonade, fans can un-bundle the album till their heart's content on download sites.
Just look at the US iTunes song download chart today:
Formation – Beyoncé
Hold Up – Beyoncé
Sorry – Beyoncé
6 Inch – Beyoncé
One Dance – Drake
Don't Hurt Yourself – Beyoncé
Freedom – Beyoncé
7 Years – Lukas Graham
Panda – Desiigner
All Night – Beyoncé
She also has four of the next ten most popular tracks on today's chart.
Every one of those downloads comes with a pricetag of $1.29.
Back to BuzzAngle's five-day figures: 439,830 'album project units' – 375,000 sales.
Take one from the other, and we're left with 64,830 album equivalents.
Right now, we don't know how much of this is streaming and how much is download.
BuzzAngle equates 10 track downloads to one album sale, but also 1,500 on-demand streams.
[Update]: If you cut the 64,830 figure into halves – with 50% taken up by download and the other 50% by streaming – you're talking about 324,150 downloads and 48.6m streams.
On this (very conservative) basis, a bit more financial maths: 324,150 X $1.29 (iTunes download price) = $418,154.
And then we get into Lemonade's exclusive streaming partner, TIDAL.
Last year, TIDAL claimed its average per-stream payout was $0.026. Across Lemonade's 48.6m streams in our guesstimate, that's another $1.26m.
All of which means that Lemonade will have taken over $8.3m in its first five days of availability in the US, with its biggest cash cow – downloads – providing somewhere around 85% of revenue.
(If anything, our estimate is actually too generous to TIDAL/streaming and not generous enough to track downloads – although the former is a wholesale figure.)
TIDAL is providing a small amount of Lemonade's total income – an album that's already proven itself able to sell in huge numbers as a premium transactional product.
So… was Beyonce's commitment to TIDAL a mis-step? Depends on how you look at it.
Beyonce is believed to own 3% in the streaming service. Her husband, Jay Z, is the majority shareholder.
Look what's happened to TIDAL's most-downloaded chart position on the iOS App Store in the US before and since Lemonade's release.
On Saturday, according to App Annie, it was the third most popular music app download.
On Sunday (April 24), it became the No.1 – and it's stayed there ever since, above the likes of Spotify, SoundCloud and Pandora.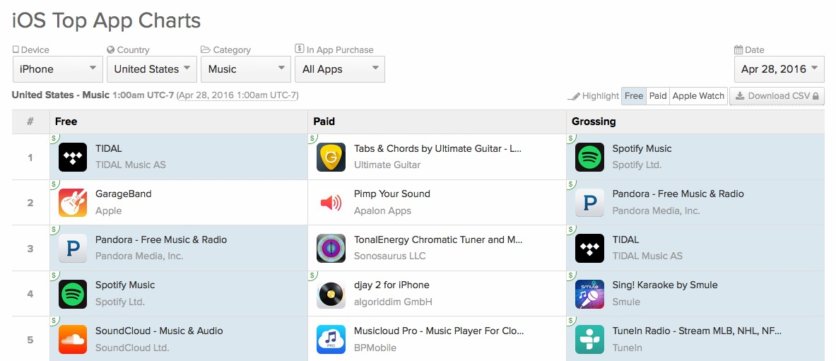 Meanwhile, TIDAL's currently looking very secure as the third highest-grossing music app (daily) on iOS, behind Spotify and Pandora but comfortably above Rhapsody, YouTube Music and Slacker Radio.
So Lemonade appears to have done much more for TIDAL than TIDAL's done for Lemonade.
Namely, making the streaming service a far more attractive prospect for would-be acquirers like Samsung.
As a result of Lemonade, TIDAL has enjoyed many more sign-ups, much higher brand awareness, a sustained run at No.1 on the US app chart and an increasingly solid subscriber income.
When TIDAL gets sold – and I for one can't see Jay Z sticking around too long with what must be a loss-making entity – Beyoncé the shareholder will collect her winnings.
She won't see any such a windfall when Spotify IPOs – that'll all go to investors and the major labels. Despite it being a business completely built off the popularity of superstar artists like… Beyoncé.
Right now, the former Miss Knowles – in tandem with Jay Z, Columbia and Sony – seems to be sitting pretty.
Beyoncé did what she needed to do for her business interests.
Columbia got its way by putting Lemonade on iTunes – even though it had an agonizing wait.
Someone, somewhere, made a hell of a call on the retail price of the album.
The only person tasting bitter lemons right now?
That would be Daniel Ek.
---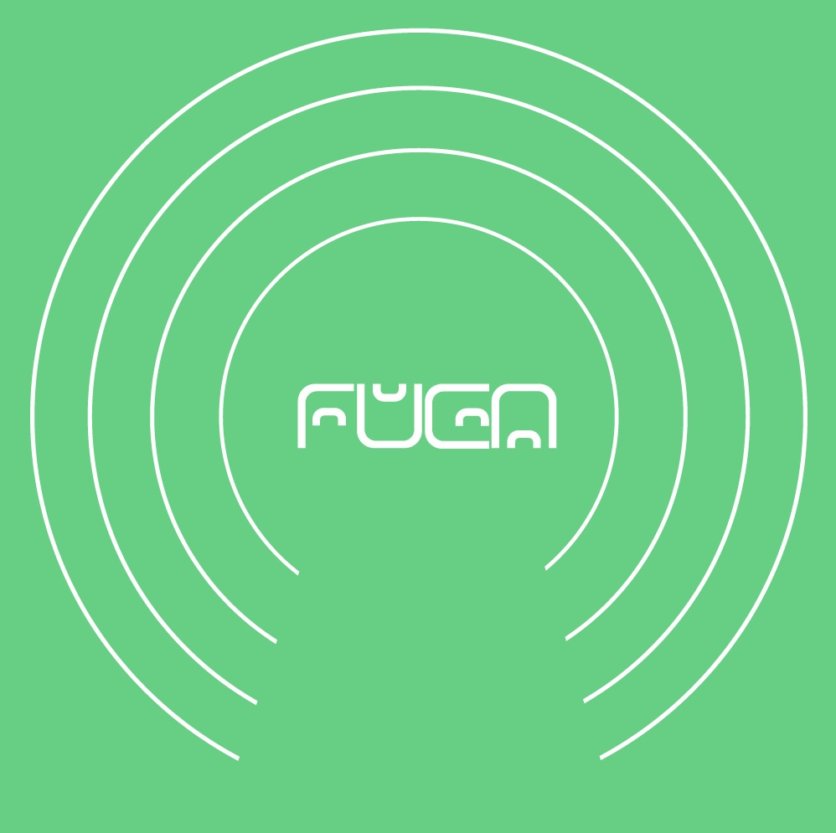 The MBW Review is supported by FUGA, the high-end technology partner for content owners and distributors. FUGA is the number one choice for some of the largest labels, management companies and distributors worldwide. With a broad array of services, its adaptable and flexible platform has been built, in conjunction with leading music partners, to provide seamless integration and meet rapidly evolving industry requirements. Learn more at www.fuga.comMusic Business Worldwide