Believe, which listed on the Paris stock exchange this summer, has revealed its interim financial results for the first six months of 2021.
On an organic basis, Believe's global revenues rose 30% to €260 million (USD $315m) in the half-year period, up from €196 million in the same period of 2020.
The biggest driver for that uptick was Believe's 'Premium Solutions' segment – i.e. the divisions of the company that offer premium distribution and services to artists and labels (including labels owned/co-owned by Believe).
Believe generated €243 million from 'Premium Solutions' in the six months to end of June 2021, also up 30% on an organic basis versus the same period of 2020.
Believe's other key business segment – 'Automated Solutions' – represents its TuneCore business, which offers DIY artists worldwide distribution plus additional services.
TuneCore saw its net revenues rise to €17 million ($20.6m) in H1 2021, up from €15 million in the prior year.
(TuneCore actually generates hundreds of millions of dollars each year in gross revenues / collections, but pays 100% of royalty money out to its artist clients. The net revenues here represent the subscription money its users pay Believe in order to upload music and use other TuneCore services.)
Both 'Premium Solutions' and 'Automated Solutions' rely on central technology at Believe ('Central Platform'), which swallowed €28 million ($34 million) in cost during the H1 2021 period.
That in turn left Believe with an adjusted EBITDA profit of €7 million ($8.5 million) at the 2021 mid-year – an improvement on the €6 million EBITDA loss that the business posted for the H1 2020 period.
Believe posted an operating (EBIT) loss of €14 million ($17m) for the H1 2021 period, a narrowing of the €17 million operating loss posted in the prior-year equivalent period.
Denis Ladegaillerie, Believe Founder and CEO, said: "Believe has experienced strong revenue growth in H1 2021. While we benefit from structural market growth trends, this growth also reflects our unparalleled appeal to a new generation of independent digital artists looking for go-to-market solutions and a wide range of expertise.
"Throughout the period, we kept investing on our cutting-edge platform to capture further growth and drive geographic expansion. As highlighted by our FY2021 guidance upward revision, we are on the right track to reinforce our development and continue to pursue our objective of profitable growth while achieving our mission to help build a better, more diverse, more respectful, more transparent and fairer future for all artists."
---

---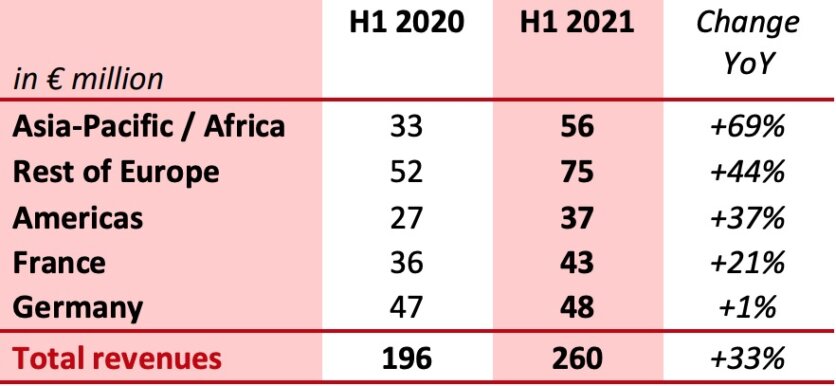 ---
In Q2 2021, said Believe, its quarterly revenues reached €136 million, up by 36% on an organic basis versus the same period of 2020.
Based on its H1 and Q2 results, Believe said today that it now expects to exceed its previously-stated annual revenue growth expectation of 20% across 2021.
Instead, said Believe, it's now expecting annual growth of "at least 23%" over the course of this year versus 2020.
Believe said in an investor update: "Revenues in the next two quarters are expected to grow at a lower rate than in Q2 2021, as the recovery in digital services activities related to the add-funded streaming started improving in Q3 2020 and returned to previous trends towards the end of the year. Believe [also] anticipates a decrease in physical sales in H2 2021."
As a result of higher organic growth expectations, Believe also says it anticipates reporting an adjusted EBITDA margin for 2021 slightly above its 2020 level of 1.7%.
"As Believe will continue to substantially invest in its commercial and marketing development and central platform to support the strong growth of its businesses, the margin expansion in full year 2021 in comparison with 2020 is anticipated to remain moderate," said the company.
Believe noted its highlights of the H1 2021 period as including "an innovative partnership with Spotify on [its] Discovery Mode platform".
In addition, Believe pointed to TuneCore's launch of its 'Signed By' program as well as the platform's partnership with YouTube Shorts as highlights of the first half of the year.Music Business Worldwide