Apple launched its new Beats 1 radio station last night with Zane Lowe to much public acclaim.
"It's not about fanfare or fireworks. It's about quality and consistency," said the clearly fired-up New Zealander.
"We're Beats 1, we're worldwide and from now on, we're always on."
From there, Lowe gave former employer BBC Radio 1 a big headache by doing what he's always done – charming the pants off music fans everywhere.
Lowe kicked off Beats 1's worldwide broadcast with unsigned Manchester act Spring King's City – and it was a sign of the support for independent artists and and labels that was to come.
According to Radiomonitor data analysed by MBW, Beats 1 played 41 tracks from 5pm until midnight yesterday (UK/European time).
41.4% of them, or 17 tracks, were from independent artists.
That was one better than Universal, who claimed 16 (39%) tracks – although this discounts Glass Animals' Black Mambo, released independently but distributed via UMG's Caroline.
Sony was responsible for seven tracks (17%) but these included the most-spun: Pharrell's comeback single Freedom.
Warner had just one entry (2%) in the opening 41 tracks: Royal Blood's Little Monster, although it was played twice.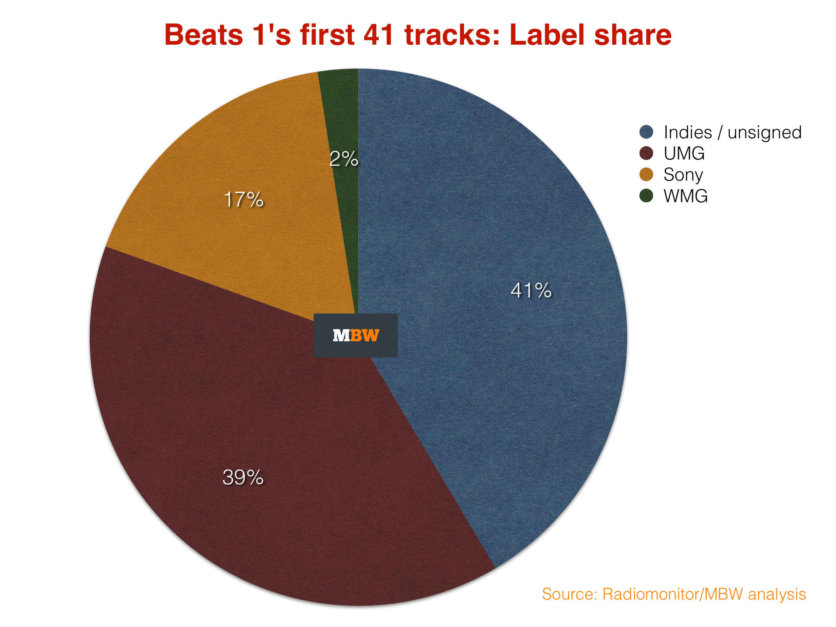 This is very early days, of course, so expect this independent love-in to calm slightly, but it's still interesting – not least as BBC Radio 1's Top 50 tracks last year contained just three independent releases.
Zane Lowe's first ten tracks on Beats 1 included no less than six independent acts, with two from UMG, two from Sony and none from Warner.
Spring King – City (unsigned)
Beck – Dreams (Capitol/Virgin EMI/UMG)
Jamie XX – Gosh (XL)
Skepta – Shutdown (BBK Records)
AC/DC – For Those About To Rock (We Salute You) (Sony)
Hudson Mohawke – Warriors (Warp)
Pharrell Williams – Freedom (Sony)
Courtney Barnett – Dead Fox (Marathon Artists)
The Chemical Brothers – Under Neon Lights (Virgin EMI/UMG)
Shamir – On The Regular (XL)
Lowe, whose debut performance on the station has gone down well with reviewers, also introduced a section called 'World Record'; a very similar idea to his industry-watched 'World's Hottest Record' feature on his old BBC Radio 1 show.
He was followed on Beats 1 by Julie Adenuga in London and Ebro Darden in New York.
Lowe is expected to unveil a world exclusive interview with Eminem on Beats 1 later today (July 1).
As you can see below in the list of the 41 tracks from Beats 1's first few hours on air, only four songs got repeated: Williams' Freedom (Sony), Royal Blood's Little Monster (WMG), The Weeknd's Can't Feel My Face (UMG) and A$AP Rocky's L$D (Sony). [Plays displayed on right-hand side.]
1
Pharrell Williams
Freedom
RCA
SME
3
2
Royal Blood
Little Monster
Warner Music
WMG
2
2
Weeknd, The
Can't Feel My Face
Island
UMG
2
4
A$AP Rocky
L$D
RCA
SME
2
4
AC/DC
For Those About to Rock (We Salute You)
Sony Music
SME
1
4
Alabama Shakes
Don't Wanna Fight
Rough Trade
Ind.
1
4
Alessia Cara
Here
Def Jam
UMG
1
4
AlunaGeorge
You Know You Like It
Island
UMG
1
4
Beck
Dreams
Virgin EMI
UMG
1
4
Bully
Trying
Columbia
SME
1
4
Chemical Brothers, The feat. St Vincent
Under Neon Lights
Universal Music
UMG
1
4
Chet Faker
Bend
Ind.
1
4
Courtney Barnett
Dead Fox
Marathon Artists
Ind.
1
4
David Zowie
House Every Weekend
Virgin EMI
UMG
1
4
Day Wave
We Try But We Don't Fit In
Ind.
1
4
Denney
Low Frequency
Ministry Of Sound
Ind.
1
4
Disclosure feat. Gregory Porter
Holding On
PMR
UMG
1
4
Dr. Dre
Let Me Ride
 Death Row / Interscope
UMG
1
4
Elliot Moss
Slip
Pias
Ind.
1
4
Eminem
Phenomenal
Shady Records
UMG
1
4
Florence + The Machine
Ship To Wreck
Island
UMG
1
4
Gallant
Weight In Gold
Ind.
1
4
Glass Animals
Black Mambo
Caroline
Ind.
1
4
Grace feat. G-Eazy
You Don't Own Me
Sony Music
SME
1
4
Hudson Mohawke feat. Rckazoid, Devaeuux
Warriors
Warp Records
Ind.
1
4
Jack Garratt
Weathered
Island
UMG
1
4
Jamie xx
Gosh
Young Turks
Ind.
1
4
Jamie XX feat. Young Thug & Popcaan
I Know There's Gonna Be (Good Times)
Young Turks
Ind.
1
4
Jme
Man Don't Care
Ind.
1
4
Justin Timberlake
Senorita
Jive
SME
1
4
Lapsley
Falling Short
Her Own Recordings / Annie Mac Presents
Ind.
1
4
MS MR
Painted
RCA
SME
1
4
Seinabo Sey
Hard Time
Virgin EMI
UMG
1
4
Shamir
On The Regular
XL Recordings
Ind.
1
4
Skepta
Shutdown
BBK Records
Ind.
1
4
Slaves
Cheer Up London
Virgin EMI
UMG
1
4
Spring King
City
Handsome Dad
Ind.
1
4
Stromae
Tous Les Mêmes
Virgin EMI
UMG
1
4
Taylor Swift feat. Kendrick Lamar
Bad Blood
Virgin EMI
UMG
1
4
Vic Mensa feat. Kanye West
U Mad
Virgin EMI
UMG
1
4
Wolf Alice
You're A Germ
Dirty Hit
Ind.
1
In the first few hours since midnight (UK time / CET), Beats played the following tracks, according to RadioMonitor, in a more major-dominated segment.
| | | | | | |
| --- | --- | --- | --- | --- | --- |
| 1 | A$AP Rocky | L$D | RCA | SME | 1 |
| 1 | Blink 182 | What's My Age Again | Mca | UMG | 1 |
| 1 | Elliot Moss | Slip | Pias | Ind. | 1 |
| 1 | Eminem | Phenomenal | Shady Records | UMG | 1 |
| 1 | Kendrick Lamar | Alright | Polydor | UMG | 1 |
| 1 | Lapsley | Falling Short | Her Own Recordings / Annie Mac Presents | Ind. | 1 |
| 1 | Major Lazer feat. Ellie Goulding & Tarrus Riley | Powerful | Mad Decent | WMG | 1 |
| 1 | Meek Mill | Dreams And Nightmares | Warner Music | WMG | 1 |
| 1 | Miguel feat. Lenny Kravitz | Face The Sun | RCA | SME | 1 |
| 1 | Rick Ross feat. Jay Z | The Devil Is A Lie | Virgin EMI | UMG | 1 |
| 1 | Stromae | Tous Les Mêmes | Virgin EMI | UMG | 1 |
| 1 | Weeknd, The | Can't Feel My Face | Island | UMG | 1 |
| 1 | Wiz Khalifa feat. Charlie Puth | See You Again | Warner Music | WMG | 1 |
Music Business Worldwide