The latest quarterly listening figures are in for UK radio – and for those following the fortunes of BBC Radio 1, traditionally one of the most influential music radio stations in the world, they make for interesting reading.
According to stats published by RAJAR today (May 16), BBC Radio 1 reached a weekly audience of 9.30m listeners in Q1 (three months to end of March), down from 9.47m in the prior year quarter.
(The BBC has pointed out that RAJAR's stats only take into account listeners aged 15 and above. When listeners aged 10 and above are considered, it says, Radio 1 reached 10.18m listeners in the quarter, down from 10.34m in the equivalent period of 2018.)
Sticking with the BBC's flagship stations, RAJAR reports that BBC Radio 2 – the UK's most popular radio network – reached 15.36m listeners in the quarter, down slightly on the 15.41m reached in Q1 the prior year.
The biggest performer at commercial radio was Global's Heart, which reached 9.66m people in Q1 2019 – a comfortably bigger reach than Radio 1's 9.30m.
---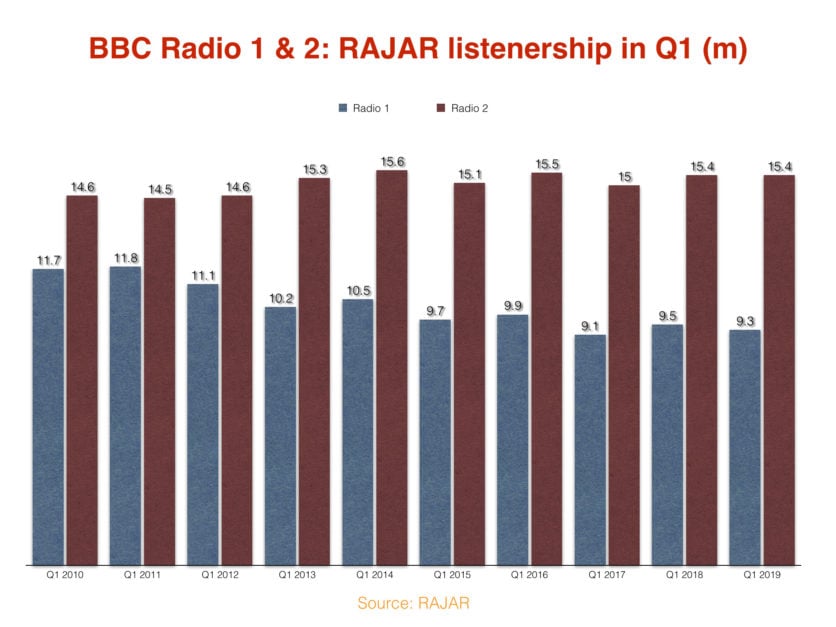 ---
These stats get a little more interesting when we consider the percentage reach of these stations across the whole of the UK.
As well as monitoring the audience of radio stations, RAJAR also keeps tabs on the total population of the UK – which tends to grow with each quarter that passes.
For example, in Q1 2019, according to RAJAR estimates, there were 54.75m people (over 15) living in the UK. Go back just five years, to Q1 2013, and that figure was as low as 52.35m.
What does this mean for BBC Radio 1?
"Back in Q1 2011, BBC Radio 1 reached 23% of the UK population. Yet according to RAJAR's latest figures, that figure has now fallen to 17%."
RAJAR also reports the estimated percentage of the UK population that radio stations are reaching in each quarter.
Back in Q1 2010 and Q1 2011, when BBC Radio 1 was pulling in a peak audience of over 11.5m weekly listeners, it reached 23% of the UK population. Yet according to RAJAR's latest data, that number has now consistently fallen to 17%.
BBC Radio 2, on the other hand, has stayed pretty solid in this field, with a UK reach of 28% or 29% in every equivalent Q1 quarter for the past nine years (see below).
Commercial radio, as a whole, claimed a 66% reach amongst the UK population in Q1 2019, according to RAJAR – actually 3% up on the  same figure it claimed in Q1 2010.
---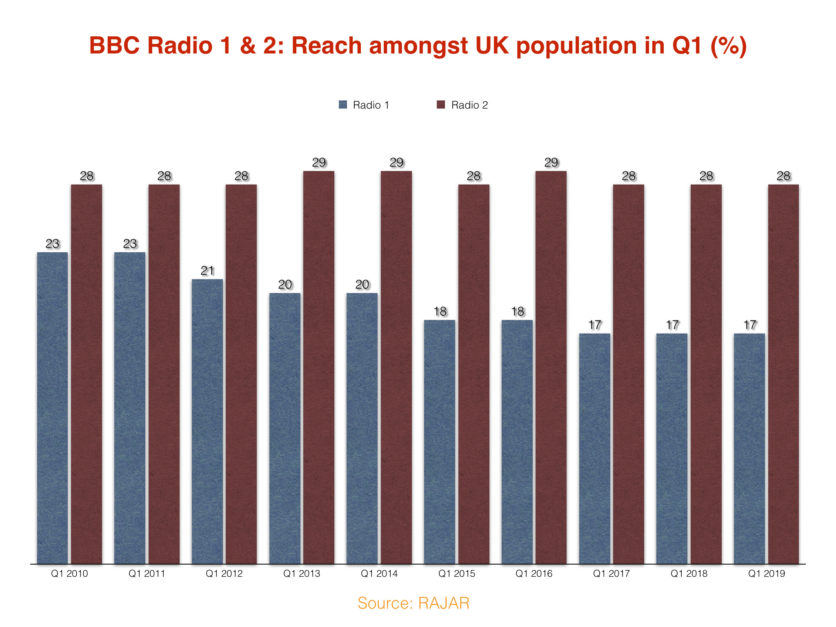 ---
A final stat for those who like to suggest 'radio is dead': out of the 54.75m people counted by RAJAR as living in the UK in Q1, some 89.4% of the population (48.95m people) tuned in to listen to a radio station.Music Business Worldwide