Money generated by subscription streaming services more than doubled in Australia in 2014 – but it couldn't stop the value of the country's recorded music business dropping by a fifth since 2012.
New data from ARIA analysed by Music Business Worldwide shows that the Australian recorded music industry's total wholesale value in 2014 was AUS $317.8m (€224.4m), down 9.62% on 2013 – which itself was down 11.6% on 2012's total income.
The result puts Australia in danger of losing its title as the world's 6th biggest recorded music territory. According to IFPI data, Australia's industry pulled in just US $6.7m more than Canada in 2013.
As you can see below, Australia's recorded music industry has declined by almost a third (29%) just in the past five years.
In 2009, the country's recorded music industry pulled in AUS $446.1 (€315m).
In the nine years from 2005-2014, the industry's income has declined by a wince-worthy 40% – down from AUS $528.2 (€373m).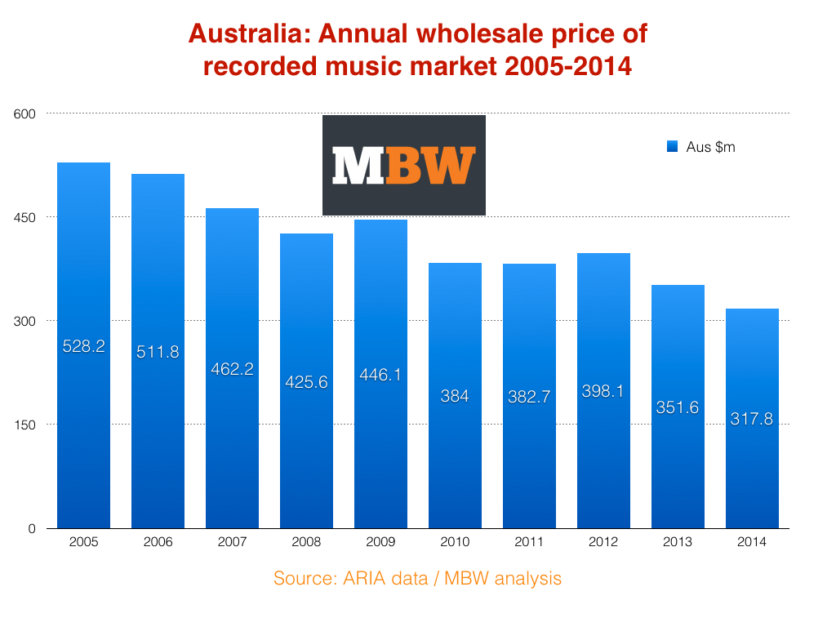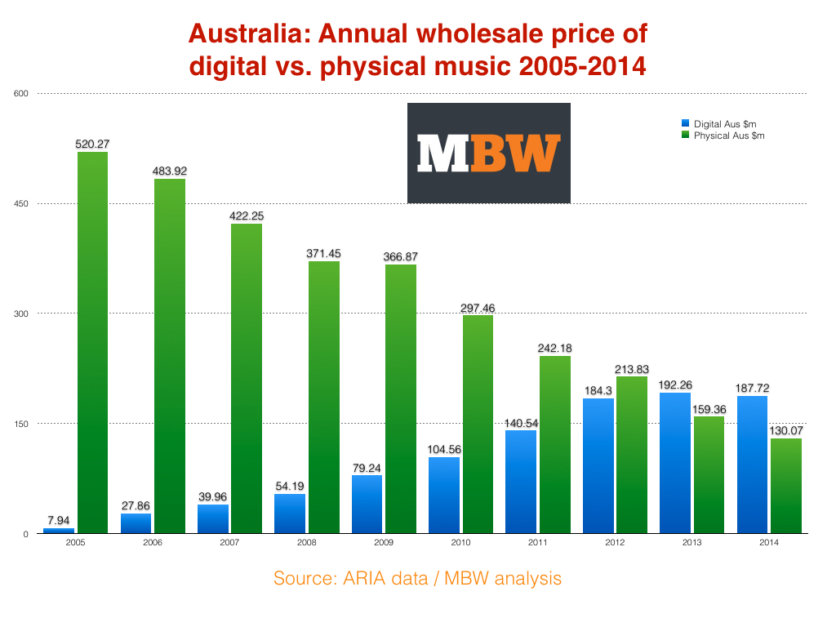 In terms of big-league music territories, Australia's market is noticeably slow in terms of growth in streaming revenues.
Ad-supported and subscription audio services combined in 2014 to make up 10% of the Oz music market in 2014, according to MBW analysis.
By contrast, in the UK, streaming made up around 17% of the year's total recorded music income.
Despite the fact that the total income from subscription streaming services in Australia more than doubled in 2014 – up 111% to AUS $23m (€16.25m) – revenues from ad-supported streaming services fell 13.03% in the year, from AUS $10.2m in 2013 to AUS $8.9m in 2014.
These 'free' services now make up just 2.8% of Australia's total recorded music income.
Subscription streaming's growth couldn't stop the total digital market income falling 2.36% to AUS $187m (€132m).
Digital downloads brought in around five times the amount of money generated by subscription and ad-free streaming services.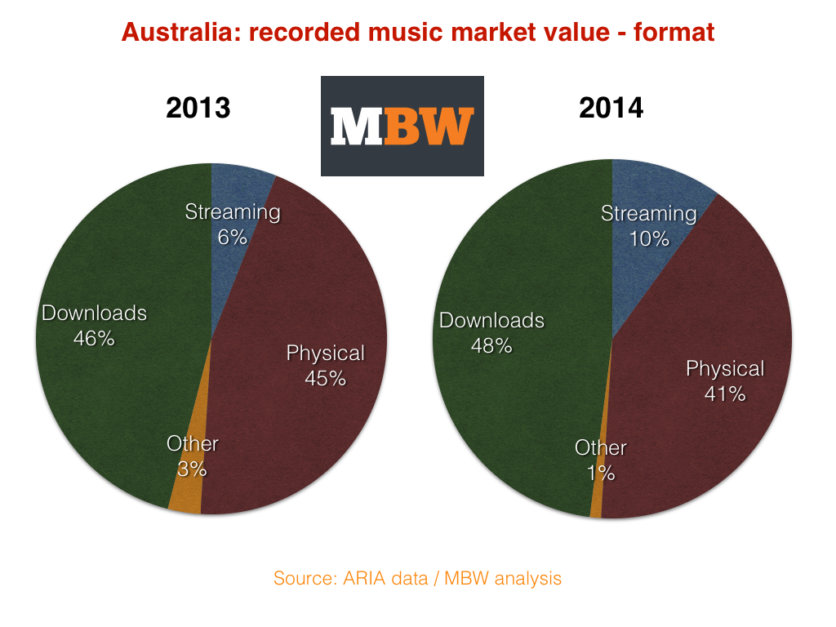 Revenues from physical sales were down by a huge 18.4% in 2014, from AUS $159.36m (€112.5m) in 2013 to AUD $130.06m (€91.8m) in 2014.
CD albums fell 18.6%, but still managed to be the biggest earning format in Oz, pulling in AUS $115.31m (€81.4m).
There was better news when it came to vinyl, with income from the album format leaping up 127% in the year to AUS $2.84m (€2m) –  although this represented just 0.75% of the total market
ARIA said that 2014 a transformative year for the industry as the country's Federal Government announced that it will take steps to address the serious issue of online copyright infringement.
It also applauded the fact that Australian artists contributed 36 entries in the year's top 100 bestselling albums – nine more than the previous two years.
Dan Rosen, ARIA Chief Executive Officer, said: "The remarkable success of Australian artists in 2014 is exciting news for the future as the music from our home – grown talent is enjoyed by music fans here and around the world."
"As the industry continues to transform itself, we remain committed to embrace our digital future. Our goal as an industry is to make it easier for music fans to support the artists they love by developing innovative new ways to sell music.
"The continued growth in the subscription market shows that the local music industry is leading the way in streaming digital content."
[Pictured: Sheppard, whose Geronimo was the bestselling single from an Australian act in Oz last year.]Music Business Worldwide