Revenues in the Australian recorded music business plummeted by 11.6% in 2013, according to the latest wholesale figures from the Australian Recording Industry Association (ARIA).
The territory witnessed the rapid growth and development of digital music services in 2013 – with digital music (54.7%) overtaking physical music product (45.3%) for the very first time.
However, the burgeoning digital market couldn't make up for a devastating 25.5% decrease in physical music revenue in 2013 – a sure sign of CD's decline, with vinyl album unit sales actually growing 77% in 2013.
Music streaming revenue almost doubled in 2013 and now makes up 5.9% of the total Australian market value. Total digital download revenue stayed steady in 2013 with an increase of 0.5%, as digital album unit sales rose 7.88%.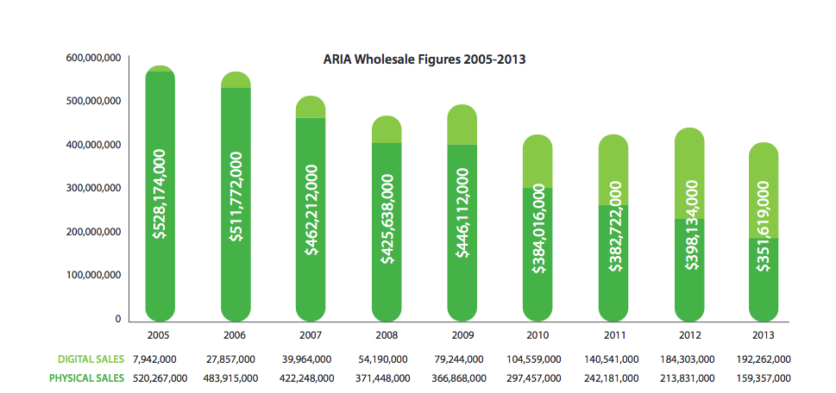 ARIA CEO Dan Rosen said: "The way that music is discovered and enjoyed by fans continues to evolve, and as the industry continues to transform itself, the sales trajectory will not always be a straight line.
"We have seen in other territories around the world that as streaming services gain momentum, strong market growth has followed. It is an exciting time, as Australian music fans are consuming more music than ever before with an ever-expanding range of options to access music – whether it is streaming music, digital downloads or visiting the local record store."
ARIA Chairman Denis Handlin added: "2014 is set to be an extremely important year for our industry. The value of the creative industries to the Australian economy will be in focus as the Federal Government considers the recommendations of the Australian Law Reform Commission's inquiry into copyright and the digital economy. As our industry continues to embrace the digital landscape, it is increasingly important that we have the business and rights protection environment in place to support our local artists and record labels, which make such a valuable contribution to our country's cultural identity and creative economy."
There were a record-breaking 14 Australian #1 Albums on the ARIA Charts in 2013, while local acts such as Nick Cave & The Bad Seeds (pictured), Havana Brown, Guy Sebastian, Empire Of the Sun, Airbourne and Keith Urban all experienced chart success overseas.Music Business Worldwide