Canada's first full six months with Spotify available in the territory has proven transformational.
Total music streaming volume was up to 10.5bn in the first half of 2015, according to Nielsen – which includes both video sites (YouTube, Vevo) and audio platforms (Spotify, Rdio etc.)
That represents 67% growth on the last six months of 2014 – the first period in which streaming numbers were recorded.
Spotify only arrived in Canada in September 2014.
The total volume of of music streams in the six months from July-December 2014 stood at 6.3bn.
5.4bn of these came on video sites, with 925m on audio platforms.
According to Nielsen's numbers for the first half of 2015 – which you can see below and download here – audio streams were up to 2.1bn (+127%), while video streams were up to 8.4bn (+56%).
Audio might be growing faster, then, but in terms of overall music streaming market share, YouTube's dominance is only becoming more powerful, as you can see in the below graph: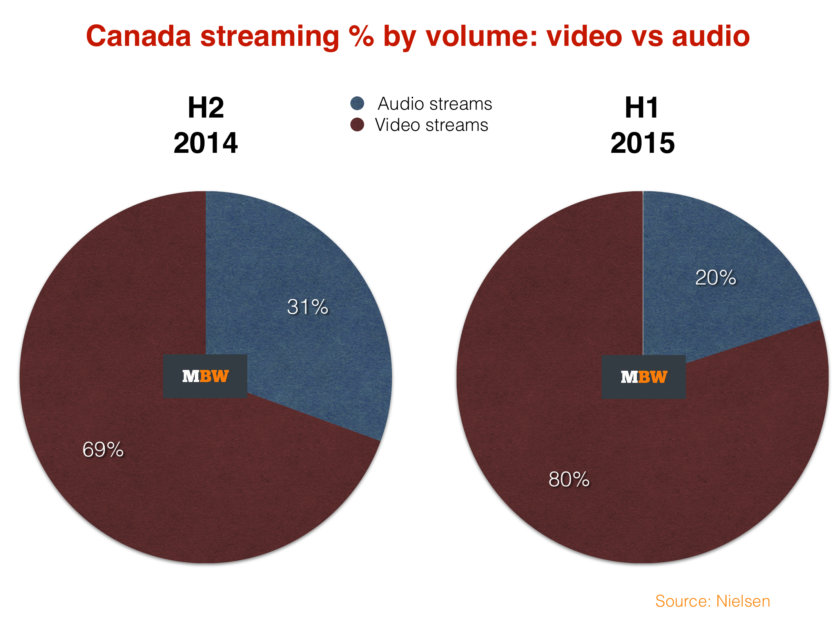 Total album unit sales were flat year-on-year, thanks to rises in sales of digital albums (+9.9%) and a 39.9% jump in vinyl LP sales.
Canada is the world's seventh-largest recorded music market, according to the IFPI, just behind Australia. Its annual revenue is around double the size of the eighth-biggest market, Italy.
[Pictured: The most-streamed track of Jan-June 2015 in Canada was Mark Ronson's Uptown Funk!]

Music Business Worldwide