MBW's Stat Of The Week is a series in which we highlight a single data point that deserves the attention of the global music industry. Stat Of the Week is supported by Cinq Music Group, a technology-driven record label, distribution, and rights management company.
---
It's no secret that Spotify's market cap value has been suffering of late.
In the 15 months since its peak of $69.35 billion on February 19, 2021, SPOT's market cap value has declined by over $50 billion.
But Spotify isn't the only music-related giant of the tech world to see its market cap fallen off a cliff in the past year.
Let's look at Peloton.
The connected fitness firm – one one of lockdown's big winners when gyms and in-person fitness classes were forced to shut – published its fiscal Q3 2022 (Calendar Q1) results this week, revealing that its total revenues of $964.3 million were down 24% YoY versus the $1.26 billion in the same quarter last year.
---
Peloton's calendar Q1 Connected Fitness Products Revenue of $594.4. million was down 42% YoY, versus the $1.02 billion generated in the same three months ended March in 2021 (see below).
The company also reported a net loss of $757 million for the three months to end of March.
Peloton says that the primary driver for its YoY revenue decline was "a reduction in consumer demand exiting the pandemic's peak".
In other words, people don't have to – and don't want to – stay at home anymore, and Peloton, whose business revolves around home fitness, is seeing its revenues nosedive as a result.
---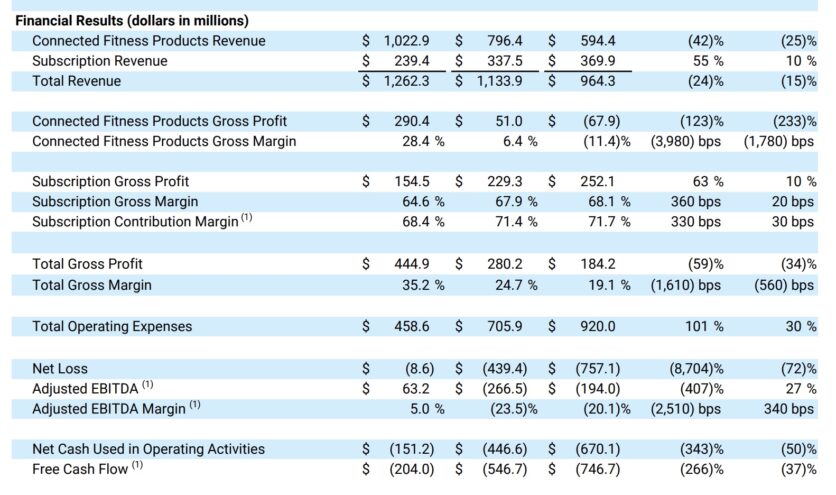 ---
Peloton's financial woes are further highlighted by the fact that its market cap value, which reached a peak of $49.27 billion in January 2021, today (May 13) stands at just $4.94 billion at the time of publication, having closed at $4.16 billion two days ago (May 11).
Peloton's market cap value has therefore fallen by approximately $45 billion since January last year. Today that market cap is worth just 10% of the firm's peak value 17 months ago.
Yup: Peloton's market cap value has fallen by over 90% in the past year-and-a-half.
---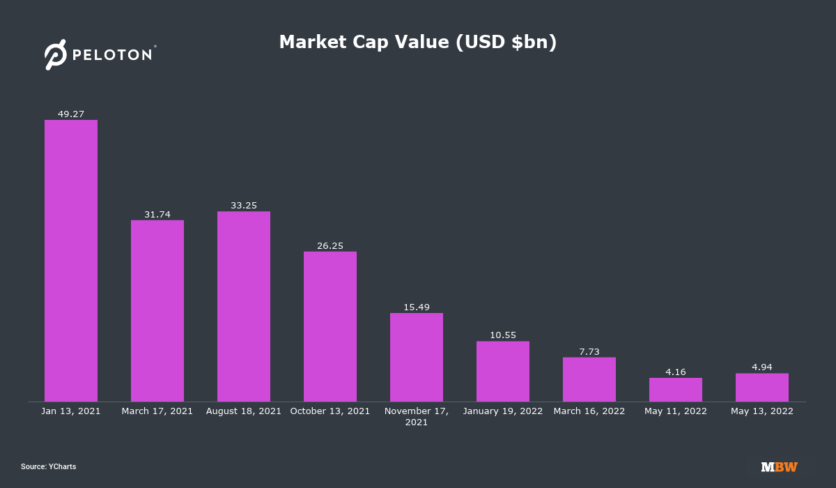 ---
Writing to investors this week, the firm's CEO – former Spotify CFO Barry McCarthy, who took over from co-founder John Foley in February – opened his letter with the following statement: "Turnarounds are hard work."
McCarthy took over from Foley at the same time that Peloton announced a 'comprehensive restructuring program', in the wake of a post-lockdown sales slump.
Peloton's new CEO, who masterminded Spotify's circumvention of a traditional initial public offering in 2018, added in his letter that Turnarounds are "intellectually challenging, emotionally draining, physically exhausting, and all consuming".
"Turnarounds are intellectually challenging, emotionally draining, physically exhausting, and all consuming."

Barry McCarthy
He continued: "It's a full contact sport. That's why I want to begin this Shareholder Letter with a shout out and sincere thank you to the employees of Peloton who are working hard to make this company successful."
McCarthy's letter to investors comes just three months after Peloton cut 20% of its global workforce, which equates to 2,800 jobs, as part of its restructuring program.
Elsewhere in the letter, McCarthy writes that his goal is for Peloton to become a global connected fitness platform with 100 million Members, despite the fact it ended March 2022 with just 7 million Members on its books.
Said McCarthy of his 100 million goal: "That's equivalent to roughly half the world's global gym memberships. It's a long, long way from where we sit today. But we sit at the epicenter of technology enabled fitness, a long-term secular growth trend.
"Who doesn't want to live a healthier, happier, longer life? We will share more about how we plan to participate in that growth in the months and years ahead."
"[Peloton is] thinly capitalized for a business of our scale."

Barry McCarthy, speaking on Tuesday
But will Peloton have a healthy, happy, long life ahead of it?
McCarthy has his work cut out: On Tuesday (May 10), the exec admitted to investors that Peloton, carrying those heavy losses, is "thinly capitalized for a business of our scale."
Peloton had $879 million in cash left on its balance sheet at the end of March.
---
Peloton's dwindling fortunes in a post-pandemic business landscape comes just two years after the digital fitness industry started proving to be a major financial boost to music rightsholders.
Peloton in particular has been very active in its pursuit of music industry deals and relationships, striking partnerships with the likes of Queen, Taylor Swift, the David Bowie estate, Beyoncé and more.
The firm even employed in-house DJs, John Michael and DJ Skribble, who have recently remixed tracks for the likes of Demi Lovato and Debbie Gibson to optimize them for user workouts.
To put the value of the fitness industry's contribution to the music business over the past two years into context, it was almost exactly a year ago that Sony Music Group boss, Rob Stringer, noted that the recorded music side of his company had generated nearly $400 million from social, gaming, and fitness platforms in its prior fiscal year.
---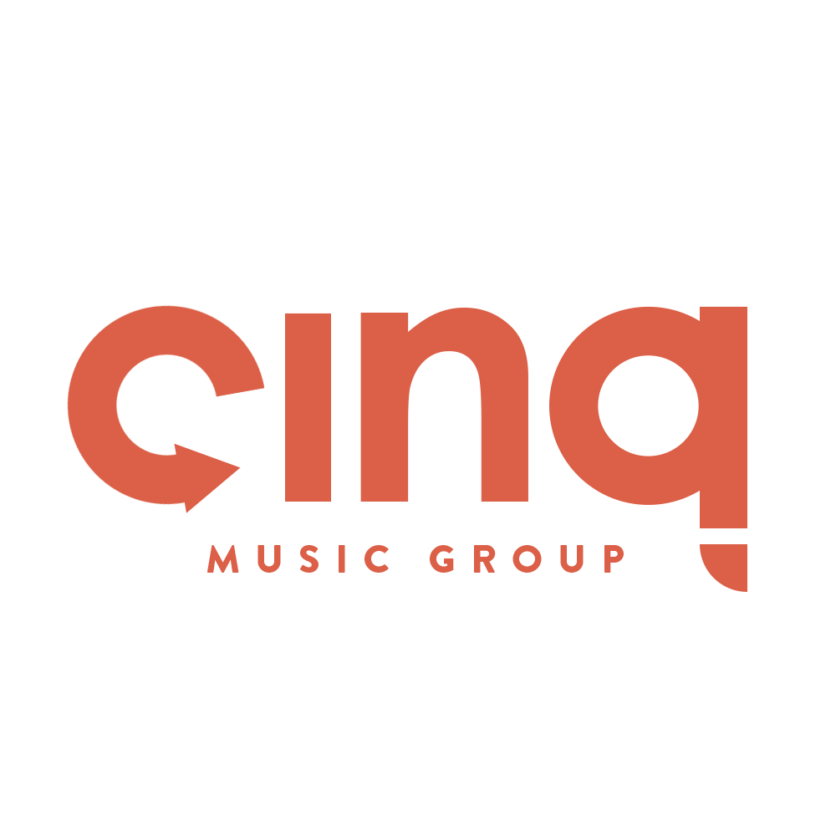 Cinq Music Group's repertoire has won Grammy awards, dozens of Gold and Platinum RIAA certifications, and numerous No.1 chart positions on a variety of Billboard charts. Its repertoire includes heavyweights such as Bad Bunny, Janet Jackson, Daddy Yankee, T.I., Sean Kingston, Anuel, and hundreds more.
Music Business Worldwide