Ashley Page, whose Page 1 Management works with Grammy-winners and chart-topping artists, never set out for a career in management. In fact, he actively avoided it.
His dad repped acts including The Kinks and The Troggs in the sixties, and Page says he witnessed the job playing a role in the breakup of his family unit: "I saw how it was 24/7, seven days a week and he was never around. When you're a kid and you don't have a level of understanding… there was a difficult period. It was the one thing I said I wasn't going to do."
Instead, Page – who grew up in Surrey and Devon, UK – studied English literature and media studies at university and from there, landed a job in the warehouse of Castle Communications.
The company decided it wanted to move into frontline catalogue with acquisitions and Page was offered the opportunity to join the new operation as a promo kid. "The first job I had to do, incredibly, was look after Mick Fleetwood when he came to promote the Live at the BBC album."
He was sold.
After a few years, Korda Marshall poached Page to work at Mushroom and Infectious in the international promotions department.
He joined at the tail-end of the first Garbage record and went on to work with acts including Ash before leaving to try his luck in New Zealand with his now wife.
There, Page found a job at Festival Mushroom Records and Flying Nun, later joining Warner as an A&R when it acquired Festival Mushroom Records in 2005.
Over the following three years, Page grew increasingly frustrated with the way he saw artist projects moving along a conveyor belt, and that's where his mind started to change about working in management.
"You see within the system how quickly the record is put out and moved on from, and the artist was just left wondering what was going to happen for the rest of their life. I was too close and too personally involved to continue to watch that happening," he remembers.
"With one of the bands I was looking after, I constantly said: 'All of these guys have really great and individual things going on… maybe we should offer them a label set-up.' I was being pacified and told, 'Yeah, sure, we'll do it' and then it was six months of asking three or four times. When nothing happened, I got to the end of the road and ended up leaving."
Page 1 Management was launched in 2008 to look after that band, who were called Goodnight Nurse, the lead singer of which was songwriter and producer Joel Little, who Page has managed ever since.
At the time, Page's mother had been given 10 weeks to live, so he relocated to the UK and spent every day in a palliative care unit, while working through the night on contracts.
Since then, Page 1 has helped take Little from playing covers in pubs to writing and producing for artists including Taylor Swift, Khalid, Imagine Dragons and Lorde (for whom he co-wrote Royals, which secured two Grammy wins in 2014).
---
Today, other Page 1 clients of note include Grammy-nominated producer and songwriter Drew Pearson (Zac Brown Band, Kesha, Phillip Phillips) and producer and songwriter SIBA, who co-wrote Griff's UK Top 20 hit Black Hole plus Where Did You Go? by Jax Jones feat. MNEK, which has recently been climbing up the UK radio charts.
Page 1 also reps Jawsh 685 – whose Savage Love (with Jason Derulo) hit No.1 in 16 countries in 2020 – and singer, songwriter and producer Navy, who has recently been in the studio with Zara Larsson.
---
---
Last year, Page 1 counted two US mainstream radio hits with Regard, Tate McRae and Troye Sivan's You (co-written by SIBA) and Tate McRae and Khalid's Working (produced and co-written by Little).
Page 1 also secured a deal with Hipgnosis, which saw Merck Mercuriadis' company buy 178 of Little's song rights. Despite the limitations of the pandemic, Page tells us that 2021 was his company's most successful year to date.
Alongside its base in New Zealand, Page 1 has presence in London, New York and Nashville. Page is planning on doubling its size over the next few years.
That process has started with the hiring of Danielle Middleton, who joined from Sony Music Publishing as Senior Director last year, and Page will soon announce his first hire in Sydney, Australia.
Here, we chat to him about his approach to management, his inability to fit in at Warner, his proudest moments and much more besides.
---
How did you reconcile your personal adversity to a career in management with the job you find yourself doing today?
I've always been aware of family being first. Even when I travel, I will never travel and miss my wife's birthday and I've also never missed a Valentine's Day.
I take that very seriously — you constantly have to remember these things.
The minute you start to forget is when you start becoming part of the system and forgetting why you started [the job] to begin with.
---
I read in another interview that you felt you never really fitted in at Warner. Why was that?
Maybe I was too headstrong.
I was talking to an A&R in America recently, who shall remain nameless, who had moved from management back to work for a major. They said they weren't sure how long they'd last, because they sat in the first couple of meetings and were so frustrated by how limited the scope was and how some of the approaches weren't quite correct to really obvious things.
"There is no cookie cutter template to how this is going to play out — one person's goal is going to be very different to another."
[Staff in the meeting] were so institutionalised as to how jobs had already been done within record companies.
So maybe that's the thing — sometimes you can see things that are so much clearer that need to be changed or tweaked and I like the ability to be able to go out there and do that.
We should be able to change things, we should be able to speak up and we should be able to do what we need to do.
Hopefully I push that onto my team. If Danielle [Middleton] in America decides that there's something she feels can be done better and wants to try it, I'm fully behind giving it a go.
We all have slightly different views and ways of doing things and I believe in my team and that they should have free rein to do what they need to do.
Maybe that's a learning that stems from where I came from.
---
What, in your eyes, makes a good manager?
The ability to be deeply empathetic but also to be self motivated enough to know what still needs to get done.
You are dealing with, on a very personal level, very emotional people and rightly so — the greatest songs are written because people are emotional. But you have to be able to step back from that and complete the tasks, too.
---
What do you look for in the clients that you work with?
You have to be able to get along, first and foremost, and understand each other on a very personal level.
This is a long journey — you can't enter into a management agreement and then, six weeks later, find out that you don't have the same understanding.
When we sit down with a client, we say, 'Take your time, let's walk alongside each other for a while and work out exactly what you want to achieve'.
There is no cookie cutter template to how this is going to play out — one person's goal is going to be very different to another. Creating a three-year plan has to be done at the beginning and has to be stuck to reasonably tightly.
Being driven is also important. There's nothing to be benefited from working with people who don't entirely feel like they want to be doing it.
If I'm going to be travelling the world 365 days a year, I want somebody else to feel like they are up there, every day, working for us as well.
---
You've got some extensive company values published on your website that centre on wellbeing, mutual respect and honesty. What sparked the thinking behind devising those and the need to make them clear?
Because we are a small company, I think you have to set these things out at the very beginning.
You have to have all cards on the table as to how people are expected to work within the company. In this day and age, it would be a shame if they weren't spelled out.
While it is extensive, I think a lot of it should be common sense and about basic respect between all parties.
It's as much for myself and my staff as well as the clients — it works both ways.
I hope those sorts of ethics are taken on board internationally as well. I was talking to similar companies recently where there are still some pretty sharp divides between parties and that's quite difficult to hear.
---
What's your proudest moment as a manager?
It would be hard to look past winning Song of the Year at the Grammys for Joel Little.
I wish I'd had more time to stop, step back and enjoy that. In the moment – and I was looking after Joel's family who were over – my brain was in logistics mode of moving one person to another place, to another place.
I enjoyed it when Joel was able to buy his first house and when there's financial stability, a deal goes through, and suddenly the writer understands that they now have an opportunity to push forward.
I've also enjoyed the growth of the company.
I think the proudest moment is possibly yet to come because I'm enjoying our expansion and bringing new staff members on board, watching it grow and create its own ecosystem.
---
How about your most memorable failure?
A deal that fell through with a band called Kids of 88 in America around 2009.
They were one of my first management clients, we put out a song called My House and all the labels in America started coming in for it.
It was a time when Atlantic could take us around the world and Sony were interested too, so we were having meetings with them, as well. It was incredible sitting in New York with all these people coming into the room and telling you how the deal is going to be great.
We made the choice, with a lawyer who's gone on to do far better things than us, to clear the runway and just focus on one company, which at that point in time was RCA.
The deal had got to that level where they were like, 'Don't worry, this is going to happen'. I remember everything going icy cold and quiet and then finally getting the call from RCA about three weeks later that they weren't going to proceed.
I felt like that was the end of the road, like my management career had started and finished within about a year.
---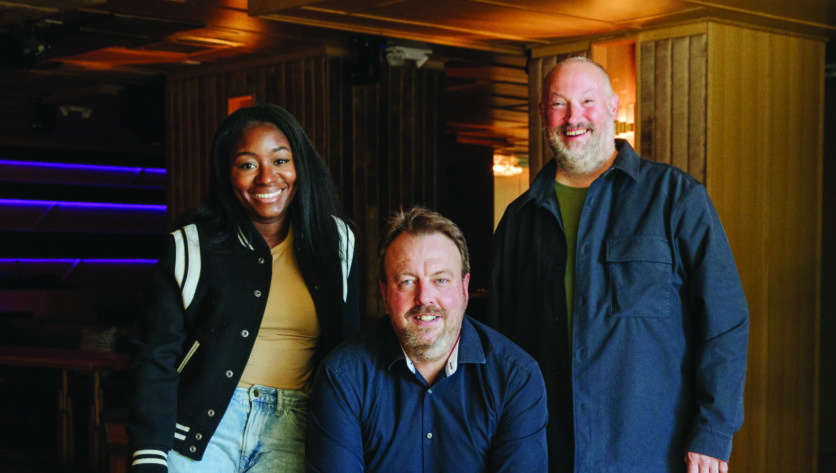 ---
I think every new manager goes through that moment where they think they are the greatest thing because things start taking off.
You've suddenly gone from New Zealand to America to New York, you meet all these people and you're being told how great you are to then have that one moment where the rug is pulled from under you, the trapdoor opens and you're hurtling through space towards nothing.
It felt very quiet and probably the worst moment. You wonder if you can come back from that but ultimately, those great failures are your biggest learning curve.
We didn't end up with another big deal for those guys, so you end up picking yourselves up and moving on.
---
Why did the deal fall through?
I still to this day couldn't tell you an exact reason other than they just decided not to proceed.
And because we'd already told other label A&Rs that we were going with another label, when you suddenly turn around and go, 'We're not going with [that] deal anymore', nobody wanted us.
---
What did you learn from that experience?
To potentially get a deal done a lot faster to potentially be happy with the level of it.
Don't sit there trying to hype a deal to a level that's over-inflated. If you're lucky enough to be in a position where there's multiple people bidding on a deal, keep people going until the deal is across the line.
"None of us work on algorithms or formulas, it's just about knowing your music, understanding, trusting and believing."
Also, you have good days and bad days. I think it's the same with writers or artists – you see some artists come out of the traps and have No.1s in America right from the get go and then struggle after that.
For me, this was a glimmer of hope at the beginning, the rug was pulled and I had to work my way back. It's a humbling experience that keeps you quite grounded.
---
What would you change about the music industry and why?
I would like to see songwriters get compensated to the level that they should be.
The reduction in rates makes things a lot harder. It's a difficult world that songwriters survive in, where they are expected to write a song, day in and day out, and not be compensated in any way, until it's possibly released, and then potentially your part is reduced by another producer's percentage, and then you don't get some sort of an income for 18 months.
It would be nice if, at some point, the service providers and record labels can recognise that without the songwriter, they have no song.
---
How would you like to see compensation change for songwriters?
I would like to see a greater share of the [revenue] percentage go to the songwriter, as opposed to having to fight against the digital service provider who's trying to bring that down.
It's quite staggering in this day and age that you're having to argue to be paid a little bit more for your songwriter, rather than a little bit less. That's quite a mind blowing experience.
---
What's the most exciting development happening in the music business right now?
The most exciting development that everyone's keeping an eye on is to what degree NFTs are going to have an impact and which parts are going to stay with us.
Publishers and writers will have to grow and adapt to that and actually enjoy being a part of seeing how we can be involved earlier.
I saw recently that Warner has invested in the metaverse with The Sandbox so it's about understanding where that leaves writers and producers.
I think there are so many opportunities — everything that Timbaland has done is quite interesting to watch. There are a lot of people who are leading the charge and it's exciting to see which parts will actually end up continuing to grow and becoming part of our everyday landscape.
---
What advice would you offer to someone starting a career in management today?
They've got to be prepared to be knocked down and continuously get up.
Everything is about the ability to work as an individual and to hustle for your client as hard as you can. That doesn't change and that doesn't stop, but sometimes it can become eye-opening how much you have to be connected out there, meeting everyone in the world.
It's a long, slow road to meet people, be connected, continuously hustle and don't stop working.
"None of us internally here work on algorithms or formulas, it's just about knowing your music, understanding, trusting and believing."
You will get some great wins and you will be knocked down but just keep getting up because the only way to continue in management and to continue growing is to find those opportunities for your client.
Unfortunately, that doesn't come by taking holidays so much and it doesn't come by not being out and meeting people — you can't do everything via Zoom, get out and see people as the world opens up.
Also, trust your gut instinct. None of us internally here work on algorithms or formulas, it's just about knowing your music, understanding, trusting and believing.
I still think it's as exciting a time as it's ever been. The opportunities continue to grow, especially for us, otherwise we wouldn't be looking at expanding.
The work is there and the artists are as creative as ever. It's fun. And if it's not fun, don't do it.
---

This article originally appeared in the latest (Q1 2022) issue of MBW's premium quarterly publication, Music Business UK, which is out now.
MBUK is available via an annual subscription through here.
All physical subscribers will receive a complimentary digital edition with each issue.Music Business Worldwide