US music licensing society ASCAP collected $1.335 billion in the calendar year of 2021, up by just $8 million (+0.6%) versus its revenues in the prior year.
That annual rise in collections was the smallest in monetary terms for ASCAP since way back in 2013.
The reason for such subdued year-on-year growth? Covid-19 lockdowns taking a serious bite out of the PRO's international income in certain key territories.
---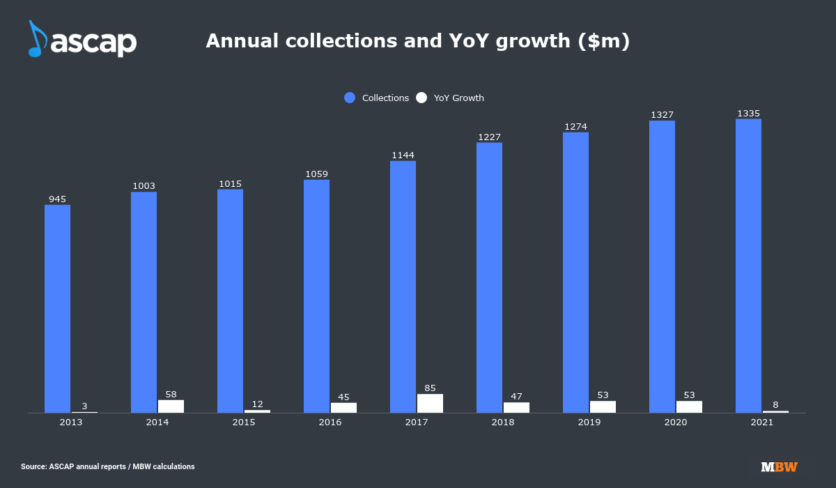 ---
ASCAP's domestic (US) collections were up by $42 million year-on-year, at $1.011 billion.
However, when it came to collections from royalties outside of the US in 2021 – as paid through by foreign societies – it was a very different story.
ASCAP's international revenues stood at $323.5 million in 2021, down $34.5 million on the equivalent figure that the PRO reported for 2020 ($358m).
Writing in ASCAP's annual report, the PRO's CEO, Elizabeth Matthews, primarily blamed this year-on-year fall in performance royalties on "business closures and the lack of vaccinations" in certain non-US territories.
---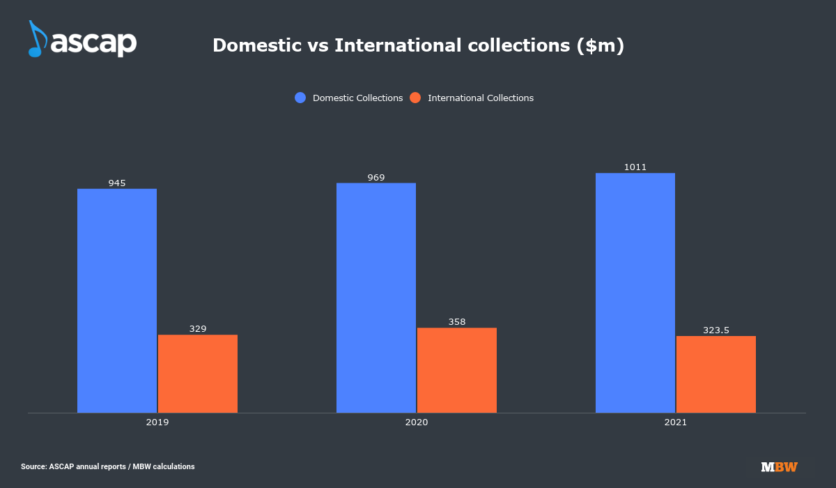 ---
As a result of these difficulties, ASCAP's total global collections in calendar 2021 ($1.335 billion) couldn't catch the last-reported annual revenues of its closest rival, BMI.
BMI's latest confirmed annual collections figure stood at $1.361 billion in the 12 months to end of June 2021, although this figure was reduced by BMI's decision to switch to ASC 606 reporting.
(Had BMI continued to report as it has in previous years, its FY 2021 collections number would have stood at $1.409 billion; see below.)
ASCAP's $8 million increase in overall 2021 collections was nearly seven times smaller than the YoY increase the org saw in both 2020 (+$53m) and 2019 (also +$53m).
---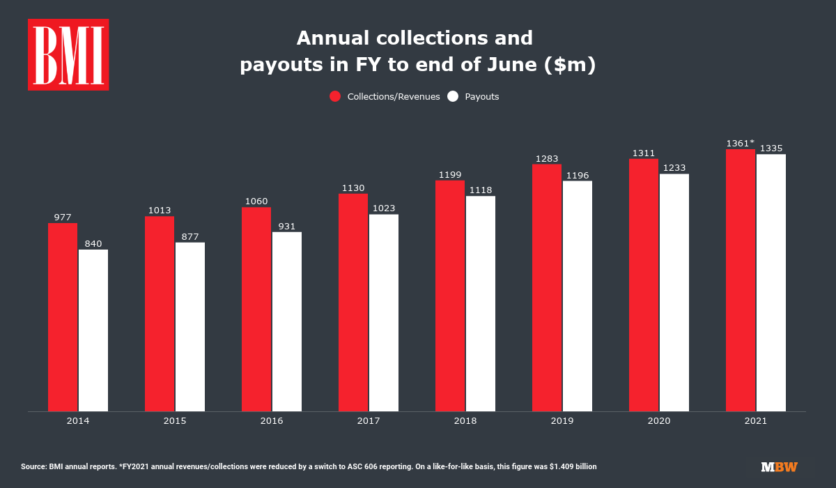 ---
ASCAP had better news for its writer and publisher clients when it came to its payouts ('distributions') over the course of 2021.
According to ASCAP's latest annual report, it paid out a total of $1.254 billion in 2021, up $41 million YoY.
That represented a jump in the amount of annual growth ASCAP clients saw in the money they were paid: ASCAP posted YoY payout growth of $29 million in 2020.
(It's no doubt obvious to MBW readers, but just in case: The reason it's possible for ASCAP's YoY collection growth to have slowed in 2021 while its annual payout growth accelerated is because of the delay between the money collected by the org – and its international affiliates – and the date this money lands in the bank accounts of songwriters and publishers.)
BMI's payout figure for its FY2021 was again larger – at $1.335 billion – than ASCAP's in calendar 2021 ($1.254bn).
---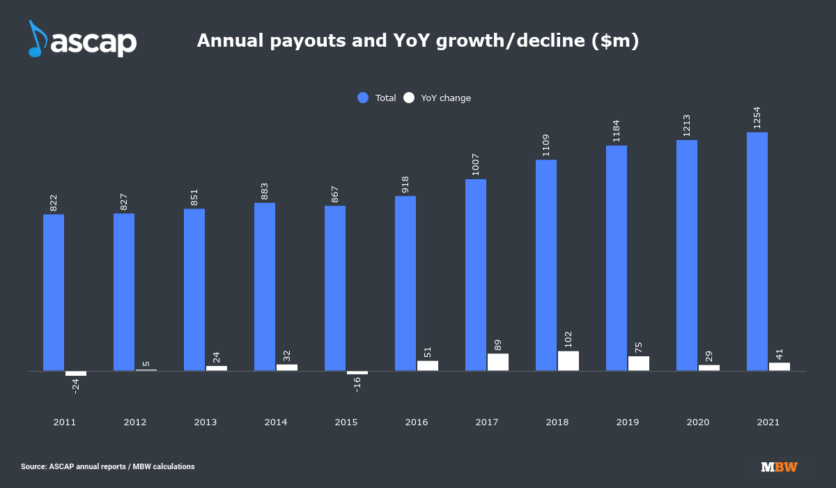 ---
ASCAP's domestic (US) payouts in 2021 stood at $912.6 million, according to Elizabeth Matthews – up by $22 million on the prior year.
The org's payouts to members from international collections stood at $341 million in 2021, up $19 million year-on-year.
---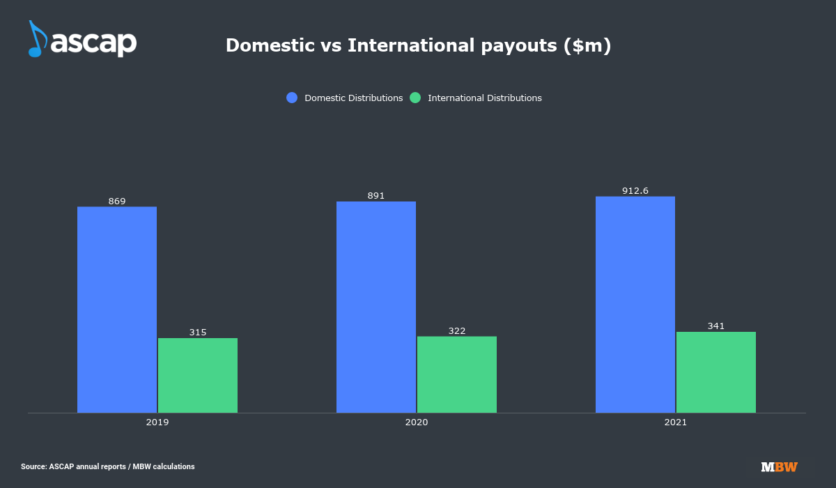 ---
In its annual report, ASCAP confirmed that its total membership across publishers, songwriters, and composers, ended up at "more than 850,000" at the close of 2021.
With that total annual payout of $1.254 billion in the year, this means the mean average payout to an ASCAP member across the 12 months of 2021 was approximately $1,475, or around $123 per month.
(Obviously it goes without saying that a minority of ASCAP members, including hit songwriters and major music publishers, would have earned far, far more than that mean average figure in the year.)
"The ASCAP team is dedicated to building a better music future for our songwriter, composer and music publisher members."

Elizabeth Matthews, ASCAP
ASCAP ended 2020 with around 800,000 clients, meaning it added approximately 50,000 of them during 2021.
BMI reported that in its FY2021 (to end of June last year, remember), its affiliate membership grew 11% to 1.2 million, with nearly 120,000 new songwriters, composers and publishers joining its org.
Addressing songwriters in the latest ASCAP annual report, Elizabeth Matthews said: "The ASCAP team is dedicated to building a better music future for our songwriter, composer and music publisher members. I am so grateful for the incredible work the team delivered around the clock in 2021 to achieve that goal.
"I promise you we will continue to take every step necessary to ensure that you can keep creating the world's greatest music."Music Business Worldwide