One senior publishing executive texted MBW over the weekend simply calling it "genius". A leading talent manager, meanwhile, told us he thought it "tacky and childish", and "a cheap look".
Whichever camp you fit in, you can't deny that ASCAP's new social media campaign – aiming its guns at historical rival BMI – is getting the music industry talking.
MBW broke the news last Wednesday (August 23) that NYC-based private equity firm New Mountain Capital (NMC) was in advanced talks to acquire BMI.
Some industry sources suggest that New Mountain and BMI have agreed a transaction in principle for approximately USD $1.7 billion. Other sources suggest, however, that it's not yet a done deal.
News of BMI's talks with NMC news arrived 10 months after BMI revealed that it was scrapping its long-held, not-for-profit business model (under which it had operated since being founded in 1939) and changing to a for-profit model.
Over the weekend (August 26 and 27) and the two days prior, ASCAP posted numerous messages on Instagram and Twitter (X) that clearly took aim at BMI's newly-for-profit status, in addition to its sale talks with private equity.
In one such post, ASCAP, which remains a not-for-profit entity, writes: 'ASCAP. Not for profit since 1914 and still going strong.'
Another slightly more pointed post, is captioned: 'Private Equity Never Wrote An Iconic Love Song.'
Under that slogan, ASCAP writes: "Behind every hit is a songwriter that deserves to make a living.
"No private equity or outside investors means YOU get paid first. ASCAP has proven operating on a not-for-profit basis can deliver industry-leading innovation, growth and record-breaking financial results for members."
---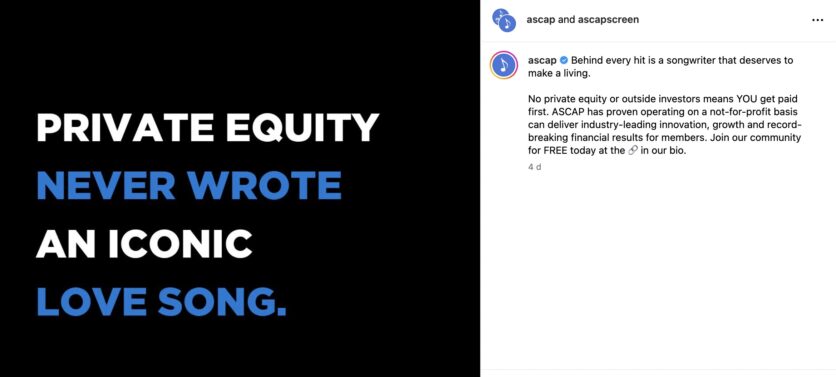 ---
There are a number of other similarly-themed posts on ASAP's socials.
One, pictured at the top of this story, simply reads: "ASCAP. Creators First. Not for profit. Not for sale."
Another adds: "ASCAP. We pay songwriters, not shareholders."
Directly addressing songwriters, ASCAP further writes: "We're led by music creators like you. ASCAP is the only PRO in the US founded and governed by songwriters, composers and music publishers.
"Every decision about how we operate is made by music creators like you – not broadcasters, corporations and investors, like our competitors."
BMI had been gearing up for a potential sale in early 2022 and enlisted Goldman Sachs as an advisor in March of that year to help review strategic opportunities.
Yet by August last year, BMI (Broadcast Music Inc.) had pulled the plug on the sale, saying the transaction was "no longer an avenue we are considering".
Sources familiar with the matter said interested parties like private equity firms and technology providers had tabled offers for the company in 2022, but some backed out, while other offers did not meet BMI's requirements.
After scrapping those sale plans, BMI revealed in October 2022 that it was transitioning to a for-profit business model.
---
Last month, Reuters reported that BMI had renewed sale talks with potential buyers. Citing people familiar with the matter, Bloomberg wrote that BMI had again turned to Goldman Sachs "for guidance as it fields interest from potential acquirers, including private equity firms".
Last Wednesday, citing senior music biz sources, MBW reported that BMI had explored talks with a number of potential backers/suitors, with the frontrunner being New Mountain Capital, an NYC-headquartered private equity firm with aggregate assets under management of over USD $40 billion.
One senior music publishing source told MBW that New Mountain Capital had recently begun a due diligence process on BMI.
As noted by MBW last week, New Mountain Capital has one existing link to music: the firm is an investor in Citrin Cooperman, which last year acquired Massarsky Consulting, one of the predominant valuation companies working in music rights.
---
Meanwhile, BMI's recent moves have prompted songwriter groups to question what the impending changes at the PRO will mean for the royalties that it pays to songwriters and publishers.
In a letter to BMI CEO Mike O'Neill sent earlier this month (August 17), obtained by MBW, the Artist Rights Alliance, the Black Music Action Coalition, the Music Artists Coalition, Songwriters of North America and SAG-AFTRA stated:
"Songwriters have a vested interest in changes at BMI and in any proposed transaction which is wholly dependent on songs they have written… BMI does not own copyrights or other assets; it is a licensing entity for copyrights owned by songwriters and, by extension, publishers.
"Songwriters have a right to understand these decisions and how it impacts us."
"Songwriters have a vested interest in changes at BMI and in any proposed transaction which is wholly dependent on songs they have written."

New letter from songwriters' groups, issued on August 25
Following MBW's story about the talks between BMI and New Mountain Capital, MBW obtained an additional letter, issued on August 25, in which those same songwriter groups told BMI President & CEO Mike O'Neill that they "were extremely disappointed and upset to read the announcement of BMI's sale" to NMC.
"Songwriters have real questions and deserve real answers before any further action is taken. While we appreciated you responding to our [initial] letter, all of our questions went unanswered," they added.
They continued: "We understand that a deal has been agreed, but has not closed. Prior to taking any other action, we are giving you another opportunity to provide songwriters with real, substantive answers to the questions we posed."
---
Earlier this week, MBW asked if a cull of BMI's huge songwriter membership could be on the cards if it does indeed end up being sold to a private equity company.
BMI's collections and payouts in the full year to end of June 2022 were $1.573 billion and $1.471 billion, respectively.
ASCAP's collections in calendar 2022 totaled $1.522 billion, an increase of $187 million or 14% versus 2021.
The body reported that its Royalty distributions to ASCAP members in 2022 also exceeded $1 billion (for the sixth year straight in 2022), up 10.7% versus 2021, with a total of $1.388 billion "available for distribution to ASCAP's music creator and publisher members".Music Business Worldwide