Spotify's Horacio Gutierrez has become a well-known figure in the music industry – whether sat opposite record labels during licensing negotiations, tussling with music publishers over mechanical royalty rates, or acting as the firebrand leader of SPOT's legal assault on Apple over the latter firm's app store charges.
But now, after nearly six years with Spotify, Gutierrez is leaving – exiting his position as SPOT's Head of Global Affairs and Chief Legal Officer for a top job at The Walt Disney Company.
Gutierrez has been named Senior Executive Vice President, General Counsel and Secretary of Disney. His appointment is effective February 1, 2022, and he will report directly to Disney CEO Bob Chapek.
Gutierrez will succeed longtime Disney veteran Alan Braverman who, as was announced in July, is retiring after nearly two decades as General Counsel.
"Horacio is an incredibly skilled attorney and dynamic leader who comes to Disney with 35 years of legal experience in markets around the globe. Having spent more than two decades working for premier technology companies, he has an extensive understanding of the complex legal questions that come with technological disruption and rapid industry change," said Chapek. "Horacio is a key addition to my leadership team, and I look forward to working with him as he builds on Alan's outstanding legacy leading our unparalleled legal organization."
Commented Gutierrez: "I am humbled to have the opportunity to lead Disney's global legal organization, to work with Bob Chapek and his leadership team, and to contribute to one of the most admired and beloved companies in the world as it builds on its many strengths and transforms for the future.
"It is a particular honor for me to succeed Alan Braverman, an iconic figure in the legal profession, who over the last two decades has built one of the largest and most admired legal departments in the world."
Gutierrez exits Spotify amid the streamer's ongoing appeal against a streaming royalty rate rise for songwriters and publishers in the United States.
In January 2018, songwriters in the US enjoyed a major victory when the US Copyright Royalty Board (CRB) ruled that royalty rates for streaming and other mechanical uses would rise to 44% in the market in the five years between 2018 and 2022.
The ruling included a significant increase in the overall percentage of revenue paid to songwriters – from 10.5% to 15.1% in the five years between 2018 and 2022 –  which would mark the largest rate increase in the history of the CRB.
However, Spotify and other companies, including Amazon and Google/Alphabet, subsequently appealed, in a process that remains ongoing.
On January 1 (2022), the CEO of the National Music Publishers' Association, David Israelite, wrote on social media: "Today is supposed to be the day music streaming services like Spotify [and] Amazon Music start paying songwriters 15.1% of their revenue as per the 2018 court decision giving songwriters their first pay rise in a generation.
"That's not happening because these tech giants are STILL in court trying to deny this overdue pay rise."
Evidently, they will now be in court minus Horacio Gutierrez.
---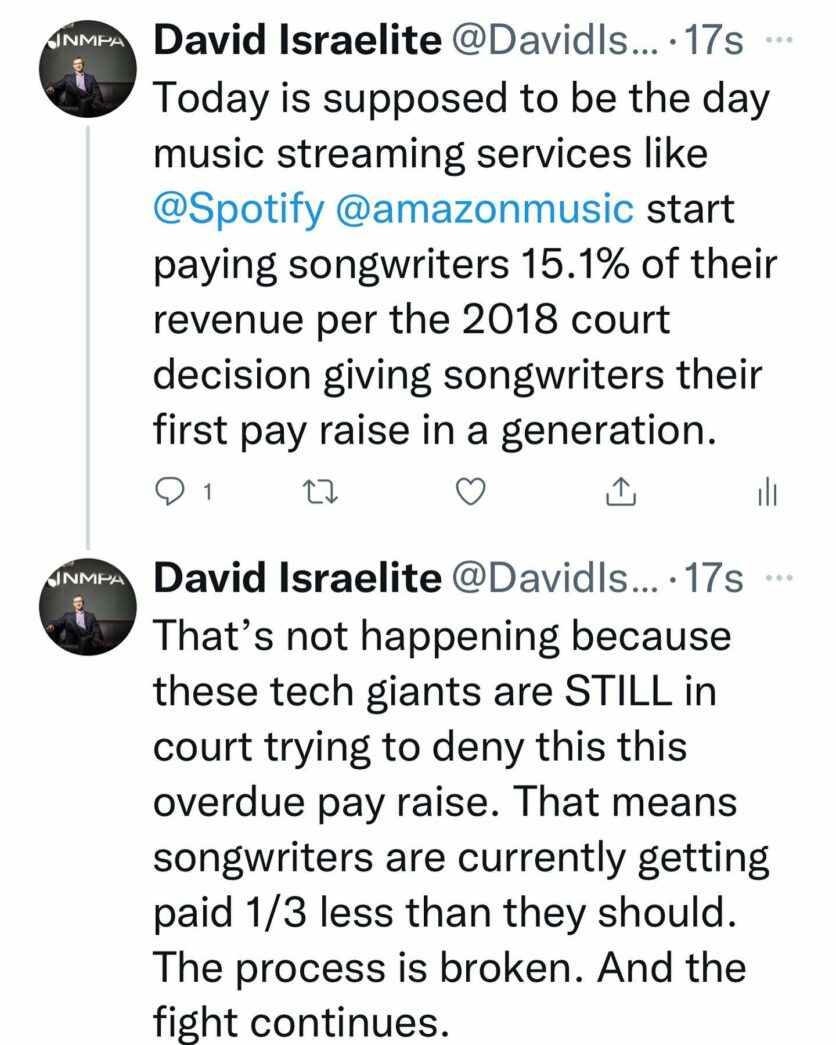 ---
Meanwhile, in October (2021) Spotify proposed new US mechanical royalty rates for the later five-year period between 2023 and 2027.
In a fresh filing with the CRB, Spotify proposed that songwriters and publishers receive 10.5% of a streaming service's relevant revenues during the 2023 – 2027 period.
That's nearly half the size of what the National Music Publishers' Association is proposing.
---
For the past two years, Horacio Gutierrez has served as Head of Global Affairs and Chief Legal Officer for Spotify, leading a global team of business, corporate communications and public affairs, government relations, licensing, operations, and legal professionals responsible for the company's work in areas including industry relations, content partnerships, and public policy.
Gutierrez was previously Spotify's General Counsel and Vice President, Business & Legal Affairs from 2016 to 2019.
Prior to joining Spotify, Gutierrez was Corporate Vice President and General Counsel for Microsoft, overseeing the company's legal affairs around the world, including support of the complete lifecycle of Microsoft's products and services, from research and development to business development activities, M&A, litigation, legal compliance, and cybercrime prevention.
He initially joined Microsoft in 1998 as Corporate Attorney, LATAM, and held a number of positions of increasing responsibility throughout the legal department during his 17-year tenure with the company.
In 2020, Spotify hired former HBO legal chief, Eve Konstan, as General Counsel reporting to Gutierrez.Music Business Worldwide