The A&R Awards 2017 in association with Abbey Road Studios saw winners take the stage across the record label, publishing and management world in London last night (November 1).
Big winners included Steve Mac, who took home both Songwriter of The Year and Producer of the Year awards – each voted on by a panel of more than 100 A&R professionals across the globe.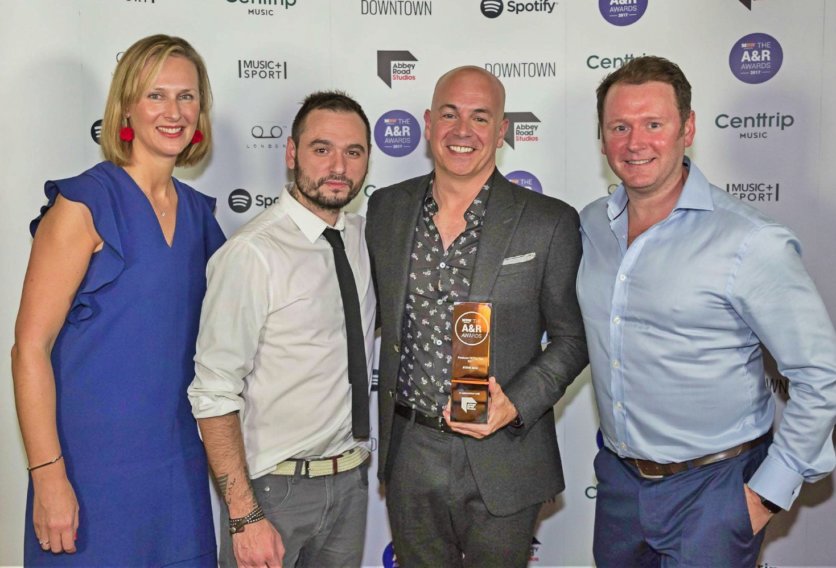 Individual awards were picked up by the likes of Black Butter co-founder Joe Gossa, Columbia Records' Julian Palmer, Polydor's Jamie Spinks, Decca's Tom Lewis and Young Turks founder Caius Pawson, who dedicated his award to his label's outgoing Katie O'Neill.
The Management Company award (also known as the David Enthoven Award) at the UK-focused ceremony was picked up by Machine Management, while Atlantic Records collected the Major Label of the Year prize.
Young Turks were named Independent Label of the Year, while Universal Music Publishing Group and Reservoir both won Publisher of the Year gongs.
Three extra special awards were given out on the night, with Bill Curbishley of Trinifold Management picking up the Artist Loyalty award, which was handed out by The Who's Pete Townshend.
Universal Music Publishing Group's Caroline Elleray was named the second ever recipient of the Sir George Martin Award, while Korda Marshall collected the A&R Icon gong – handed to him by Warner Music Group's CEO of recorded music worldwide, Max Lousada.
The A&R Trailblazer Award, jointly concocted by MBW and Spotify to recognise an emerging individual disrupting the business, was won by Catalyst Entertainment's Guv Singh – who manages the likes of Tom Zanetti, MIST and Swifta Beater.
The full list of winners can be seen below, and look out for further coverage, photos and videos of the night on MBW in the coming hours and days.
---
The Sir George Martin Award
Caroline Elleray (Universal Music Publishing Group)
---
A&R Icon
---
The Artist Loyalty Award
---
A&R Trailblazer in Association with Spotify
---
Producer Of The Year – Supported by Abbey Road Studios
---
Songwriter Of The Year – Supported by Downtown
---
A&R Of The Year: Adult Contemporary
---
A&R of the Year: Electronic/Dance
---
A&R Of The Year: Hip-hop/Grime
---
A&R Of The Year: Pop/R&B – Supported by Music + Sport
---
A&R Of The Year: Rock/Alternative
Caius Pawson – Young Turks
---
A&R Administrator
---
The Breaking Artist Award
Loyle Carner (AMF/Virgin EMI)
---
Publisher of the year
Universal Music Publishing Group
---
Publisher of the year
---
Independent Label of the year
---
Management Company (The David Enthoven Award) – Supported by Centtrip Music
---
Major Label Of The Year – supported by TAPE London
Music Business Worldwide