Apple is taking its new lyrics function for Apple Music seriously – and doing the heavy lifting for the service in-house.
MBW has spotted a new job ad for a role as 'Lyrics Curation Manager' at Apple, based in Santa Clara Valley, California.
The vacancy is 'for a manager to lead a team of lyrics curators with excellent writing skills, music knowledge, and attention to detail'.
The job ad says the role also requires: 'Passion for technology and a will to question the current workflows with the mindset to improve tools and processes. General understanding, love, and ideally, experience in writing lyrics.'
Apple recently announced that its iOS10 update would bring a number of changes to Apple Music, including a redesign, a 'downloaded' section… and lyrics.
---
What seems likely is that, rather than deploying a third-party to license and/or transcribe lyrics, Apple is taking both tasks on itself.
The job ad says the 'Lyrics Curation Manager' position requires a minimum 5 years of relevant work experience, in addition to 'strong analytical skills, including extensive knowledge of Excel and/or Numbers'.
Experience working with lyrics is described as a 'big plus'.
The timing of Apple's recruitment drive is interesting – Apple Music rival Spotify dropped its lyrics partner Musixmatch after a year together in May.
A Spotify spokesperson told MBW at the time: "I can confirm our lyrics feature is currently unavailable as we're making some big improvements to the feature. We'll share more updates soon."
A Musixmatch spokesperson responded: "We regret the end of this partnership… [but] we will not allow anybody to ignore our business model."
---
Spotify's current paid subscription base stands at more than double Apple Music's.
Over 35m people are understood by MBW to be paying to use Spotify's service, while Apple Music's subscription base recently topped 16m.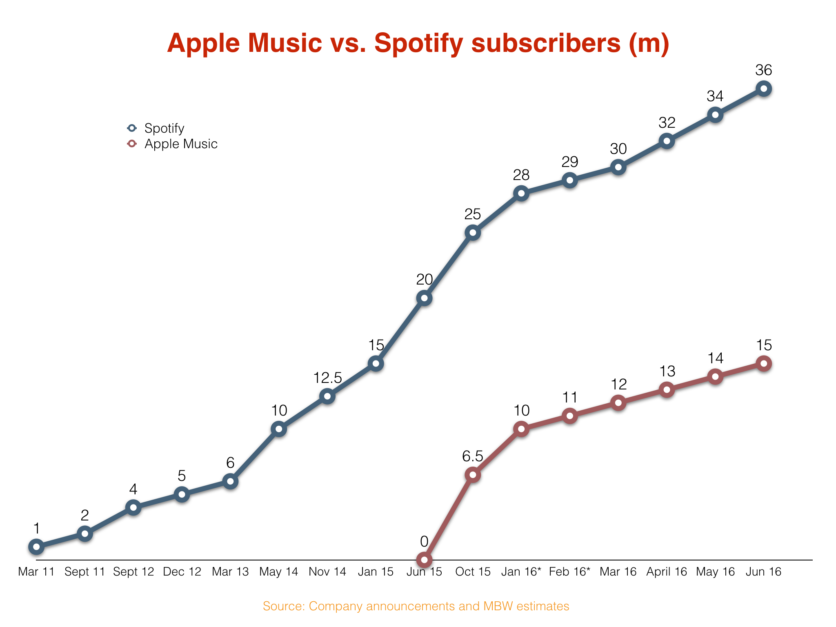 However, Apple Music is available in 55 more countries than Spotify, and is up and running in 60 countries where Spotify is unavailable.
Apple Music launched in both Israel and South Korea earlier this month.Music Business Worldwide