MBW has discovered exactly how much Apple paid its key employees last year.
Mr Apple Music, Eddy Cue, received a $1m salary, plus $4m in non-equity (cash) incentive compensation.
In addition, Cue received a whopping $20m in Apple stock awards.
Apple CEO, Tim Cook, meanwhile, took home $10.281m in total – including a $2m salary plus $8m in non-equity incentive compensation.
As you can see below from Apple's SEC filing, Cook didn't receive any new stock awards, despite Apple posting $224bn in sales during the year.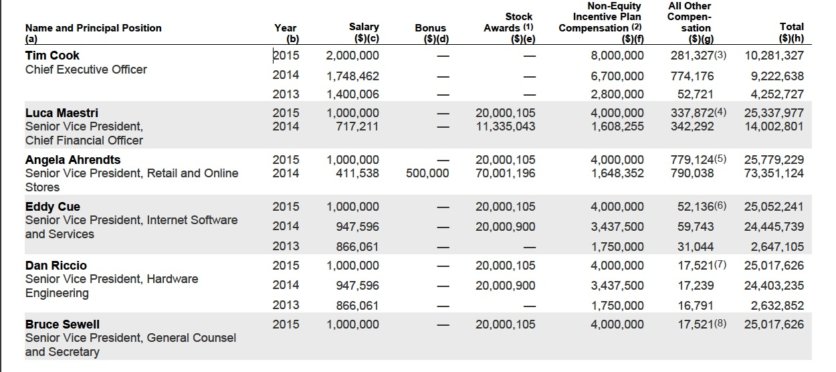 Interesting to note, then, that reports place the annual compensation of the likes of Doug Morris and Lucian Grainge comfortably in excess of $10m.
According to a Hollywood Reporter report from four years ago, Universal Music Group paid Chairman and CEO Grainge $16.3m in 2011
The British exec last year signed a new five-year contract at UMG.
And according to the New York Post, Sony Music CEO & Chairman Doug Morris reportedly put pen to paper on a two-year deal in 2015 that would see him paid up to $20m a year, with $17m per annum guaranteed – although a Sony rep called the numbers "untrue and false".
Even as far back as 2005, Morris earned $18m as boss of Universal, according to another NYP report.
That said, Tim Cook's hardly a pauper: according to Apple's filing, he finally got his hands on previously-received stock awards during 2015 worth around $58m – 'vested' shares.
Cue received $38m-worth of these vested shares.

In addition, Cook's got the small matter of a further $353m-worth of Apple stock coming his way in the near future, so long as he remains CEO (see below).
You can read the full Apple SEC filing through this link.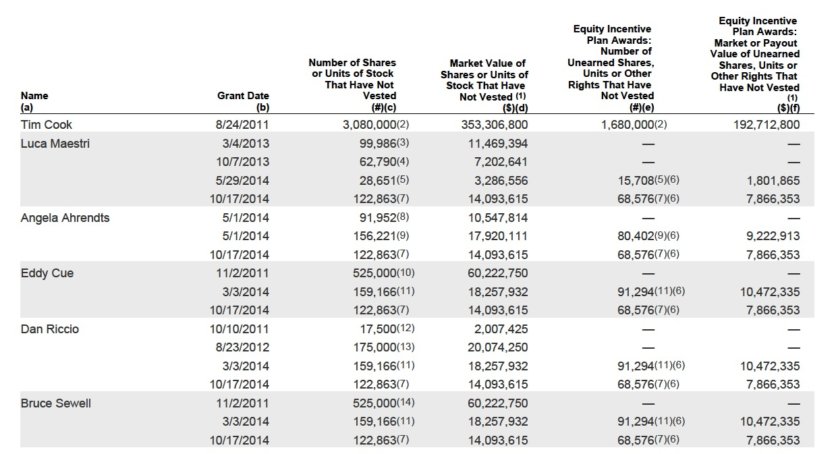 Music Business Worldwide