We're used to seeing Apple Music pick off artists one-by-one for exclusive deals.
Now it's signed an agreement with an entire label – a big one.
Cash Money Records, whose artists include Lil Wayne, Nicki Minaj, Young Money and Birdman, is now an official partner of the service – to some extent, at least.
We know so because the co-founder of Cash Money, Birdman, posted a pic to his Instagram account over the weekend, saying: 'It's official… Cash Money makes a power move with Apple Music.'
That 'power move' will no doubt entail some kind of exclusivity guarantee – which spells bad news for Spotify.
UPDATE: Sources now tell MBW that the 'power move' involves the creation of a documentary about Cash Money and Birdman, which will air exclusively on Apple Music.
Apple may well have stumped up a big cheque to make it happen, potentially alongside some promotional guarantees regarding both iTunes and Apple Music itself.
One possible option: Apple paid out a weighty advance to Cash Money, at least some of which will be recouped from the label's future Apple Music/iTunes income.
Another: the two parties are co-creating content, whether music or video, which will remain exclusive to Apple.
Worth mentioning that another artist signed to Cash Money is… Drake, who agreed a reported $19m deal with Apple last year.
Since then, Apple has enjoyed a two-week exclusive for Drake's record-breaking album Views, released back in April.
In addition, Apple is believed to have funded Drake's video for One Dance, which remains officially unavailable on YouTube.
---
Birdman's Instagram post on Sunday (August 14) was accompanied an image of the rapper/entrepreneur striking a pose with Apple Music's Larry Jackson (pictured, main).
Jackson, a former A&R exec at Jimmy Iovine's Interscope, now plays a key role for his former boss at Apple – targeting artists, especially those from the hip-hop/R&B world, with exclusivity deal offers.
Jackson was also tagged in the Instagram post.
Interestingly, one of Cash Money's key artists – Lil Wayne – is thought to be a stakeholder in TIDAL, where he released his FWA album exclusively last year.
Even more interestingly, Cash Money is itself exclusively distributed by Universal Music Group worldwide.
One wonders what Sir Lucian Grainge makes of the label inking a direct partnership with one of the biggest streaming services on the planet.
Keep your eyes peeled for more Apple Music label exclusives being announced in the coming months.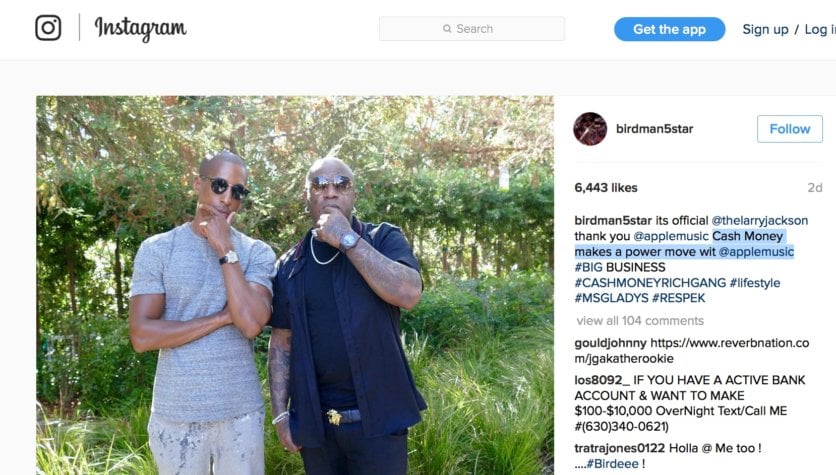 Music Business Worldwide