Apple Music has now launched in Israel, adding another number to the total tally of countries it's available in where Spotify is not.
Spotify is currently in 60 countries (plus additional subsidiary regions), whereas Apple Music exists in 114 – that's 54 more – despite having only launched in June last year.
Apple Music now has 15 million paid users around the world, while Spotify boasts 35m.
In Israel, the service is priced significantly lower than it costs in the UK and US.
After a three month free trial, an individual membership costs NIS19.90 (£3.90/ US $5.20).
A family membership, providing the service for up to six family members, is priced at NIS29.90 (£5.90/ US $7.80).
The service will feature music from local artists including Sarit Hadid, The Idan Raichel Project and Static and Ben El Tavori, as well as a wide range of international artists.
---
Spotify, which launched back in 2008, has seen its international growth slow since 2013 – a year when a sudden burst of expansion saw it enter the likes of Italy, Poland, Portugal, Mexico, Hong Kong, Malaysia, Singapore, Estonia, Latvia, Bolivia, Bulgaria, Turkey, Chile, Cyprus and Czech Republic.
In March it entered Indonesia, and launches in Russia and Japan are anticipated later this year.
Apple Music is following in the footsteps of iTunes before it. When the platform arrived on June 30 last year it launched in over 100 countries, later adding the likes of China in addition to February's Turkey and Taiwan, and today's Israel announcement.
Apple, backed by one of the richest companies on the planet and arriving at a time when streaming has gone mainstream, has a significant advantage over Spotify.
However, Spotify is growing faster than ever, having added around 2m paying subscribers each month in the past quarter alone – up 15m from June 2015.
MBW sources suggest that Spotify's subscriber base saw it top 36m in July, thanks largely to a three-month promotional offer hawking three months of Premium to new customers for just $0.99.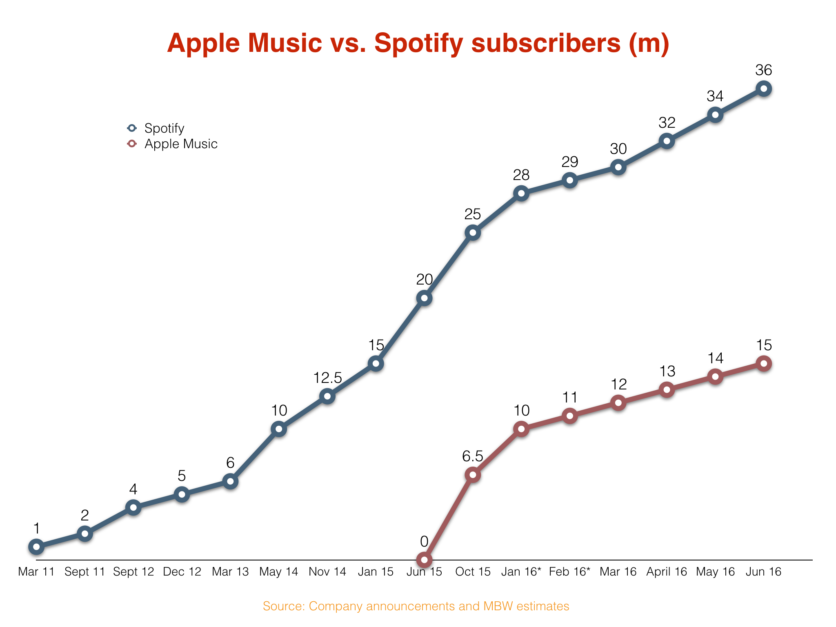 Music Business Worldwide