Spotify CEO Daniel Ek confirmed yesterday afternoon on Twitter that the service has now surpassed 30m subscribers.
It was a predictable milestone: back in January, we learned that Spotify boasted 28m subs, meaning it's currently adding paying customers at a rate of around 1m a month.
How much cash each of those subscribers is paying is another matter. Spotify ran a $1-for-three-months promotion globally towards the end of last year, while its recent drive to promote its premium tier included a giveaway of Google Chrome.
If Spotify's total active user base sits at approximately 100m people, as we understand it does, then the latest news gives the service a clear and strong 30% conversion rate – the highest in its history.
Another interesting way to slice these numbers is to compare Spotify like-for-like with Apple Music since the latter service launched in June 2015.
Handily, Spotify announced in that very month that it had accrued 20m subscribers in its lifetime.
We now know that Spotify has added 10m subs in the nine months that followed.
Apple Music, meanwhile, added 11m subscribers from the same that point until midway through last month.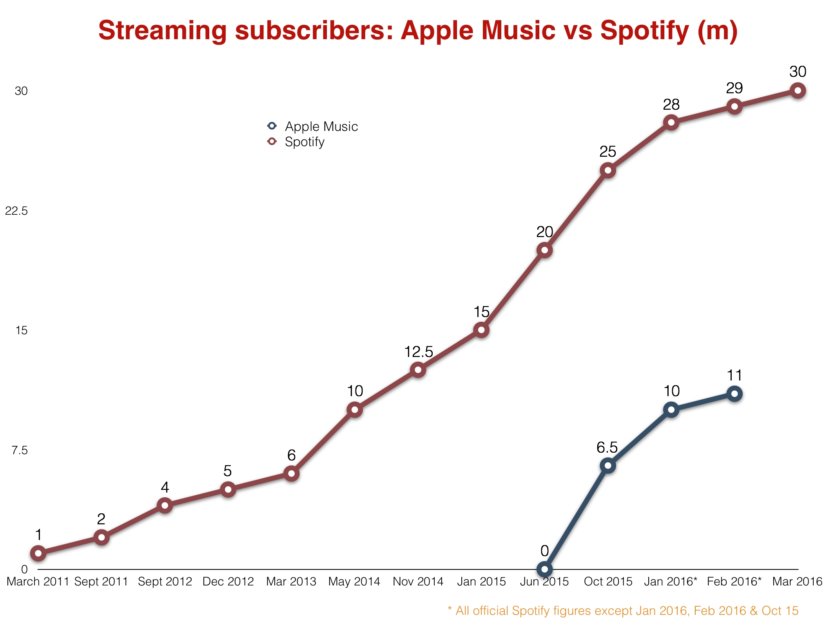 So compared up against each other directly, Apple Music has slightly outstripped Spotify by 1m subs in this nine-month period – 11m additions (Apple) to 10m (Spotify).
(At its current growth rate, you might well expect Apple Music to add another 1m subscribers in March.)
Although Apple 'beats' Spotify in this context, however, the trajectory of Daniel Ek's company is impressive – especially considering its main rival will have attracted the majority of its initial subscribers amid the noise of its launch (and the reveal of its three-month free trial offer).
In addition, don't forget that Apple Music is now in 59 countries more than Spotify – although Spotify is set to launch in Indonesia shortly and, soon enough, in Japan.
Or that Apple Music has been quietly pinching blockbuster windowed exclusives from Spotify in the shape of Coldplay, Future & Drake, The 1975 and Gwen Stefani.
Considering all these factors, Mr Ek (pictured) must be pretty pleased that his growth is pretty much neck-and-neck with Apple's.
And considering that the IFPI estimated there were just 41m paying streaming subs around the globe in 2014 – and that Spotify and Apple Music have signed up 26m between them since Jan 2015 – the music industry will be willing both services to keep it up.Music Business Worldwide