Apple Music has a significantly bigger portion of global streaming subscribers than it did last year – but Spotify is holding its own.
That's according to newly-published numbers from respected market analysis providers Midia Research.
In figures relating to the end of June 2018, Midia estimates that there were 229.56m paying music subscribers around the world.
According to Midia, that number was up 16% on the 198.6m it monitored at the end of 2017, and up 38% (+62.8m) on the 166.7m it estimated at the end of H1 last year.
As of end of June 2018, Spotify took a 36% market share of these 229.56m subs, says Midia, with 83m paying customers. That percentage figure was flat year-on-year.
Apple Music, meanwhile, took a 19% share, up 3% year-on-year, with an estimated 43.5m paying subscribers (not including free trialists).
And Amazon – across both premium service Amazon Music Unlimited and limited-tier Amazon Prime Music – claimed a 12% market share in H1 2018 with 27.9m subscribers at the end of the period.
With Amazon's 12% share, says Midia, premium service Amazon Music Unlimited counted 9.5m subscribers at the close of H1 2018, up 3.3m from the close of 2017.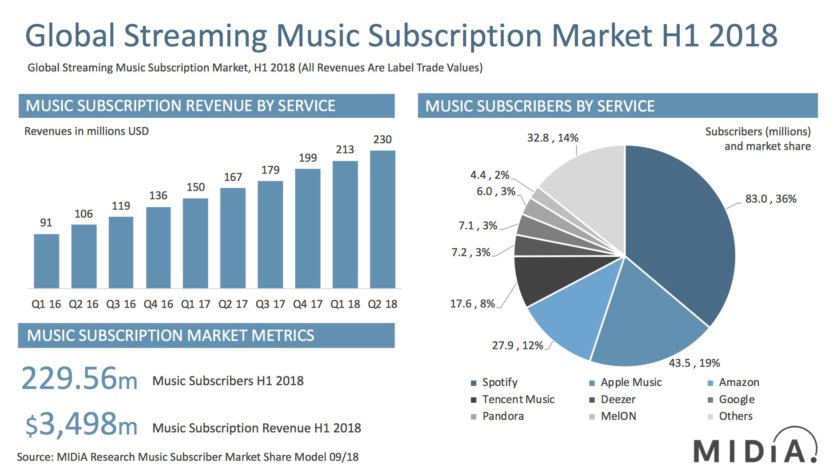 ---
MBW has seen Midia data from last year, giving us a useful like-for-like comparison.
As you can see below, Apple Music is definitely the biggest gainer in terms of market share of global subscribers.
It grew its subscriber base from 27.1m at the end of H1 2017 (16%) to 43.5m (19%) at the end of June 2018, a year on.
That's a jump of 16.4m paying subscribers.
---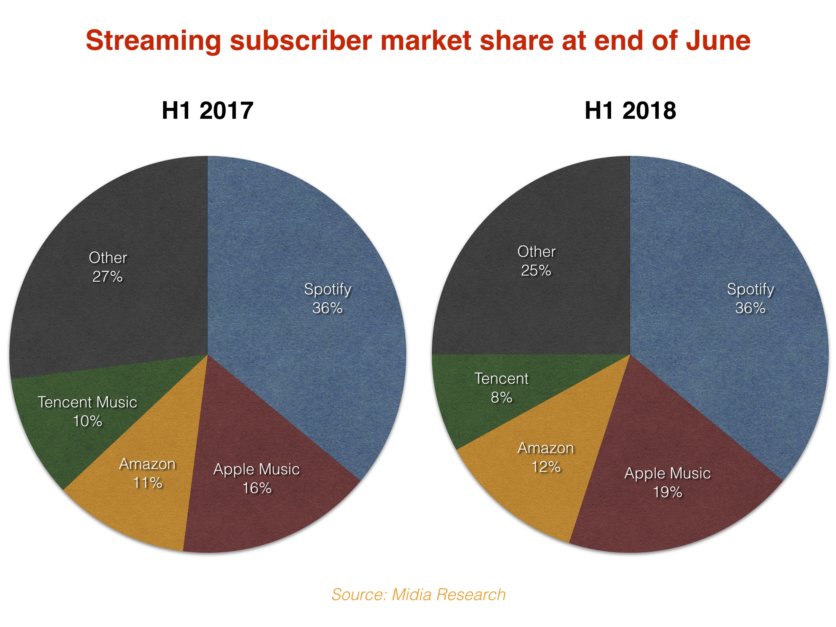 ---
Spotify didn't cede any market share for this to happen, however: the green machine maintained a solid 36% share in both periods.
Daniel Ek's company grabbed 59.2m subs at the end of H1 2017, says Midia's data, growing by nearly 24m in the following year.
So where did Apple's market share gain come from?
Midia's figures suggest that it came from non-Amazon/Apple/Spotify services, whose collective share dropped by 2% in the 12 months, in addition to Tencent.
Tencent Music, which is soon set to float on the US stock exchange, counted 17.6m subs at the end of H1 2018, according to Midia – equivalent to an 8% market share.
The year before, the company claimed a 10% market share, with 16.3m subs.
Interestingly, Pandora (in 'Other' above) has maintained a 3% global subscriber market share.Music Business Worldwide