Apple has filed an application to trademark 'Platoon'.
Platoon is the London-based creative services firm acquired by Apple in December, which was founded in 2016 by music industry veteran Denzyl Feigelson and LoveFilm co-founder, Saul Klein.
Platoon developed a number of early-stage artists in the UK and US over the past two years who have gone on to make waves in the global business, including Billie Eilish before she signed to Interscope in 2017, in addition to UK stars Stefflon Don and Jorja Smith.
MBW also revealed in September 2018 that the company had expanded into South Africa via its Cape Town Creative Lab (CTCL).
First spotted by Apple Intellectual Property news blog Patently Apple yesterday (May 15), on Tuesday (May 14) the Cupertino-based technology giant publicly filed for the trademark in Hong Kong and in London at the European Patent Office (EUIPO).
---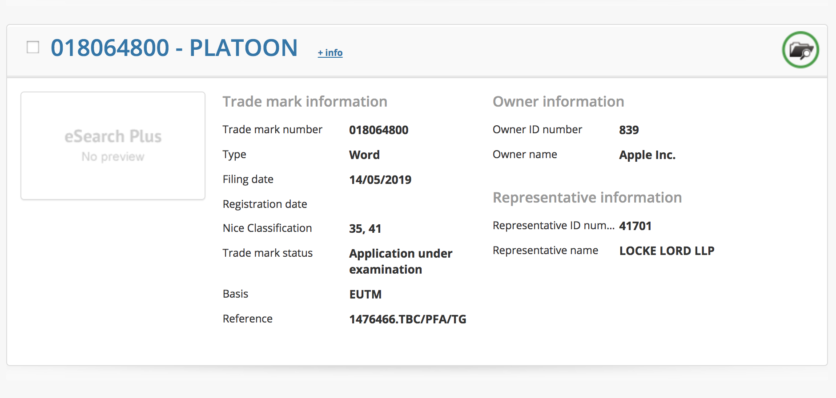 ---
While Tuesday's filing was the first time Apple publicly revealed that it had made a trademark application for the word Platoon under the Nice classes 35 and 41 (see below), according to the filing record (see below), Apple filed a "Priority" application in Lichtenstein on November 16, 2018 (around three weeks before the acquisition was reported by MBW).
---

---
The Nice Classification system for EU trade mark applications assigns goods across Classes 1 to 34 and services 35 to 45.
According to Patently Apple, the trademark filing in Hong Kong (under number 304925304) was made under the same International Classes.
You can see the full details of the Platoon trademark application under the Nice classes 35 and 41 below:
---
"Class 35: Career planning and information services for musicians; advertising, marketing, and promotion services in the field of music; analysis of advertising response and market research in the field of music; media planning services in the field of music; data processing services in the field of music; business monitoring and consulting services, namely, tracking web sites and consumer behavior to provide strategy, insight, marketing, sales, and operations advise in the field of music; promoting musical concerts and other entertainment events of others; organizing and conducting tours and concerts for musical artists."
"Class 41: Arranging, organizing, conducting, and presenting concerts, live performances, entertainment special events, and festivals; production, distribution, and presentation of sound recordings; providing websites featuring entertainment and music programming; music publishing services; music distribution services; music and video production services."Music Business Worldwide