Apple Music has gained 2 million subscribers since February, surpassing 13 million this month, according to the company.
The latest figures put the Spotify rival on course to top 20m by the end of this year if it continues on its current impressive trajectory – adding a million subscribers per month.
The news was revealed in Apple's latest earnings report covering its Q2 2016, released yesterday.
Apple Music gained a million subscribers in both January and February this year.
Last we heard, from SVP Eddy Cue, the platform's subscribers went above 11m two months ago.

Apple CEO Tim Cook said in an earnings call yesterday: "Apple Music continues to grow in popularity, with over 13 million paying subscribers today.
"We feel really great about the early success of Apple's first subscription business, and our music revenue has now hit an inflection point after many quarters of decline."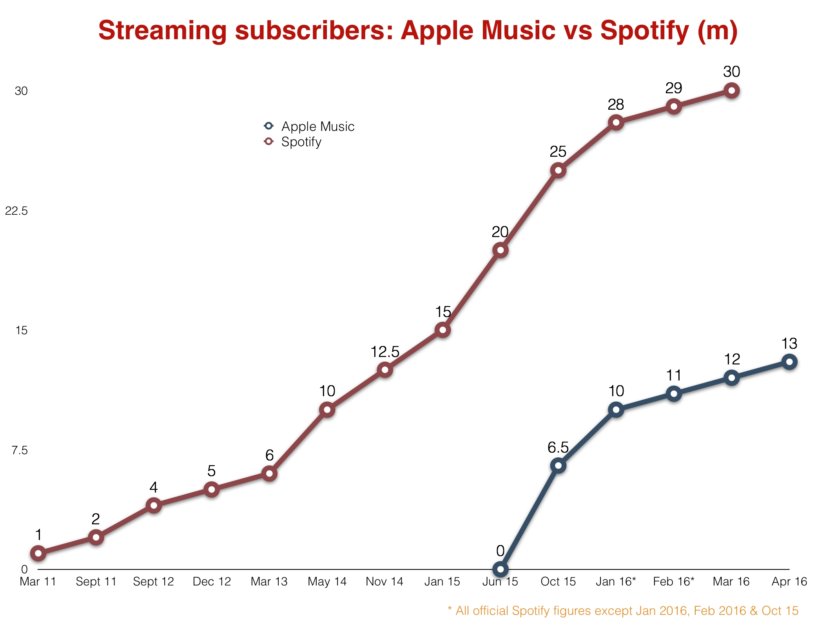 In the past few months, Apple has upped his marketing might – announcing a Taylor Swift advert, and exclusive releases from OVO Sound signees DVSN and the label owner himself, Drake, whose fourth album Views will be released on Apple Music on Friday.
Additionally, new albums from Coldplay, The 1975, Gwen Stefani and a Future and Drake mixtape have all been held from Spotify for a period of time after release, but appeared on Apple Music from day one.
According to the IFPI's Global Music Report 2016, an estimated 68m people paid for a music subscription worldwide last year.
That figure is up from 41m in 2014, and eight million when data was first compiled in 2010.
Since first arriving on June 30 last year, Apple Music has launched in 113 countries. It's now available in 58 markets in which Spotify is not – including Russia, China, India and Japan.

Spotify has more than 30m paying subscribers worldwide, up from 20m in June 2015, and therefore growing at a similar rate to Apple Music.
The Apple Music subscriber news wasn't the only thing on Apple's agenda yesterday.
Tim Cook revealed that Apple 'services' revenue has hit its highest ever figure, jumping 20% to $6 billion in the three months to end of March.
'Services' covers cash earned from iTunes and internet services such as licensing, AppleCare and Apple Pay; which launched in the US in October 2014, followed by the UK in July 2015.
Meanwhile, App Store revenue was up 35% to beat last quarter's all-time record and Apple's installed base of active devices crossed 1bn units earlier this year.
It's not all rosy in the land of Apple, however: the company suffered its first revenue decline in 13 years in Q2 (calendar Q1), with earnings hitting $50.6bn.
Music Business Worldwide