The BPI is the UK's anti-piracy torchbearer, and has won some meaningful victories in the past few years – not least when ISPs were ordered by the High Court to block 21 torrent sites in late 2013.
The trade body, which primarily represents the three major labels as well as certain independents, continues to fight physical music piracy too.
And then there are its efforts to force Google to take down links to pirated content; individual requests which reached a staggering 100 million towards the end of 2014.
Plus there's the stuff we don't know about; the behind-the-scenes lobbying in the halls of Westminster and Europe.
That all costs, and the primary source of funding is PPL, the CMO which collects performance revenues on behalf of UK labels and performers.
PPL passes selected UK trade bodies a sum every year to fuel their copyright-related activities, which is taken out of its total collections in a 12-month period.
According to PPL's latest annual report, when it came to the BPI, that figure went up to £3.32m in 2014.
What's particularly interesting is that the BPI anti-piracy payment in 2014 was the biggest yearly rise in funding since online records begin (2007) – a £800,000 jump on 2013.
Compared to 2008, the year that Spotify came to market – and which has been credited for 'eliminating' piracy in certain regions – the BPI's anti-piracy funding from labels and performers has more than doubled, up from £1.55m to £3.32m.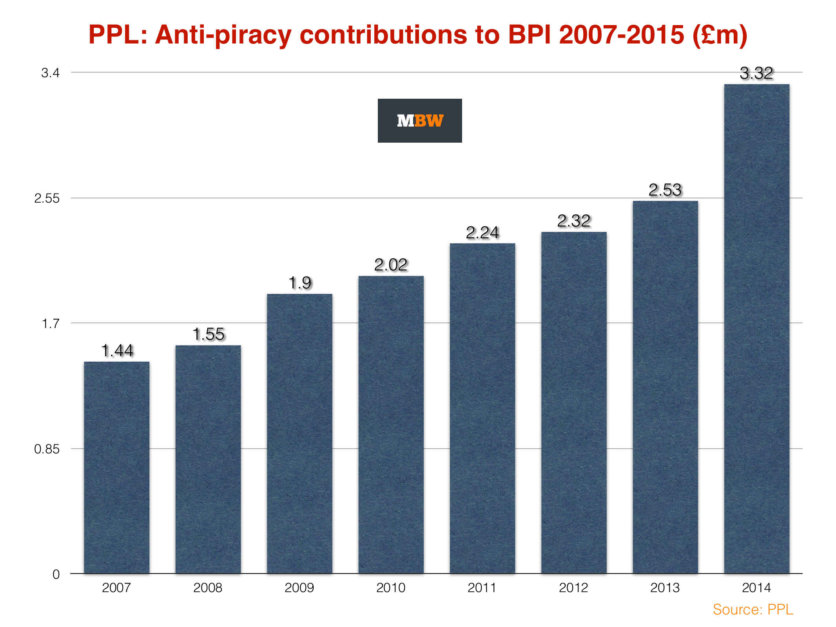 The BPI's fee represented 1.8% of PPL's £187.1m total collections in the year.
PPL distributed £161.2m of this figure to its label and performer members in 2014.
Outside of the BPI, PPL's other industry contributions pale in comparison.
UK Music, the umbrella body collectively representing trade bodies across labels (BPI), independents (AIM), managers (MMF), publishers (MPA) and more, received £823,726 in 2014.
International label trade body IFPI received £621,402.
And IMPALA/AIM – the related European and UK independent trade bodies – were handed just £65,000.
The BPI recently launched a Copyright Protection Portal to help labels, musicians and music businesses see where illegal copies of their music are being made available illegally online and track how BPI is responding.Music Business Worldwide