Sylvia Rhone is one of the global music business's true power players.
The Los Angeles-based executive recently rose to Chairman and CEO of Sony's Epic Records, where she has enjoyed major recent success with the likes of Travis Scott, Camila Cabello, Future, 21 Savage, Meghan Trainor and DJ Khaled.
By stepping into the label's Chairman role, Rhone not only succeeded her former boss, L.A Reid, but also made the latest upward move in a distinguished career which has spanned more than four decades.
Prior to Sony Music, Rhone spent eight years at Universal Music Group, where she was President of Universal Motown Records and Executive Vice President at Universal Records from 2004. And from 1994-2004, Rhone was Chairman and CEO of Warner Music Group's Elektra Entertainment Group – where she became the very first African-American woman to be named Chairman of a major record company.
With all of her corporate commendations and c-suite titles, you could be forgiven for expecting certain things of Rhone – that she breathes a rarified air, perhaps, or that she's been somehow influenced by the snooty one-percenter traits of the commercial elite.
Yet you'd be wrong there, friend. At least, that's according to a cracking little anecdote which appears in the latest edition of MBW's Music Business UK magazine – our premium quarterly almanac focused on the British music business… and its most interesting people.
---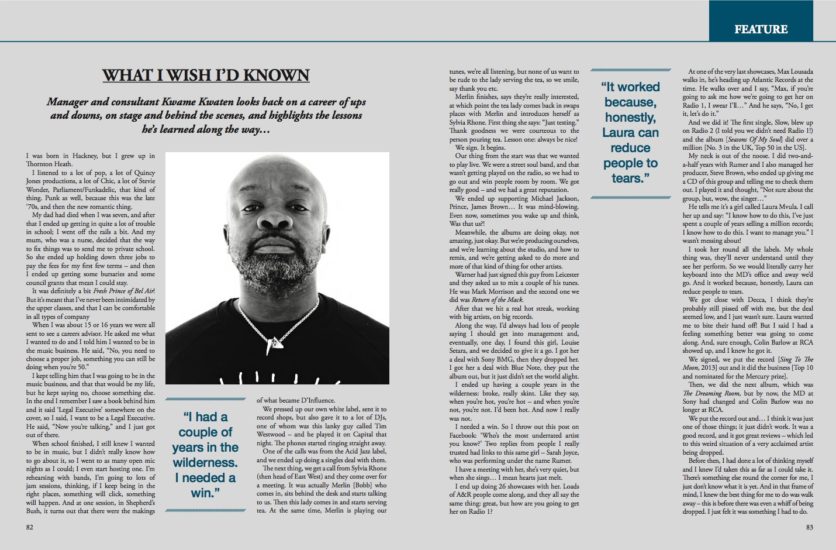 Kwame Kwaten is the founder of London-based management and services company Ferocious Talent, and has represented major British artists like Rumer and Laura Mvula in recent years.
Before entering the realm of music biz insiders, however, Kwaten was a performer – or, to be more precise, a member of UK 'street soul' band, and R&B hit production unit, D'Influence. (Props where props are due: D'Influence ended up supporting the likes of Michael Jackson, Prince and James Brown live. Pretty mega.)
In Music Business UK, Kwaten takes on our What I Wish I'd Known column, where he looks back over his career and reveals the key lessons he's picked up along the way.
Kwaten recalls that he hadn't long left school when D'Influence signed to UK indie label Acid Jazz in the early '90s. And then, as the noise started to build around the group, a certain Sylvia Rhone – then head of Atlantic Records' EastWest imprint – began to show interest.
We'll let Kwame take it from here.
"We get a call from Sylvia Rhone, and EastWest come over [to London] for a meeting. It was actually Merlin [Bobb, seasoned Elektra/Atlantic A&R figure] who comes in, sits behind the desk and starts talking to us. Then this lady comes in and starts serving tea.
"Thank goodness we were courteous to the person pouring tea. Lesson one: always be nice!"

Kwame Kwaten, Ferocious Talent
"At the same time, Merlin is playing our tunes, we're all listening, but none of us want to be rude to the lady serving the tea, so we smile, say thank you etc.
"Merlin finishes, says they're really interested, at which point the tea lady comes back in, swaps places with Merlin… and introduces herself as Sylvia Rhone.
"First thing she says: 'Just testing!'"
And the life lesson he learned?
"Thank goodness we were courteous to the person pouring tea. Lesson one: always be nice!"
Quite right too. (If you were wondering… D'Influence and Elektra signed the deal.)
---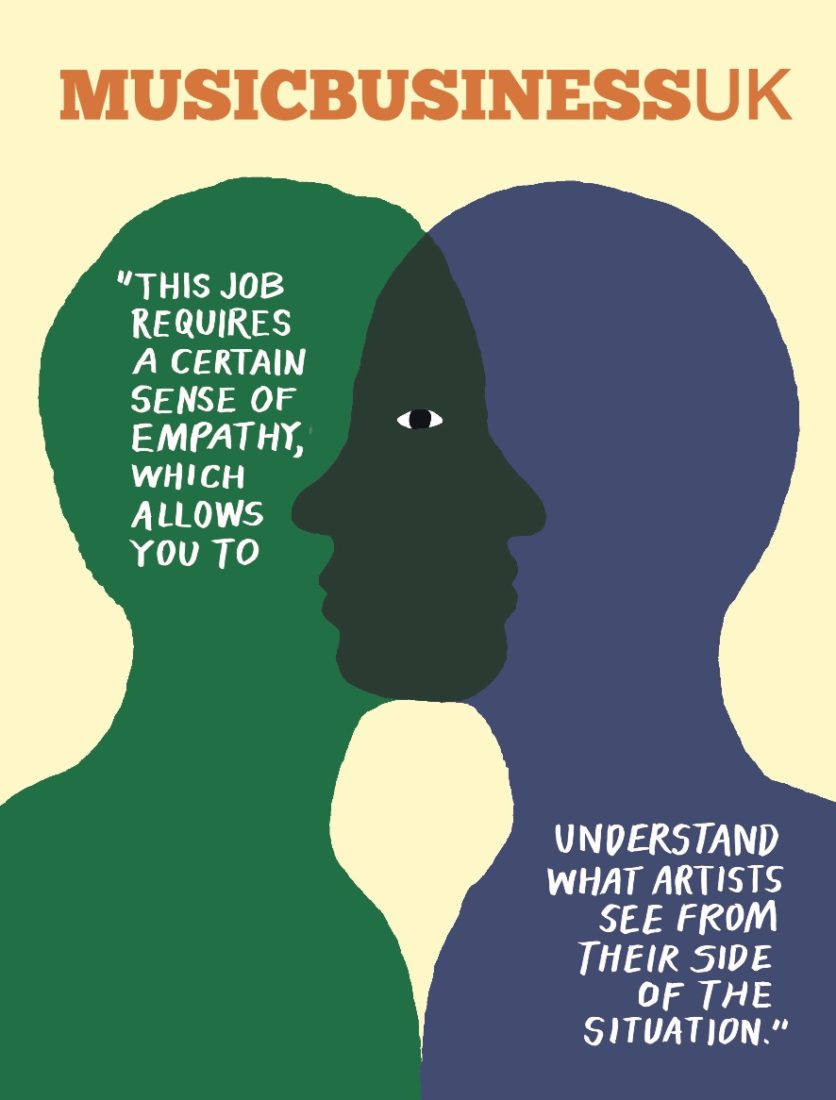 The beautiful latest edition of Music Business UK is currently landing on the desks of our subscribers.
It features a lead interview with the CEO and Chairman of RCA in New York – and one of the most influential British executives worldwide – Peter Edge. (That's actually a quote from Mr. Edge you can see on the mag's illustrated cover, inset.)
You can get your hands on the publication by subscribing to Music Business Worldwide's annual premium physical bundle through here today.
This will ensure we send you our quarterly Music Business UK magazine, in addition to other physical titles like Music Business USA and the MBW Yearbook, over the next 12 months.
If you still need convincing – and why would you? – you can check out a teaser preview version of Music Business UK's new Q2 2019 edition through this link.Music Business Worldwide