Asif Kapadia's well-received new Amy Winehouse documentary, Amy, is packed with industry heavyweights revealing their side of the late singer's story.
Universal CEO & Chairman Lucian Grainge, Island Records President Darcus Beese and producer Salaam Remi are a few of the names interviewed about Winehouse's rise and fall.
Perhaps the most prominent voice though is former manager, Nick Shymansky (also Grainge's nephew), who was the first port of call for Kapadia after Universal approached him with the idea for the documentary.
Shymansky watched the last years of the late-singer's life play out from afar; months before her critically acclaimed second album, Back To Black, was released in 2006, he was replaced as Winehouse's manager by her live agent, Raye Cosbert.
A friend of Winehouse's from the age of 16, Shymansky helped guide the beginnings of her career, from signing to Island Records, and releasing her debut Frank in 2003.
Then, after attempting an intervention by taking her to rehab, vetoed by her dad, Mitch Winehouse, Shymansky lost his influence.
(It's for this reason that to Shymansky, Winehouse's seminal "They tried to make me go to rehab, I said no, no, no," isn't a strong-minded proclamation but something of a personal rejection.)
"I can't say she was being pushed, but I can't say she was Being stopped. We all saw what a f*ck-up belgrade was."
"I felt so close to Amy as a person and as her manager, I just thought I'd be able to get us through it and very naively thought that no-one else would be able to do this," he tells MBW.
"I thought I was quite safe to make that move and I was wrong. All of a sudden there was a new management team and a new record coming together and very shortly after that she became a superstar."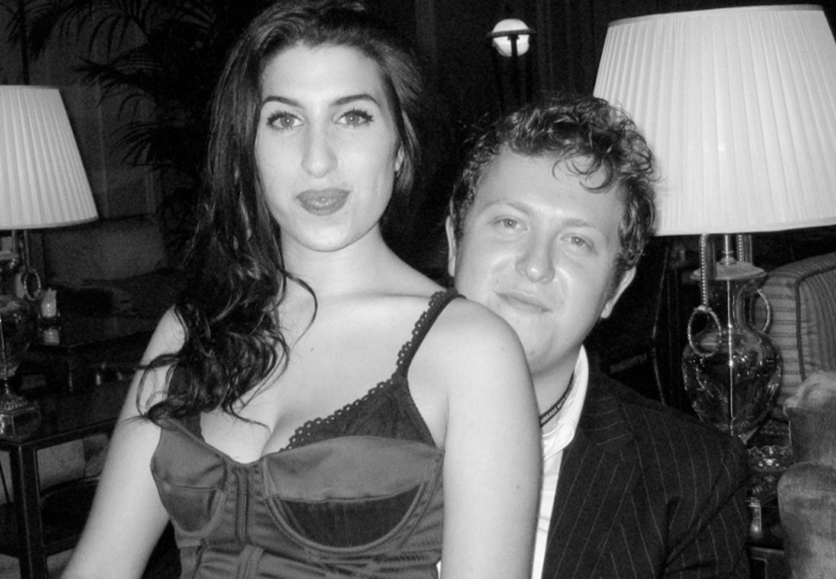 After years of substance and alcohol abuse, together with battling an eating disorder and depression, Winehouse died on July 23, 2011 in her Camden home in London.
She was working right up until her death, playing a famously disastrous gig in Belgrade, Serbia, just one month prior.
The question begs, why didn't anyone stop the shows?
"I can't say she was being pushed, but I can say she wasn't being stopped. That's frustrating to me. At that point, I saw it the same way anyone in the public would see it," says Shymansky – pictured above with Winehouse in 2004.
"It was publicised that she wasn't well, I also saw it all over YouTube and the press what a fuck-up Belgrade was. Who in their right mind around her would have thought that that was acceptable to do that show?
"Let's assume Amy said, 'I really want to do it', a manager would say, 'I'm sorry, it's been pulled, too late, fire me if you've got a problem', and that's what your core family should do as well."
Now a senior A&R manager at Island Records, here Shymansky tells his side of the Amy Winehouse story and reflects on hard lessons learned.
[Pictured: Nick Shymansky with Amy Winehouse in 2004 (c) Shane O'Neill]
---
How did watching the Amy film make you feel about everything that happened?
If anything, it's a bit of a relief that I was able to put some of my honest thoughts out there and had the right context to say a few things.
Post- my official role as her manager, we're in an industry where if you have a confrontational position or an opinion that differs from the people that are calling the shots, particularly as an old manager, you're seen as a negative. I felt very much like I was [previously] sounding like a bitter ex-manager.
---
Do you think the music industry could have done more to support Amy and her mental illnesses?
It's easy to say the entertainment business is full of people that don't care and it's all about money. Of course there's elements of that, and there are different people that have different benchmarks of what is wrong or right. But it's quite unfair to just say, 'An industry is handling something well or not so good'.
That said, you do get different types of artists in terms of what their work ethic needs to be.
You get artists that are fantastic enterprises and great promoters in their own right, and they are normally the artists that don't have quite as much of an artistic streak in them and are maybe extremely competitive or driven and are able to find their niche.
"The film shows amy did a lot of things she didn't need to. She didn't need to be working that hard."
Their work schedules are incredibly intense, but for artists who are the absolute real deal, their work schedule really doesn't need to be intense because they cut through in terms of being recognised and hopefully their work, music, or persona and look will travel much quicker than anything else.
Look at the careers of Sade or Adele, they pretty much live part-time jobs; they have a life, they are not harassed and the people around them are managing the workload.
I think the film shows quite clearly that Amy did a lot of things that she didn't need to do.
If you're a real artist, you don't need to be working that hard, so why have a busy schedule? In that, picking the right management or live agent is imperative.
---
How about support from the label side?
The crux of the business for a record label is still music sales. If you're really successful, your records are out there, they are on the radio and for the foreseeable future they are going to do well.
During my tenure as Amy's manager, when I wanted to get her help, the label were very quick to offer financial support. We spend a fortune on things like remixes, photo shoots and videos, what business wouldn't want to sacrifice one of their videos or remix budgets to make sure that the whole prospect of the artist stays on track?
But you have to be passionate, go in and fight for things in this business.
None of us are professionals, it's all opinion, feeling, so you have to have backbone and perhaps sacrifice some instant grat if the artist isn't well, but in the long run you get a lot back.
---
So the real buck lies with the manager…
Yeah, and it's kind of luck of the draw because as a manager, you don't really know what you're managing unless you've been managing them for three years, and it's probably the same for an artist.
The manager in this era is the most powerful person in a successful career, and I know a lot of good managers, but I also know a lot of bad managers.
"When you become a superstar, you have to have a team around you that says: 'Absolutely not.'"
When you become an absolute superstar there are so many requests, gigs, interviews, sponsorship deals and private functions, you have to have your team around you that say, 'Absolutely not'.
Amy was powerful enough with her management team to easily pull anything and everything and it wouldn't have made much of a difference in terms of spoiling income.
---
Have you seen any changes in attitude to mental health since Amy's death?
I think in all walks of life, mental health and depression isn't yet where it needs to be in terms of people's understanding.
I don't think that's a music business problem, I think depression is still not treated as properly as it should be everywhere.
What angered me [when the media was hounding Amy] is that the tabloids were completely regressive.
I don't remember one time where someone went, 'Hang on a minute, she's a really special artist, she's very intelligent, we know that, give her a bit of space'.
I didn't see anyone even mention anything about depression or mental health, it was always 'Wino the pisshead', 'Amy Winehouse the drug addict'.
"The tabloids didn't mention anything about mental health. It was always 'wino the pisshead, amy the drug addict."
People have this weird thing in the UK, and it comes from the tabloids, 'Well she's rich or a footballer, look they've got an amazing life, they fucked it up, what an idiot', or, 'If I had half of what she had, I'd be doing that, but people's own reality is very different to what your reality is for them.
You walk down the street and see someone drunk or high and think of them as a fuck-up in this country.
There could be a lot more compassion for what's actually going on and awareness.
Hopefully everyone can look at what happened with Amy, whether you are a chat show host, someone that chases someone around with a camera or a member of public that clicks on entertainment websites all the time, and give it all a bit more thought.Music Business Worldwide