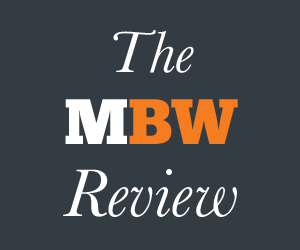 The MBW Review offers our take on some of the music biz's biggest recent goings-on. This time, we take a closer look at the huge $4bn acquisition of Entertainment One by toy giant Hasbro, announced at the end of last week.  The MBW Review is supported by Instrumental.
---
There were two major talking points for the music industry regarding the massive $4 billion acquisition of TV, movie and music company eOne by toy giant Hasbro last week.
The first was that gigantic price, paid all in cash. (Hasbro intends to fund the deal with a combination of around $1.2bn in equity financing, plus debt – and has the option of a multi-billion dollar bridge loan from Bank Of America Merrill Lynch.)
The second, obviously enough, was eOne's status as a music company, and what we can expect to see happen now.
---

---
It goes without saying that, should the buyout get finalized, the future of eOne's music assets will be in the hands of Hasbro. But it's also fair to say that the bulk of eOne Music would make a strange bedfellow with Hasbro, a publicly-traded company with a $5bn-plus annual turnover whose leading products include Monopoly, G.I Joe, Furby, Transformers and Nerf.
Entertainment One's Family & Brands division, which includes the likes of kids' TV favorites Peppa Pig and PJ Masks, drove US $2.4bn in retail revenues in 2018, so you can instantly see why toy maker Hasbro would commercially benefit from owning the core IP behind these massive sales.
The same cannot be said for other eOne assets like Death Row Records, home to classic albums from the likes of Snoop Dogg, Dr. Dre and Tupac Shakur.
According to its annual report for 2013, eOne acquired the music library of Death Row for just £4.2m ($6.6m) that year. When you consider the huge subsequent global growth of hip-hop on streaming services, this deal looks like an absolute steal today.
---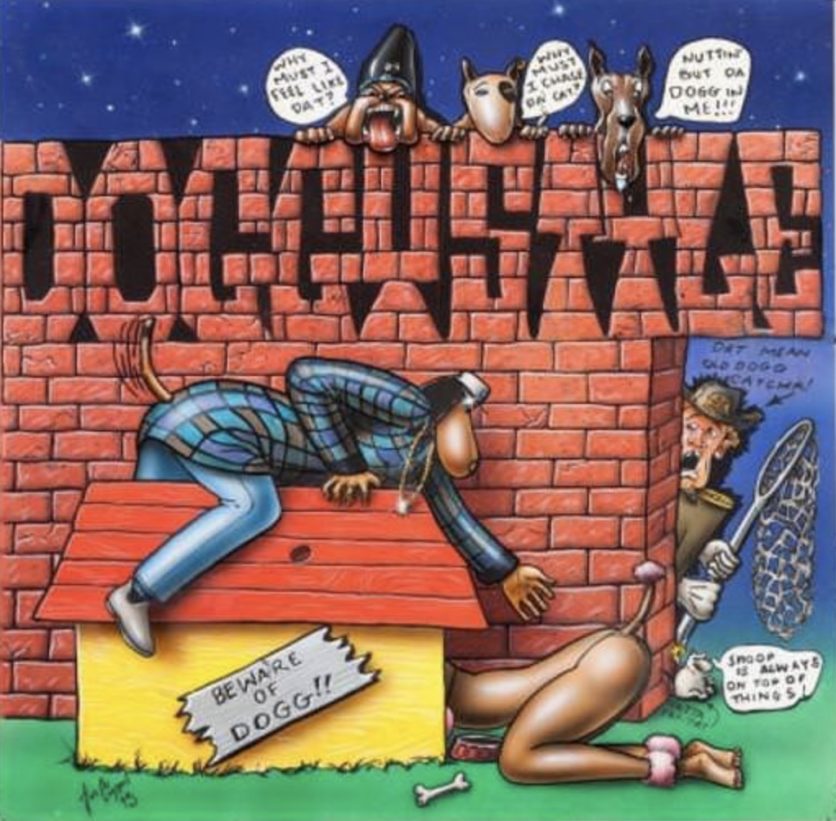 It's not hard to see why lyrics from enduring Death Row standards ("if you can't f**k that day, baby, just lay back, and open your mouth") aren't likely to delight the house of My Little Pony and Power Rangers, so you'd expect Hasbro to offload the rap label to the highest bidder, sharpish.
You'd also expect such a bid to be sharply high: Death Row still owns the rights to Snoop Dogg's Doggystyle (1993) LP, featuring smash hits likes Gin & Juice and Who Am I (What's My Name)?. Those two tracks alone – both over 25 years old, remember – have accumulated more than 240 million Spotify streams between them to date.
Death Row also still owns 2Pac's catalogue, including seminal album All Eyez On Me (1996), whose tracks include the likes of Ambitionz Az A Ridah (250m Spotify streams to date), Changes (165m) and the LP's title track (166m). (Death Row/eOne also appears to co-own 2Pac and Dr. Dre's global smash California Love, including an elongated remix version.)
According to Spotify monitoring site Kworb, 2Pac's catalog has racked up more than 922m chart-eligible streams to date on the Swedish service.
Plus, despite its unavailability on most streaming services, according to Apple Music, Death Row retains ownership in Dr Dre's debut album, The Chronic (1992).
---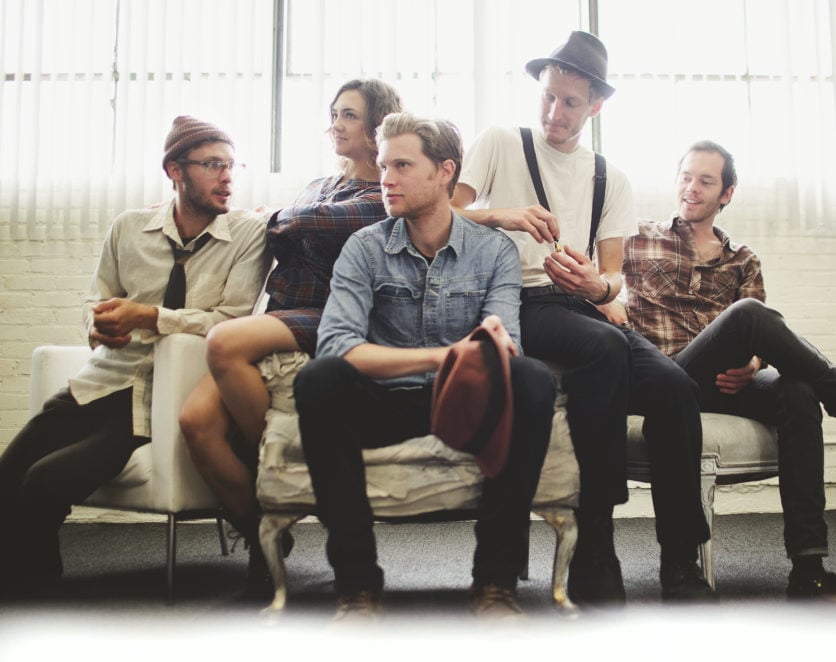 Other attractive eOne Music assets which would also make an odd fit at Hasbro include a hotchpotch of companies which have been acquired (or invested in) by eOne over the past few years.
At the top of that tree would be two assets acquired by eOne in 2016: Dualtone Music Group (bought for £2.9m / $3.9m, according to eOne's relevant annual report) and Last Gang Entertainment (£900,000 / $1.2m).
The jewel in the crown of Nashville-based Dualtone is the catalog of The Lumineers (pictured), whose 2012 debut album sold more than 2.5 million copies worldwide. Others on Dualtone's roster at the time of eOne's purchase include Langhorne Slim & The Law, Noah Gundersen and Grammy Award-winning songsmith Guy Clark.
The buyout of Last Gang Entertainment, which signed Metric and Death from Above 1979, was partly an 'acqui-hire' deal, which brought the indie company's founder, Chris Taylor, over to eOne in 2016. He became Global President of eOne Music, and has led the company ever since. (It will be interesting to see whether, post-Hasbro, Taylor sticks around at eOne, or moves on to pastures new.)
---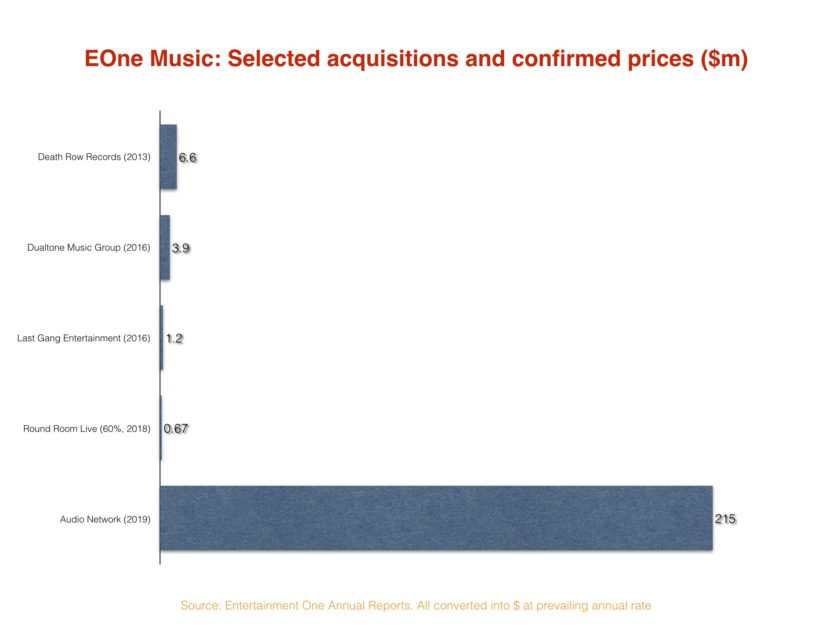 ---
Another intriguing asset within eOne's walls is its artist management operation, which has been built upon the shoulders of two companies which came into the company's family in 2017: (i) Hardlivings, which, looks after British dance acts Riton, Duke Dumont producer Jax Jones and TIEKS; and (ii) Nerve, which represents the likes of The Black Madonna and Daniel Avery.
In addition to these companies, eOne's management structure also includes WRC Management (Kaytranada, Sango), People's Champ (Badbadnotgood, Matty Matheson) and Amelia Artists (Tegan and Sara, Luca Fogale, The Funk Hunters, Bedouin Soundclash).
Amelia, led by Nick Blasko and Piers Henwood, only struck a deal to become part of eOne Music on August 2 – just three weeks before the Hasbro takeover was confirmed.
It is difficult to picture a scenario in which any of these assets fit with Hasbro's over-arching business – of developing IP for children's TV, film and playtime products, and then further exploiting these properties at family-leaning retail and live entertainment environments.
---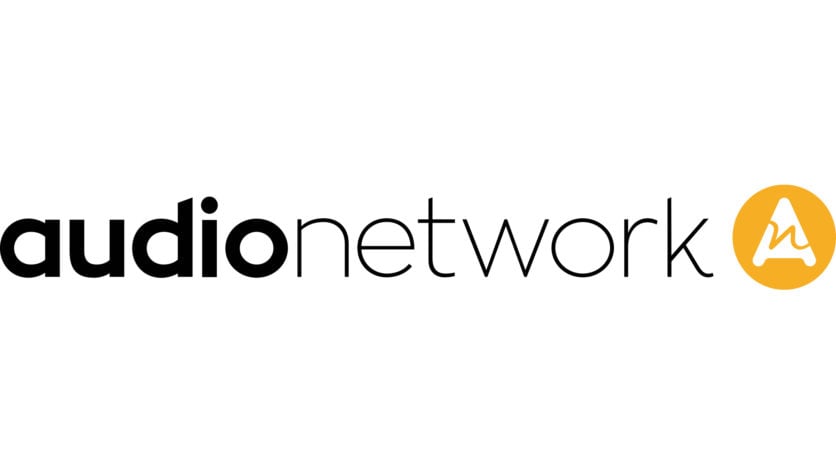 An exception to this rule, perhaps, is Audio Network.
eOne Music acquired the UK production music house for approximately $215m in April this year. That, at prevailing exchange rate, was worth GBP £165m, which, in turn, represented a 17-times multiple on Audio Network's annual operating income (£9.62m) in 2018, according to the British company's latest annual filings.
Audio Network, with its catalog of over 150,000 fully-owned tracks, has long specialized in providing production music to TV, movies, video games and advertising. For Rhode Island-HQ'd toy corporation Hasbro, having this ready-made library in-house may provide some attractive synergies, particularly in the kids' television space.
---
Another eOne Music acquisition might also end up fitting in at Hasbro, too. In early 2018, the firm snapped up 60% of New York-based Round Room Live for £500,000 ($667,000) – a company whose role at eOne, when the buyout was announced, was said to be "supporting the development of IP for live shows and concert touring".
As for eOne Music's other rights-based and artist management assets, however, the future is looking less straightforward. Acquisitive parties swimming in and around the music business will be keeping a close eye on Hasbro's intentions – especially when it comes to that lucrative Death Row catalog.
These acquisitive parties shouldn't expect these assets to come cheap, though. In 2018, according to eOne's latest annual report – prior to its Audio Network acquisition – eOne Music turned over £64.4 million ($78.7m).
That comprised just 6.8% of eOne's company-wide total FY revenue of £941.2m ($1.15bn) – but it indicates that real money is being generated by eOne's most bankable music copyrights, which may very soon find themselves up for auction.
---

The MBW Review is supported by Instrumental, which powers online scouting for A&R and talent teams within the music industry. Their leading scouting platform applies AI processes to Spotify and social data to unearth the fastest growing artists and tracks each day. Get in touch with the Instrumental team to find out how they can help power your scouting efforts.Music Business Worldwide