There's a new UK major label in town. Not a sub-label; not an imprint. A fully-fledged, frontline, priority record company at Universal Music Group. 0207 Def Jam is being run by co-Presidents Alec and Alex Boateng – who happen to be twin siblings. Its first signing was some guy called Stormzy. Its philosophy, as decreed by Rick Rubin, is to "make things that have never worked, work". In the latest edition of MBW's Music Business UK magazine, the Boateng brothers tell all about their roots, their industry experiences – and about the kind of record label they want to build, and definitely don't want to build. Here, in the first of two interviews with the UK music industry's most influential twins, we meet Alex Boateng – a live-wire, independently-minded leader who's ready to establish a very different kind of major record company at 0207 Def Jam…
---
In a different world, Alex Boateng could still be working in the office furniture industry. Actually, scratch that; it doesn't sufficiently convey the mundanity. He could still be inputting data into spreadsheets in the office furniture industry.
This was just one of a handful of pursuits Boateng tended to during a "mad period" in his late teens, as he wrestled with the vast unlikelihood that he could ever earn a living wage from working in music.
After being "kicked out of college for misbehaving" in South London, Boateng finished his A Levels in a girls' school nearer to his native East London. At the same time, he was DJ'ing at local house parties with his brother, while moving in circles connected to MCs (from Wiley to Dizzee and many more) who were taking their first steps towards mainstream recognition.
"Maybe it's because I'm a twin, and you always feel like you need to do something unique," he says. "But when everyone was [DJ'ing] garage and grime, me and Alec decided to play hip-hop and R&B. We got bookings because the whole party would be grime – but when you wanted the girls to get up and dance, it's the R&B dude you call!"
Agitated about and unsure of his future, Boateng eventually signed up to help out at an orphanage in India through the charity HOPE worldwide ("the first time I ever got on a plane"), but not before a pivotal moment in his relationship with the commerce of entertainment.
"Someone gave me £20 to DJ, and I couldn't believe it," he says. "That was my first ever money from the music business. It was surreal."
"That period was so tied up in my identity," he adds. "It was frustrating not being able to see a route into the business side of music. It's that thing of what you see, you can be."
"Someone gave me £20 to DJ, and I couldn't believe it. That was my first ever money from the music business. It was surreal."
Then two momentous things changed. The first saw Boateng enrol at Middlesex University to study marketing, where he found he had a natural talent for the discipline (one that would soon prove especially helpful for some of the East London MCs he grew up with).
The second came via his twin brother, Alec, who raised money via the Prince's Trust for he and Alex to create a mixtape, Split Mic (2004), featuring the cream of the about-to-explode UK scene at the time – from Kano to Ty, Estelle and Lethal Bizzle. Split Mic was an underground smash, and, as you're about to learn, many doors flew open as a result.
Today, Alec and Alex Boateng have just become co-Presidents of 0207 Def Jam at Universal Music, where they've already hired a staff of more than 20 people, with a roster that includes Stormzy plus emerging talent like Potter Payper and singer songwriter Debbie.
For Alex, his path to running 0207 Def Jam included 10 years at Island Records UK, which he joined in 2010, and where he became President of the label's Urban Division in 2018. At Island, he handled marketing campaign launches for Tinchy Stryder, Drake, The Weeknd and Nicki Minaj, while A&R'ing music for artists including JP Cooper, Sean Paul, Jack Steadman of Bombay Bicycle Club, Jessie J, Dizzee Rascal, Donae'o and Big Shaq.
Before going full-time at Island, there were stints as a producer at BBC Radio 1Xtra, and running his own marketing agency, Angles, with 1Xtra DJ, G Money, which worked on projects for Dizzee Rascal (at XL), Ms. Dynamite and more.
Alex, just like his brother, is taking the responsibility of 0207 Def Jam – and what it means to a new generation of British music executives – seriously. As the Ghanaian-Brit tells Music Business UK: "Our mum worked in clothes-making, and our dad worked in security, even though he was a qualified accountant. After they came over [to the UK] it was needs-must, rather than following a dream.
"I guess what Alec and I are doing now, and what we achieve from here, is a manifestation of why they came over in the first place…"
---
Other than being paid £20 to DJ, what was your first experience of the business side of music?
I was DJ'ing for my friend, Tor/Isatta Sheriff, and then she got signed by Ferdy [Unger-Hamilton, now Columbia UK head] at Go! Beat. I remember going to the Go! Beat office and thinking: 'Whoa!' She got signed for what at the time felt like an insane amount of money. That was when I met Ferdy and I'll always rate him because he remembered me from then on.
I was talking to my brother about this the other day: The obvious thing to do there, with Ferdy, would have been to ask for work experience. But where we were from, unless you're getting paid, or you're hustling in some way, you can't do that. Whereas if you're someone from a different background, with parents who can afford to pay your rent, it opens up different options.
It was when I went to uni that things started exploding in terms of MCs getting signed, especially in our corner of East. It was Dizzee, Wiley, Lethal Bizzle, Kano, pirate radio was poppin'. And we'd grown up around all these people.
---
How transformational was the Split Mic project around this time?
We, a team including Tim from Tim & Barry, DJ Hains and others, had no beats, no instrumentals – we didn't even know what A&R was. But we thought let's just get all these MCs on a project. This was a time where people are shottin', making thousands off white label vinyl. So we made the mixtape, and then it proper kicked off – we sold out in all the shops. Alec was getting a lot of emails, and one of them was from Ministry of Sound, offering him an A&R job. So he dropped out of uni for that. Then 1Xtra called us up to do an interview [about Split Mic]. They love how my brother sounds; he gets a show there, and I get a job as a producer.
"I made an early decision: 'I'm never going to end up here.'"
Around that period was the first time I went into Universal. When I came out I was a bit like, 'Nah labels aren't for us, man; it's too different. I'm gonna go back to the street thing.' But that was probably masking a lot of insecurity. I'd gone into this building, big American acts on the walls, really high ceilings; I was intimidated, to be honest. I was talking to people, there's no eye contact, they're not really taking me seriously.
But I also knew that where I'd grown up was where the real excitement was coming from; that's the music industry to me – being in a rave and Dizzee picking up the mic, everyone goes mad, hip-hop and dancehall playing. And then I go to where I'm told the money is, and it's a completely different world. I just didn't feel like I would fit in. So I made an early decision: 'I'm never going to end up here. I'm going to be on the outside and work out my own thing.'
---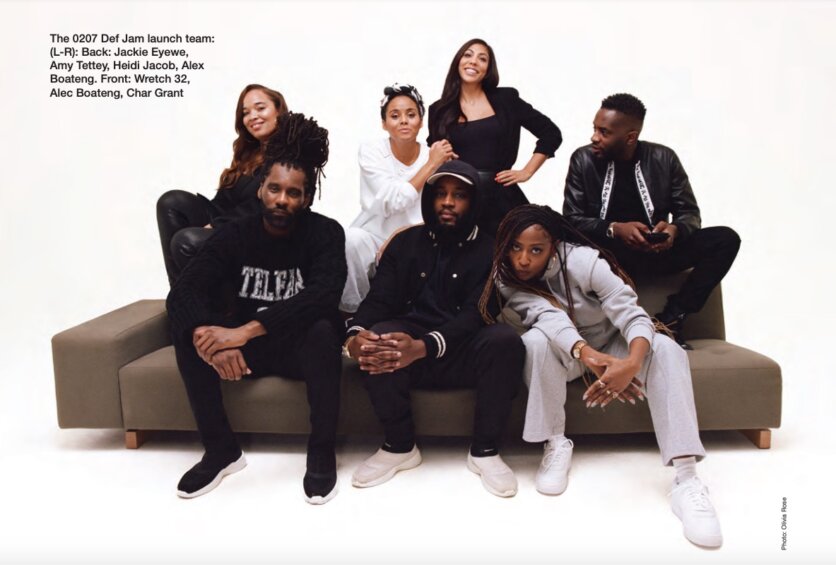 ---
That wasn't to be your destiny…
The company thing [Angles] was getting tough – we'd done some great things with Dizzee and XL and others, but there came a point I couldn't just rely on that plus DJ'ing for an income. So I was in full-on hustle mode. I'd grown in confidence and [the music scene] was really poppin' off, with Dizzee winning the Mercury Prize [in 2003], MCs starting to get Top 10s, and British black music becoming really distinctive.
I started going to labels and being like, 'There's a gap in what you're doing.' Now I look back, you might say that was arrogance, but it wasn't – I knew there were definitely places that I could reach that the people in those buildings couldn't. At the same time, I was DJ'ing for Tinie Tempah and Tinchy [Stryder] on their tours.
"I started going to labels and being like, 'There's a gap in what you're doing.'"
I did some consultancy for Polydor and Atlantic, and that suited me; I didn't want to go in [a label] and sit there every day. I wanted to bring something clear and tangible. But my friend Ben Scarrs had signed Tinchy to Island Records; I started talking to them, explaining the gaps on what they could do to help Tinch really blow up. And Sarah Boorman, who at that time was Island [UK]'s Head of Marketing, was like: 'We should get you in more frequently.'
I was working for Urban Development [UD] at the time. I started at Island two days a week, and ended up being there for 10 years.
---
When you joined the label, Darcus Beese was Island's co-President, and later its sole President. Looking back, how significant was it for you to have a black executive running that company?
Mad significant. Just the fact Darcus existed; I didn't even interact with him too much for the first few years. That plus the fact you had Tinchy, Erykah Badu, Lil Wayne, Akon, Ca$h Money and Kelly Rowland [on Island UK] at the time meant, culturally, it felt like a safe journey into that machine. And then obviously Tinch exploded, so there was success attached to it all. And as we know, everyone was friendly to and excited about our culture when it was bringing success; the challenge that always happened at that time was unless you were [having chart success with black music] people didn't really care about it, or give it the priority, resource or focus that it deserved.
"As we know, everyone was friendly to and excited about our culture when it was bringing success."
I learned so much at Island at that time, just from osmosis. Look at the team in a casual label meeting: You had Ted [Cockle] and Darcus running it, as well as Nick Shymansky [former Amy Winehouse manager], Nick Huggett [who signed Adele at XL], Ben Scarrs [now manager / label owner of Neighbourhood], Louis [Bloom, now Island UK President], Tom [March], Ben Mortimer [Polydor], Annie Christensen [Island UK], Colin Batsa [Virgin Music UK]… all at one label!
---
How do you get from not wanting to sit in a label every day to running Island's Urban division?
One great thing about Island back then is it was probably the most unorthodox [major] label, particularly around the time when I started the Urban division. I used to go to Darcus and David Joseph with some wild stuff, and they never said no, well, only sometimes! We did a movie, invested in theatre/books, on top of working with some great artists.
"All that matters is that when the person presses play, it's good."
This is probably a bit weird for people to get their head around, but at any point at Island, I was [prepared] to leave. As amazing as it was, I was never attached to it in that way. I didn't want to become Head of Marketing, I didn't want to become Head of A&R; I didn't want to be [restricted] to career paths that were traditional.
I've never cared about boundaries like that; I think at times the music industry does it too much. Like, 'Are you at this level? Well then you can't talk to this person. You can't sign artists.' Who cares! All that matters is that when the person presses play, it's good. No one's going to say when they hear a tune, 'Oh, so the person behind the artist on this, were they in the marketing or the A&R team?' It doesn't matter! I needed that freedom, and that's something I'm trying to maintain now with 0207 Def Jam.
---
What did you learn running your own division at Island?
It was a chance to create a space for people to be undiluted versions of themselves. If there was some young person in a hoodie coming into the Island building, everyone knew they were probably coming to sit in my office. Sometimes that was a work experience kid, sometimes it might have been Big Shaq, sometimes it might have been Stormzy. On one visit I played [Stormzy] a Nick Jonas single and he jumped on the remix to everyone's surprise. Find it – tune!
It was always my subconscious dream to create a space where no one's saying, 'What's the difference between a mixtape and an album?' or, 'What does he mean in that rap?' I ain't got time for that. It was like, the gap between what's going on on the street – in youth culture – and in here needs to shrink.
---
---
You felt that gap working with labels during your career?
I had to over-explain stuff to people who had authority. So I always thought: if I ever get authority, that's not going to happen. There's going to be a shorter distance between authenticity and business.
---
Some might say that when a genre of music becomes a commercial heavyweight, it's kind of the duty of the head of a label to ensure they understand it.
100%. Some of the questions I've been asked at times make me laugh. Frustrating though. You get to the point where you're like: 'I know what success – or not success – is going to mean for this artist's life, and you're not taking it seriously.'
Leadership has a responsibility in that, and it's not about your position or getting paid more. You have to appreciate how important your decisions are. It's like, music ain't life or death… but also it is life or death for many young [artists]. That's the reality. It's their one shot.
---
You sound like you're determined to focus on artists, and not get distracted by industry politics, at 0207 Def Jam.
Yes. There's probably going to be a bit of that going on at Universal, with [0207] being in the building and with me leaving Island and Alec leaving Atlantic – blah blah blah. We don't care, we really don't care, what other labels are doing. We're competing for our audience's attention, and that means we're competing against Netflix, Snapchat, TikTok. So why would we waste time wondering what someone else is signing?
Also, music isn't a sport; it isn't athletics where you 'win' something. That's even the case with a No.1 record. We're ambitious, and we want to be at the top of the charts – but we also remember that Mr. Blobby went to No.1. So at the end of the day, how much does all that really matter?
"We're ambitious, and we want to be at the top of the charts – but we also remember that Mr. Blobby went to No.1. So at the end of the day, how much does all that really matter?"
There are clearly people who have had hits and sold records, and that may not be just down to [their] music or talent. At 0207 Def Jam, we want to be around real talent. We want music that people are still playing years later, that changed people's lives, and that changed the artist's life.
Sitting in label meetings trying to attach ourselves to something that went viral to impress other people in the room? Nah. That's not our vibe. We've got a responsibility to change the narrative. Hopefully we can bring a different perspective or a little less ego to things.
---
Why do you say you have a responsibility?
I think about the younger version of me. I think about the same kids from where I'm from that are going into labels that could be feeling intimidated. And I think about the artists that want somewhere safe, to know that the people at their label are 'it's not about me – it's about you' people.
I'm not really into interviews, but the main reason I wanted to sit down with you to do this is the hope that a younger version of me can somehow benefit. Coming up in the industry it was hard to see and hear from people from similar backgrounds to myself, but things are changing and I need to play my part.
"For a lot of artists [signing to labels], all they get to remember is the cheque, the signing picture, and the handshake."
At 0207 Def Jam, we're not going to be chasing deals.
The [record] industry can have real challenges being able to quantify and make tangible what it is we offer to artists because artists can get a certain level of success independently. [At 0207] we've been digging deep on that, so we have a real clarity on who we are and what we offer. So that our artists can tell you what the A&R team did to make their record a hit, and what the marketing team did to make a difference. A lot of artists can't do that – all they get to remember is the cheque, the signing picture, and the handshake.
---

---
Ultimately, what do you want to achieve at 0207 Def Jam?
There's two main goals for the company: the best art, and everyone we work with being the best version of themselves. Especially our team. If we do that, we can't lose.
I want to have a team of people that are confident when talking to the artist because it's not just about: 'We're going to give you a deal and get more market share.' When the record's out, we want the artist to be able to point to [each team member] and say, 'You helped me with that, you helped me with that.' That's the vision.
---
You put together a 'MY MANIFESTO' PIECE FOR MUSIC BUSINESS UK a while back. Two things you wanted to see in the business were more female A&Rs, and more diversity in higher positions. How is the industry progressing on those points?
Progress is being made. But more important than these things changing is people understanding why they need to change.
You're not just ticking a box in making sure you have diverse perspectives in an A&R meeting; you are enhancing the conversation around the art. If you're just hiring one type of person, you're going to miss out on sensitivity to certain things in the record. If everyone around you looks like you, you're not going to deliver the best service to the artist. Our Director of A&R [at 0207 Def Jam], Char Grant, is female, incredible, and doing an amazing job. And this isn't just a gender thing – all types of diversity, including neurodiversity, really matters.
"It's no accident that I saw Darcus [Beese] all those years ago and today I feel confident enough to step into this position."
There were about five points in my career where I probably would have left [the music industry] if I wasn't a hustler. And now I'm a label President, which is sick. But I wonder how many other people that could have been label Presidents ended up leaving, because there wasn't that understanding around them.
It's no accident that I saw Darcus all those years ago and today I feel confident enough to step into this position. Even little things [with Darcus as the President] meant that round the office I didn't feel intimidated, to dress in a certain way or eat certain food – because I knew that the person at the top wasn't going to take the mick out of it, which happens. I could be freely myself.
Darcus's dad was Darcus Howe, and he was real militant when it came to matters of anti-racism, or discrimination. I think about that, the role it all plays, and I think about, on reflection, if I didn't have that [security gleaned from having Beese as a boss] would I have left quicker? Remember, as a kid I assumed: 'I don't see myself here.'
---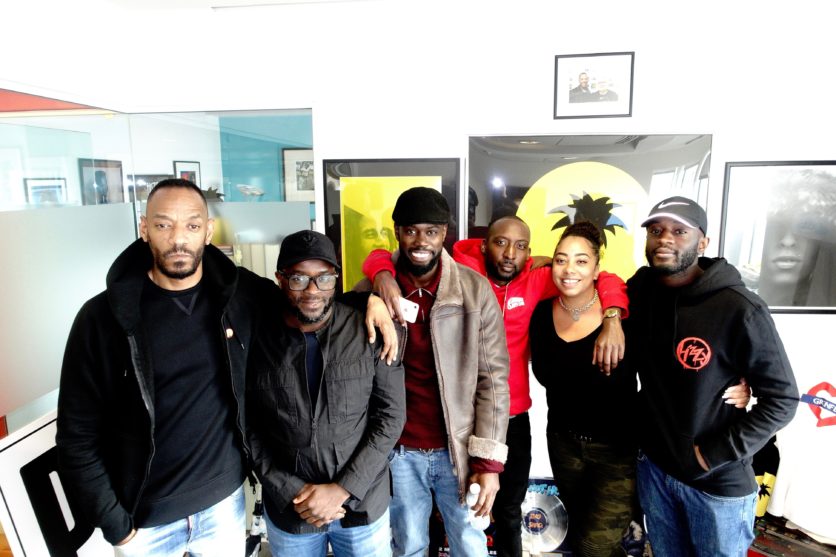 ---
Why else are you excited to be joining 0207 Def Jam?
The industry now is so fragmented. When I first came into [labels], one or two phone calls could guarantee a certain level of success. You had X Factor, and you had Radio 1. Now it's all changed completely. Those things are still important and could change the course of a campaign. But now if your team, your company, doesn't reflect and understand all the places people consume art today, you're losing.
One of the sickest things about now is I'm not the most important person in the room – there might be an assistant with 10,000 followers who will tear your company apart if you don't handle things right. Some people are nervous and uncomfortable about that, but I love it. All the walls have come down.
"There might be an assistant with 10,000 followers who will tear your company apart if you don't handle things right. Some people are nervous and uncomfortable about that, but I love it."
You can't hide anything, you can't pretend; you can't just put black squares up. It's got to be real, because artists are coming into your buildings and seeing it. I'm comfortable because I'm working for a company that has allowed us to build that. But these are interesting times.
I'm mainly excited about the music, and building a team, culture and service that will develop artists and help more people hear our output. Because despite all the important issues and challenges around this industry, that's what it's all about.
---
Universal Music UK boss David Joseph has empowered you to build the 0207 Def Jam label at Universal Music UK – but he'll also know that many of the things you're talking about here, the way artists will feel "safe" in your building, also equate to a competitive advantage.
Completely man, and that's why I rate David so much – he's put real resources and time behind us and made a real effort to get this right.
I wasn't going to leave Island and [Alec] wasn't going to leave Atlantic unless we could compete service-wise and build an undiluted culture. We didn't want this label to go 'through' anybody; we didn't want to be a label that looks like a label but actually isn't. David was on it, and we all shared a vision. Years ago David told me, 'I see you running a company one day.' He believed it even when I didn't.
---
You mentioned your mum and dad before, how they worked in "needs-must" jobs to give you a better future. What did they say when you and Alec told them you were determined to work in music?
They weren't happy about it until the BBC paycheque came to the house [from 1Xtra]. It wasn't even about the money, it was about the BBC – that's what they watch every day on TV. Something that made sense to them connected to our world.
The music industry felt very uncertain to them; they'd never seen anybody have a career in it. But it was the same for half the kids in my area with parents from another culture – they [the parents] didn't understand what was happening so we all found solace in one another. And to be fair, that probably added to the tension that fuelled the creativity. And the knowledge that we had to make it work.
---
Personally, what is the biggest thing you want to bring to 0207 Def Jam?
I really want to be a good leader. I think sometimes people fall into [senior] positions at labels just because they've had success years ago, and that's often not fair on the team, and it's not fair on the artists.
If I say to an artist or manager today we're going to be really successful, I say it because I know how lucky we are to have this great team. And so far, even with the small roster that we've got, when I press play, everything is sick.
"That thing of people in the music industry dropping their shoulders and breathing a sigh of relief because the boss likes the song. The song is horrible! He's one stream – you need to reach millions of people!"
I know the team we've put around this music is going to treat it like it needs to be treated; they're not going to waste brain space trying to beat another label or get market share, or keep the boss happy.
Hopefully we do all that and the boss is happy – but that's not our obsession. That thing of people in the music industry dropping their shoulders and breathing a sigh of relief because the boss likes the song. The song is horrible! He's one stream – you need to reach millions of people!
Sometimes you have to go against that kind of thinking. I remember when I was going to sign Big Shaq, and someone said to me: 'This is going to be the biggest mistake of your career.' And I was like: 'Sick. Because if you hate it, that means the right people are going to love it.'
---
---
You seem very focused on running your own race.
I've been in meetings where people have talked for two hours about what other labels are doing, and it's just like – what?! Like, I need help on this record; I want to know if the key's right, or if we should use this BV [backing vocal].
Sometimes people discuss [the competition] because it has a consequence on what you do, but a lot of the time it's just to make themselves feel better, or because of wanting other people to fail
We've got no interest in that. Forgive me for not being, 'Hmm, where were we on the chart this week versus them?' It's like, mate, I was just playing football on the estate, and now I'm at Wembley – on the pitch!
We've got the resources, we've got the talent, and we've got a sick team around us. All our energy is pointing in the right direction.
---

This article originally appeared in the Q2 2021 issue of MBW's premium quarterly publication, Music Business UK (pictured), which is out now.
MBUK is available via an annual subscription through here.
All physical subscribers will receive a complimentary digital edition with each issue.Music Business Worldwide