There's a new UK major label in town. Not a sub-label; not an imprint. A fully-fledged, frontline, priority record company at Universal Music Group. 0207 Def Jam is being run by co-Presidents Alec and Alex Boateng – who happen to be twin siblings. Here, in the second of two interviews with the UK music industry's most influential twins, we meet Alec Boateng. He explains why he chose 0207 Def Jam and Universal Music UK – and why his entire life has been preparing him for this moment…
---
Alec Boateng believes deeply in the power of music. A man of faith, he says that "there isn't much more important" in life than songs – and that, for him, they're even somehow "tied into a deeper purpose".
Clearly, this is not an individual who got into A&R just for the points.
The (literal) level of reverence Boateng has for music helps explain the startling level of success the 30-something has already racked up in his career in the British music industry.
Prior to launching 0207 Def Jam with brother Alex Boateng earlier this year, Alec spent over seven years at Atlantic Records UK, working closely with stars such as Jess Glynne, Burna Boy and Rita Ora. It was during his tenure at Atlantic that Boateng befriended Stormzy, and became the superstar British MC's trusted A&R wingman – on both the landmark independently-released 2017 debut album, Gang Signs & Prayer, and its 2019 follow-up, Heavy Is The Head. Both comfortably went Platinum.
Boateng won a UK A&R Award in 2019 for his work with contemporary black British music, an achievement voted for by his peers. (Alec's tenure at Atlantic also pulled him into the controversy surrounding the exit of his boss, Ben Cook, that same year – something we get into below.)
Prior to joining Atlantic in 2013, Boateng ran a successful independent – Levels Ent – with his now sadly departed friend, Richard Antwi. The duo developed talent including Wretch 32 (in a JV with Ministry of Sound) while working with acts including Popcaan and Gyptian.
Boateng began his career in-house at Ministry Of Sound, having made his name by compiling and releasing the Split Mic EP in 2004, featuring a wealth of premier British MCs. (That mixtape not only landed Alec his first label job, but also led to him being hired as a presenter on BBC Radio 1Xtra, where he would continue to work for the next 16 years.)
Today, at 0207 Def Jam, Boateng is assembling a roster that already includes Stormzy (for that much-anticipated third album) alongside other up-and-coming talent. The label's A&R philosophy, Boateng insists, will be built on "timeless music [and] artists that matter". And just like his brother, he's feeling confident that success will follow.
As he explains in our interview below, however, Alec's rise through the UK industry wasn't always a fairytale. In trying to get black British music prioritised within commercial organisations, he says, he faced barrier after barrier. The exact kind of barrier, in fact, that 0207 Def Jam is tailor-made to destroy…
---
Let's go back to the start: What do you think are the defining things from your childhood that still shape how you treat people, and approach business?
Faith is the big thing, and how that gives me a moral code. If you're lucky enough to work in the music business, then in my humble opinion you should only be in it to serve other people – to serve artists, mainly.
There isn't much in life that's more important than music. People hearing artists' art is essential, and carrying that in the best possible condition to the audience's ears… that's an amazing job, a real responsibility, and it's something we have to do well.
"you're lucky enough to work in the music business, then in my humble opinion you should only be in it to serve other people."
I've always had an emotional connection to the value and power of music.
Some of it is tied into a deeper purpose thing. As life changes and you lose people, sometimes when you look at what remains, it's just a song or a lyric that pushes a special emotional button only music can.
---
Sometimes music can actually trigger memories that you weren't even aware existed.
It's supernatural. That's why I take my job so seriously – something I might contribute, being even a small part of a song, it lives forever. That blows my mind.
---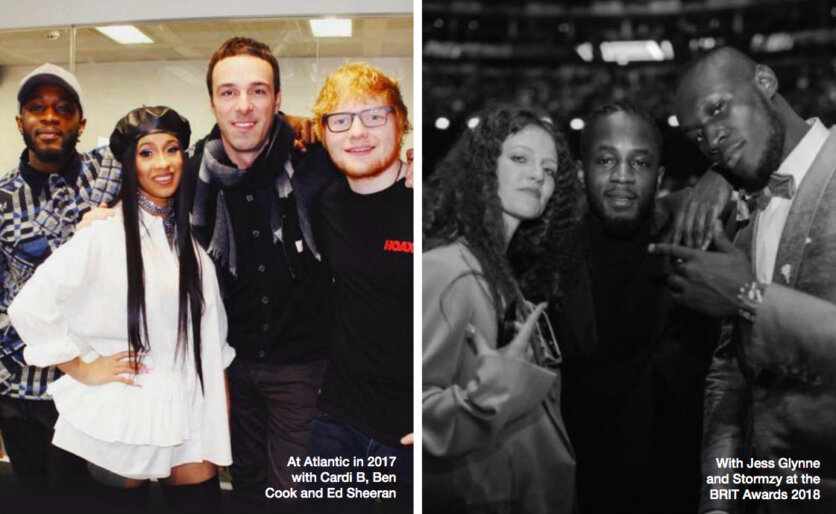 ---
What were you going to be if none of this ever happened?
I was freakishly good at maths at school. So I thought I'd do accounting, maybe business, something in that area. I took a year out before uni, and started a job working for EMAP, which was the home of Kiss [FM, a dance-led UK radio network]. I thought that in some way, that would bring me closer to a proper radio station, but I was in the accounts department. I lasted two weeks before I fell asleep and got escorted out the building [laughs].
Then I went to uni, and had this idea of putting together a compilation. My older brother went to college with Wiley and Target. And in my area, a boy I grew up with, Dizzee Rascal, was blowing up. Major Ace, RIP, was really the first garage-into-grime superstar from our area. I used to go round his house, ask him loads of questions about bookings and MC culture. He was the first MC I asked to be on the [Split Mic] mixtape.
Then I went to the local council and gave it: 'Ah, all us kids are bored and need somewhere to go. Can I have some funding for a studio?' And via a Prince's Trust scheme I got £1,800 for studio and CD costs. We then got all these [MCs] in and out for recording sessions, and then went round London collecting more freestyles [for Split Mic] from people who knew people.
---
Split Mic blew up after it was released in 2004, during your first year of university. How did you get from there to A&R?
We did a piece [on Split Mic] in ID Magazine. I left my email in the article, and five or six A&Rs contacted me. Two people who helped me at the time were these photographers who documented grime culture, Tim and Barry. Tim was good friends with a guy called Richard Antwi, and said: 'This guy's a lawyer, you should go and see what advice he has for you.'
I went to meet Rich and we clicked right away. And from that moment on, he was always available, always consistent, always supportive. Rich explained there was a guy at Ministry who was very interested in the culture of garage and grime, and that was Ben Cook.
"Rich was always available, always consistent, always supportive."
Rich also introduced me to Glyn [Aikins], Darcus [Beese], Dan Stacey and others. I went to all these meetings and got asked 100 questions and asked a few of my own back, and then I went to meet Ben. And he was like: If you want a job, I'll give you a job, but you've got to drop out of uni because this isn't a part-time thing.
---
You take that job and begin moonlighting as a BBC Radio 1Xtra presenter a month later. How do things end up for you at Ministry?
In 2006/2007, I got called into a room at Ministry and told: 'We have to change your job.' It was explained to me that the world I existed in no longer had value at the company.
My role was changed to this consultancy thing; it was only a couple of months later I realised that was all actually a redundancy process.
---
That's a tough break for someone who quit university to dive into that job a year before.
It was, but it taught me a lot of things. One of them being that who and what I am comes with conditional love on this side of the music industry.
"It taught me that who and what I am comes with conditional love on this side of the music industry."
I realised: 'Being black, being from this world, has a certain type of value only when there's an economy around it. I'm going to have to ride that train, because there's no consistency here. There's no safety net.'
I was 23 and had only seen a handful of people who looked like me make a 'record label job' work.
---
What was your mental response to that Ministry rejection?
I still believed I was good at my job, and I still loved music. And to be fair to Ministry, they were never an artist-led label at the time.
I've since discovered that the industry is lined with the corpses of people who were in my situation, who couldn't hold on to [their label jobs] through drum & bass, or garage, or grime – whatever the hot sound was at the time.
After Ministry, I started consulting at Sony Publishing. That came through Matt Chalk who is a force of nature and a great technical A&R who I learnt a huge amount from. More or less the first record I brought in [to Sony] was Rihanna's Umbrella.
I quickly learnt how to investigate unpublished records, and after I heard the Umbrella demo, I phoned the manager of Kuk Harrell in Atlanta, and discovered [Harrell was unsigned and] had a percentage of the record.
---
---
So you're a junior UK publishing A&R consultant, who discovers and brings in a percentage of one of the biggest records on the planet. Were you aware of how seismic that was?
No I wasn't. Not until Rak [Sanghvi, then Sony Publishing UK boss] threw a party celebrating the signing. A few years later Rak and Matt Chalk took me to the Groucho and gave me a plaque. And it was a bit like, 'Yeah, I mean, cool. But I only got about a few hundred pounds for a few months of work.'
I didn't take any of it personally; I was there to scout, and that's what I did.
I didn't take any of it personally; I was there to scout, and that's what I did. And other good things happened: I met Ed Howard who worked there, who is a cool guy and we obviously reconnected at Atlantic later on.
---
After that experience at Sony, how did you stay in the game?
I was still DJ'ing and presenting shows on 1Xtra, and I still had this £500 [per month] consultancy with Ministry.
I was hanging in there because I was slowly developing this girl called Sadie Ama. I got a brilliant demo of hers called Fallin on the Radio 1 playlist, I got her in the 2007 BBC Sound Of… poll. Matt Chalk helped me out a bit with her but no-one else at Ministry called me back for about a year.
At many points Richard [Antwi] committed to me existing. He always picked up the phone and always made the time to help me how and where he could, even through personal and professional issues.
Because of that I feel like Rich played the biggest role in my industry career. I wouldn't have stayed in the game if it wasn't for him.
---
Was anyone else helping you around this time?
Salaam Remi. I barely remember how I connected to him; if anything, it would've been through my friend Amber Davis [then working at EMI Music Publishing]. But he gave me amazing advice that I've always carried.
And Cameron McVey; he might not even remember me, but he made time for a session and it blew me away. I couldn't believe I got one of my favorite producers of all time in Salaam and one of the UK's most successful songwriters, Cameron, together with this artist [Sadie Ama]. That in itself gave me confidence.
---
How did you and Richard then team up as partners at Levels?
Rich was a G, and we all looked up to him. In the credits of Adele's debut album she writes: 'Thanks to Rich for spreading the word from before the beginning.' And Richard was the beginning of so many things.
It was so important for me to see someone, especially as a black man, who could pick up the phone and find a way to connect to execs, artists, or producers… and even have those people returning his calls! A day with Rich could start with a meeting with the head of a label, into a lunch with an artist, to meeting up later to go to a grime rave, then leaving that grime rave to go to Stone Love vs. Bass Odyssey in the hood. And then we'd get up early the next day to work and go again.
"I was like: 'Rich, mate, I ain't got a job. Of course I want to be involved!'"
Rich said to me one day: 'I want to start something new. I don't believe you can just be a management company, or just a label, or just a publishing company in this new industry. I'm going to call it Levels; do you want to get involved?' And I was like: 'Rich, mate, I ain't got a job. Of course I want to be involved!'
Then we signed a JV with Guy [Moot] at EMI for our [Levels] publishing company, and I was back on a wage.
---
What was the first big breakthrough moment at Levels?
One of the first things we published was Wearing My Rolex, by Wiley (2008) – which was the record that kicked off the belief that British black music could have hits in this generation. The guy who produced it, Bless Beats, is a friend of mine from my area. He came to our little Levels office with Wiley to play it to me the day after they made it. And I went: Oh my gosh, this is massive.
At that time Levels only had a publishing and management company, not a label. [Boateng says he set up a meeting between Asylum, Bless Beats and Wiley, with a view to releasing the record as a Levels/Asylum JV. In the end, it was a No.2 hit… on Asylum.]
Around a year later, I get a call from Lohan [Presencer] at Ministry, and he says: 'We really want to get back into records.' That conversation eventually spun into a JV with Levels, and our first signing was Wretch 32, who was my favourite MC.
Wretch was and is more than a rapper – he's an artist, a songwriter, a brilliant performer and more. He was being managed by the amazing Zeon Richards. The first record we made together was Traktor, Wretch's breakout hit, and we signed it to Ministry [via the JV] in July 2009 for £15k.
---
---
Wretch went on to have chart-topping hits, and Levels was a successful venture. Why did you ultimately decide to move into the world of major labels at Atlantic?
One thing happened that changed a lot for me. That year [2011, when Wretch 32 had three Top 5 hits and a Gold album] I said to Lohan [at Ministry]: 'It's going to be amazing when Wretch gets nominated for the Brits.' And he laughed. He said: 'Alec, number one: We're independent. And number two: Wretch is a rapper. It ain't gonna happen.'
I didn't see that as a criticism – he was giving me the harsh reality. But it made me think: 'I don't want to work with artists who are as good as this, and not have them celebrated as much as they deserve because of the situation they're in. I've got to go understand this major label thing.'
I thought: 'The next time I meet an artist who I believe is as great as Wretch, in whatever I'm able to provide, there are going to be no limitations.' So it's funny how talented and similar Wretch was to one of the next ambitious artists I met not long after [Stormzy].
---
So how do you end up at Atlantic?
One of the people who made me want to go to Atlantic was Ed [Sheeran], who I'd known for a while – he even stayed on my sofa in 2009. Being around Ed, and then him signing to the person who gave me my first job [Ben Cook, who was at this point at Asylum/Atlantic], was fascinating.
Ed was one of the first pop artists I'd seen truly understand the creative value of the black music scene. He knew that his relationships with Sian [Anderson], with JME, with Sway, with P Money, enabled him to add expertise, and to be embraced in what was then the most potent and exciting world in UK music.
"I don't believe Ed Sheeran becomes Ed Sheeran without what the black music scene gave him."
I don't believe Ed Sheeran becomes Ed Sheeran without what the black music scene gave him. You could say he acknowledged and recognised the value of that [era's] black British culture before any of the labels did. None of that takes anything away from Ed's talent, by the way, which is phenomenal.
I ended up joining Atlantic in May/June 2013; Max [Lousada] hired me, giving me my first major label job. One of the first artist meetings I had was Jess [Glynne]. It was me, her, Sam [Eldridge], and Max, and we were there for a couple of hours, talking about music, producers, voices etc. We all really hit it off.
---
There was a quick run of success for Jess: Her features with Clean Bandit, Route 94, and Tinie Tempah all hit No.1.
It was mad. Jess was an assistant for Kwame Kwaten at ATC not super long before the [Clean Bandit track was released]. She'd never even played a proper headline live show. We at Atlantic were sitting there looking like geniuses!
But for both Briony [Turner] and I there was pressure to maintain the success. There was pressure on Jess too, to [develop] a live show, a profile, and to become a real artist proposition. She worked her arse off to get there. Sam [Eldridge] was brilliant, giving her the freedom and protection to be herself, which the UK music industry on the label side hasn't always excelled at, especially with female artists.
Max was always involved from the start, and Briony is a brilliant A&R, so I knew with her and I working together the music was going to be great from that perspective.
---
---
The Stormzy story was interesting because that groundbreaking debut album in 2017 was completely independent, but in the background, you were pulling A&R strings – including introducing him to Frazer T Smith.
I came across Stormz in late 2013. Someone tweeted a video of him at like 2am: this urgent, hood, funny, cheeky MC with cold flows jumped out and I was like, 'Who the hell is this?!'
First time I met him, he walked into Atlantic, and we had this free-flowing conversation about music and life which went on for hours. Stormz loved Wretch as an artist, and he was asking loads of questions about Wretch's process, songs, producers, structures, studios, engineers, concepts.
He also asked me loads of questions about Ed [Sheeran], and told me he had all these amazing ideas for songs he wants to make one day – one of which was Blinded By Your Grace.
---
When did you know he was special?
I don't know anyone more in love with music than Stormz.
He's undeniably a great MC, a star, and he was always going to become a great writer. But one thing really stands out. Stormz had a mini-tour going on, and I went to the Manchester show which was at Gorilla. He was great but the show was a bit untidy, because Stormz had a DJ and a band, and he was trying to hop between the two – a very ambitious idea for someone at that stage of their career.
I had a train to catch back to London, but I missed it, because Stormz said he'd speak to me after he'd spoken to his tour manager about the show. I swear he sat with that guy for two and a half hours, talking intensely about how they were going to fix the show and make it great.
I knew that if he applied that seriousness to all areas of his career – which he did and does – his talent would do the rest and he'd go all the way.
---
---
Didn't you think about signing him to Atlantic Records?
Yeah, but it was very obvious once Stormz's good friend, the super-smart Tobe [Onwuka], started managing him that they had a whole new attitude towards the traditional music industry, and were building a business [#Merky] themselves.
In many ways Stormzy's debut album coming out on Atlantic would've got in the way of that.
---
Is it correct that you introduced Stormzy to Ed Sheeran?
First I got him together with Wretch in 2014 on a remix of a Jacob Banks track. And after that Wretch was like: 'That's the guy right there. He's got it.' Stormz himself will be the first to say how important Wretch's existence has been in his career.
A few months later Ed messaged me and was like, 'I heard you signed Stormzy.' And I was like, 'Nah. But you two should defo connect.' We tried to arrange a time for them to meet up but Ed was away, but a while later [Sheeran] was back from something and messaged: 'Bring him to my house?'
We hung out and those two just fell in love. As different as they seem to be, they're kindred spirits and share so many human qualities.
---
When you were helping Stormzy with A&R on an independent debut album, did you realise that you were directly helping create a project that was a threat to the market power of the major labels? Wasn't that conflicting?
Yes and no. No, because I've always understood my job to be nurturing artists – that my service is to the art. If [major labels] don't provide a marriage the artist needs, that doesn't completely stop my job. And I'd be lying if I didn't think [the relationship might eventually benefit] Atlantic, because Stormz was and is a hugely ambitious artist.
"Everyone who said Stormzy couldn't do it without them was wrong. He was right."
Stormzy had the opportunity to make his debut album as his best self, in the right situation, independently, and everyone benefited from that.
I've learnt more from Stormzy and Tobe about the future of music than I've learnt from the entire 'professional' music industry, to be honest. And what ultimately ended up happening off the back of all of that was his Glastonbury headline performance – after one album!
Everyone who said Stormzy couldn't do it without them was wrong. He was right.
---
Stormzy did, of course, eventually sign to Atlantic Records UK for his second album via a #Merky JV. At that point, with you as a rising A&R star, Atlantic had never looked closer to black British music. And then the Ben Cook thing happened. Before we get into that, how did you rate Ben as an A&R during the time you worked with him?
When I won the A&R Award [in 2019], I couldn't accept it without thanking Ben. I really value A&R, so anyone who's good at it, I hold highly. Ben understands, and can apply, the job of A&R better than anyone – in terms of knowing when an album's incomplete, what needs an edit, if something's under-produced. And he can identify stars. Via osmosis, I learnt a lot about A&R by being around him, both at Ministry and Atlantic.
---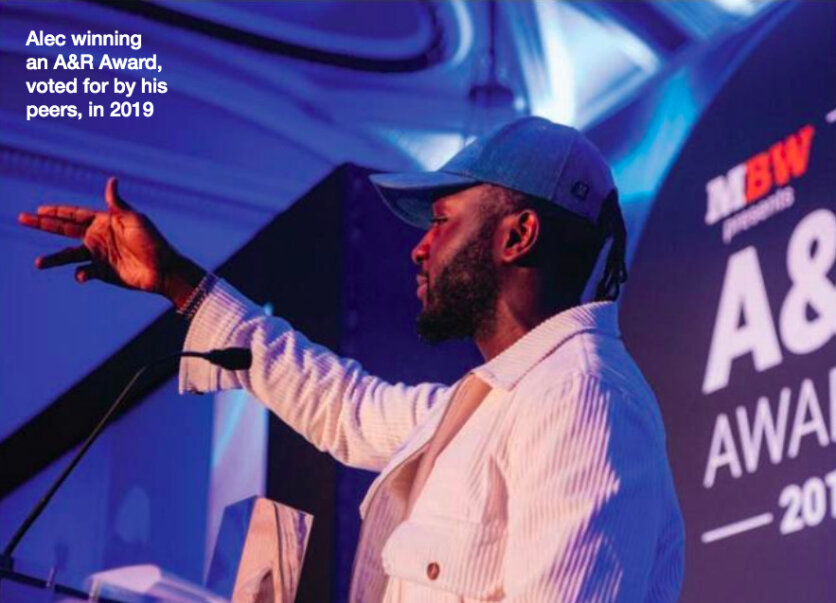 ---
Let's talk about his exit from Warner and Atlantic. How did that play out from your perspective?
There was a picture, a screenshot, of Ben at this party years before that someone had shown to fellow members of staff, and those members of staff were understandably very upset.
There was a lot of discussion and the process went on for a while with many twists and turns, until Ben finally lost his job [in October 2019].
"In hindsight there are a lot of ways it could've been handled better."
It was a difficult atmosphere, with the possibility of the picture just popping up anywhere. Fair play to those [employees] who were affected, we all still managed to get our heads down and deliver for the artists while this was going on.
In hindsight there are a lot of ways it could've been handled better, and some apologies were made [to the Atlantic team] for that.
Was the Ben thing the first race issue [in the UK music business] that needed action? Definitely not. Was it the first one I've seen go through a disciplinary process? Yes.
---
It's been nearly two years since it happened. Looking back, what are your thoughts on it all?
I'm disappointed at the fact it wasn't the teachable moment it could've been. Had that happened, there may even have been the possibility Ben could still be in his job.
A label boss dressing in blackface as a tribute to his favourite artist was really clumsy, and the lack of awareness of the offensiveness and racist history [of blackface] was the deeper problem. Blackness is not a commodity; it's people's proud reality. It's my proud reality.
"I'm disappointed at the fact it wasn't the teachable moment it could've been. Had that happened, there may even have been the possibility Ben could still be in his job."
In my humble opinion, the industry-wide nervousness around talking about race and race issues was a big factor in how the Ben thing all played out.
That's much clearer to see in a post-George Floyd world – post the black squares and the funds. We should all just talk and listen more!
What helps with those discussions is having more [diverse groups] of people in all rooms. We can see a lot of positive change across the whole industry in the short time since [2018]. Had that been the case back then, it might have allowed the Ben situation to be handled differently.
---
You speak for no one but yourself. But do you see a way back for Ben Cook in the mainstream music industry?
Of course. No one on earth is not going to want forgiveness for something one day.
I spoke to Ben about what happened at the time and we got past that particular issue – he's a human being who did something stupid. I think the world can move on from it.
"No one on earth is not going to want forgiveness for something one day."
It's the court of law and God that make the judgements that matter. I'm learning that we shouldn't base too much on anything else in between in terms of how we treat people who make mistakes.
---
You left Atlantic shortly after all of that, and were revealed earlier this year as the co-President of 0207 Def Jam. The setup there gives you the freedom to largely focus your time on A&R. It's often said that being promoted to the sole President of a label can harm the ability of brilliant A&R people to continue to zone in on their biggest skill, because they're distracted by all of the operational stuff.
Completely; I've seen it happen to people I know well. I knew I had to shape my next move around what I'm best at – and I also had to make sure I wasn't getting used as 'the black PR solution' to any situations. I'm lucky that I learnt many great things from the best in the business, in every department, at Atlantic.
Putting aside some of the issues there – which, by the way, weren't and aren't unique to Atlantic – so many people at that company were just really good at their job. I'll never forget watching the [Ed Sheeran] Multiply campaign from the beginning; it was like, bloody hell – this is a military operation!
Now, as 0207 Def Jam, we're the newest major label. Some might think that comes with a certain level of pressure, but I don't buy into that: I honestly believe we're only as good as our artists and their music. And our artists are great, so if we can make sure they are working at their best, we will have success.
---
How did you tempt Stormzy over to 0207 Def Jam?
It was just like, 'Let's carry on.'
I sat Stormz and Tobe down and told them what was happening, and they just cracked up. They were like, 'You're bold, mate!' And then it was, 'This is cold; let's do it.'
That was one conversation, we maybe spoke about it once or twice after. The lawyers did their thing and then a few months later it's us, Alex, Lucian [Grainge] and David [Joseph] in the signing photo.
Stormzy's got the same ambition now as he had all that time ago when I first met him. What's most important to fulfilling that ambition is the music, the art. That does 90% of the work. And that's ultimately the case with all the campaigns I've ever seen do well in this industry.
---
You're jumping into business with Universal Music UK boss David Joseph with 0207 Def Jam. Why do you think that relationship will work?
I always admired the way David believed in Alex [Boateng] and encouraged and empowered him whenever they interacted. The things Alex heard from David, that level of belief, I never heard about myself in the companies I worked for.
All you hear about Universal from the outside is how competitive it is, how it's dog-eat-dog. When people at Atlantic and Warner found out I was going, they would say: 'You'll hate it there! They [the Universal labels] try to kill each other!' And it's like, well, my twin brother has been there 10 years, and he's managed to survive it and stay sane. So maybe I'll be ok [laughs]?
"When people at Atlantic and Warner found out I was going to Universal, they would say: 'You'll hate it there! They [the Universal labels] try to kill each other!' And it's like, well, my twin brother has been there 10 years, and he's managed to survive it and stay sane. So maybe I'll be ok?!"
One big thing for me was after Glastonbury [2019], David [Joseph] sent Stormzy a handwritten letter, very heartfelt and human, thanking him and congratulating him on this massively important cultural moment. He included a print of a record they had both been talking about months before at the Brits.
I know now for a fact that David thought Stormzy was in a long-term deal with Atlantic when he did that. He just did it to recognise the achievement, and I really respected it.
---
---
What do you definitely not want 0207 Def Jam to be?
I just want to do our best to treat people well. To be void of some of the ego-led approach that can come with major label life.
The level of self-importance in this business is crazy sometimes; I've literally seen artists arguing with executives on the phone about what role they've each played in that artist's own career.
"The level of self-importance in this business is crazy sometimes; I've literally seen artists arguing with executives on the phone about what role they've each played in that artist's own career."
That is mad. I get it, though: I think a lot of that is to do with environments at major labels creating paranoia or anxiety in staff members, who feel they have to present their value, all the time, to whoever their boss is. The form of leadership we want to build puts no value on that type of atmosphere.
For our team it's like, please don't keep telling everybody what you did on a project, or why you're so good at your job – prove it, do it. Let's really add value. We're going to be small and intimate enough as a team to be able to know that stuff anyway, especially from the way the artists feel about our input.
---
Above anything else, what do you want to achieve with the label?
Timeless music, artists that matter, and the idea that people liked us existing. That's it.
And… I'm trying to find the right way to say this. And to do it without being a knob. There. I know it's the music industry, but you really, really don't have to be a knob.
---

This article originally appeared in the Q2 2021 issue of MBW's premium quarterly publication, Music Business UK (pictured), which is out now.
MBUK is available via an annual subscription through here.
All physical subscribers will receive a complimentary digital edition with each issue.Music Business Worldwide