The traditional music business is in danger of being hit by a 'brain drain' as streaming services raid top executive talent.
The latest high-profile figure to cross the divide is former Def Jam and Warner boss Lyor Cohen, whose appointment at YouTube has set industry tongues wagging worldwide.
He's not the only one: we hear Troy Carter at Spotify has just swooped for his former Atom Factory management colleague Sam Berger.
Meanwhile, Spotify is hiring for a Head of International Licensing, as a position also opens at Facebook for a global boss of music deal-making.
The smart money is on at least one of these vacancies being filled by a senior figure from a record company. Any guesses?
When you scan back over the past few years, a very definite pattern becomes clear: a long line of senior label execs have been poached by the likes of Spotify, Apple Music and YouTube – and it's a trend which is increasing in intensity.
Here, MBW presents a extensive run-down of who's gone where.
It's a list which poses two key questions:
(i) How worse off is the 'traditional' music rights business due to the loss of this executive talent to 'the other side'?; and (ii) Who'll be next…?
---
Apple Music/iTunes
The biggest executive coup for Apple over the past few years must be Jimmy Iovine, who joined the Cupertino giant alongside Dr. Dre after it swooped for Beats for $3bn in 2014.
Iovine (pictured) was an obvious loss to Universal at the time, departing Interscope Records (Interscope Geffen A&M) after 25 years at its helm.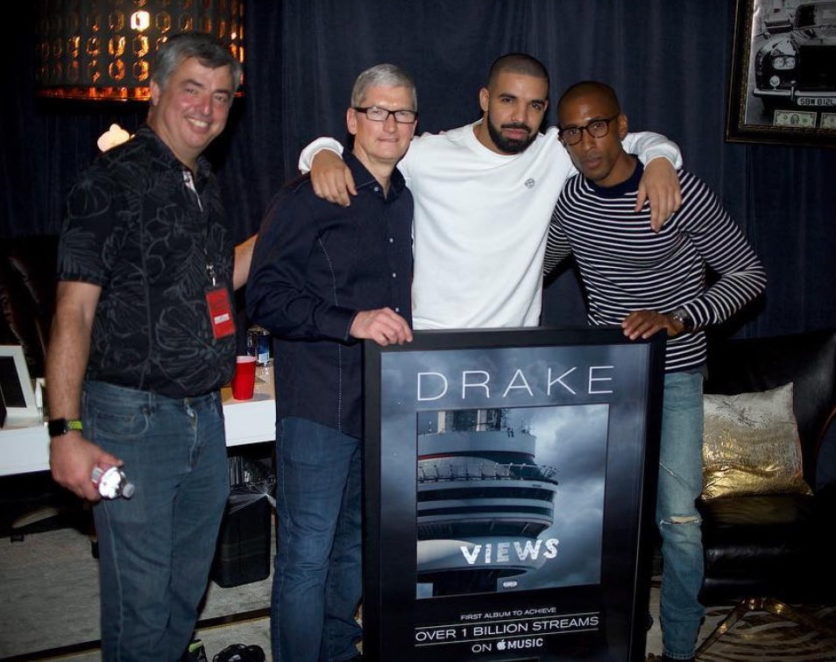 Yet Iovine dipped straight back into Interscope to nab the man who is now causing his former employer serious headaches: Larry Jackson (pictured far right with Drake).
UMG A&R Jackson was handpicked by Iovine to guide Apple's original content strategy.
With that remit, he is believed to have been instrumental in securing direct exclusive deals with the likes of Drake, Chance The Rapper, Birdman / Ca$h Money, Frank Ocean and more besides.

Another recent senior ex-label hire at Apple – and yet another recruit from UMG – is Brian Rose (pictured right).
The former MD of Universal Music UK's Commercial Division has joined Tim Cook's company as Country Manager, UK & Ireland for iTunes and Apple Music.
He leaves behind an unbroken 13-year tenure at the major record company.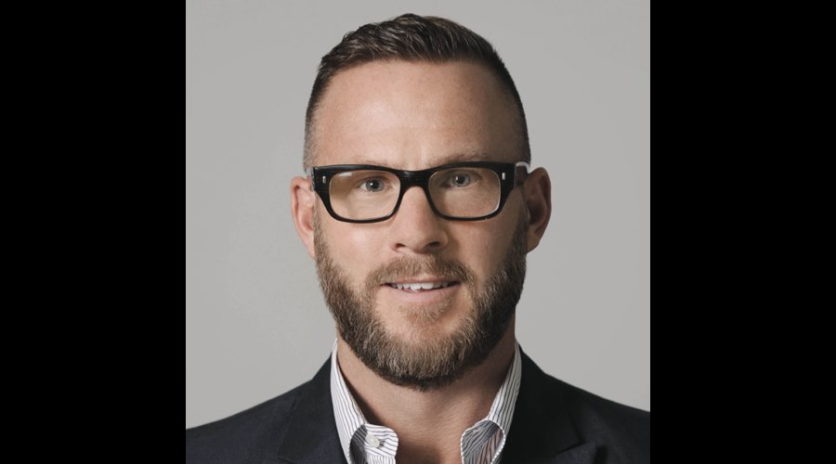 Talking of major record companies, an ex-Sony exec was last month unveiled as a new 'original content' lynchpin at Apple: Scott Seviour, former Head of Marketing at L.A Reid's Epic Records.
Then there's the Beats 1 contingent: MBW revealed last year that four BBC Radio 1 producers including James Bursey, Natasha Lynch and Kieran Yeates were leaving the Beeb to join ex-Radio 1 DJ Zane Lowe at the station.
Other iTunes/Apple Music execs pinched from labels in the past decade include Robert Whitham (Aus/NZ – ex-UMG), Denise Williams-Watts (US – ex-Warner Bros), Stephanie Freese (US – ex-RCA/Sony), Dan Adams (UK – ex-Beggars) and Janine Hélène (Lubas) Wülker (Germany – ex-Finetunes).
---
Spotify
For a company currently locked in contract negotiations with the major labels, Spotify isn't exactly shy about pinching their staff.
MBW revealed last month that the Head Of Top 40 Radio at Universal's Republic/Island Records, Rob Harvey, had been poached by Spotify as its new Head Of Label Relations for North America.
And Harvey (pictured inset) is by no means the only recent senior hire from the 'traditional' music industry at Daniel Ek's company.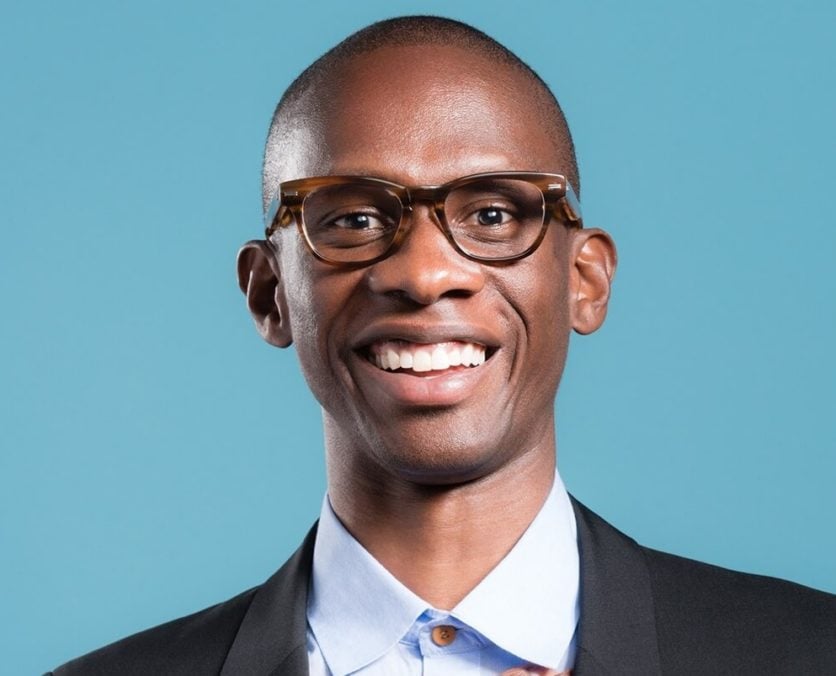 Obviously, there's Troy Carter – the Atom Factory founder and former Lady Gaga manager who was named Spotify's Global Head Of Creator Services in June (a job title which almost deliberately seems to ignore label concerns).
MBW hears that Carter has now returned to the Atom Factory cookie jar to pinch Sam Berger – who previously served as day-to-day manager for artists including Charlie Puth.
Carter reports into Stefan Blom, Spotify's Chief Content Officer – an EMI veteran of six years.
Blom's tenure at EMI included a stint as Nordic CEO before he joined Spotify in 2013.
---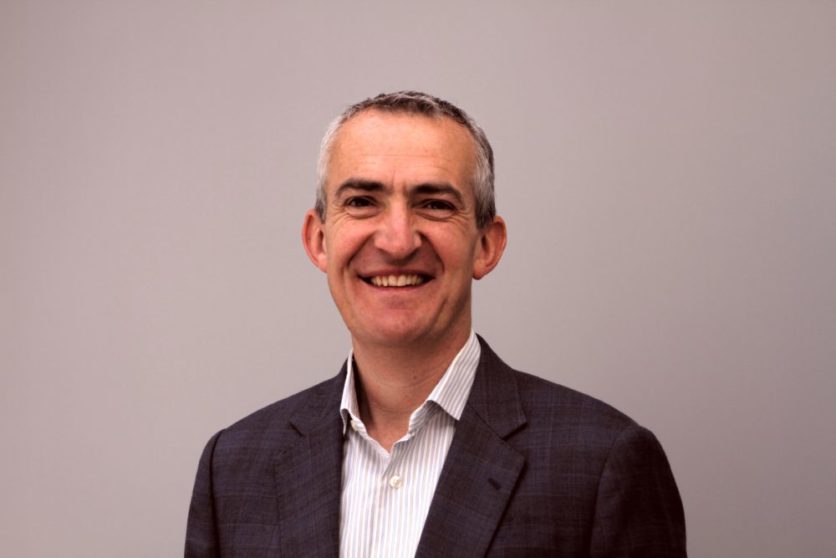 On the licensing side, Spotify's last big recruit was from Universal Music Group: respected exec Francis Keeling.
Keeling, a man with a reputation for stern negotiation skills, worked for Universal for 14 years before joining the streaming firm in May.
In addition, Spotify hired fellow ex-UMG'er Pat Shah as Head Of Original Content Licensing in Los Angeles in January.
Shah was previously VP, Digital Business Development at Universal, having joined the major as part of its EMI acquisition in 2012.

Elsewhere, Def Jam Recordings' Senior Marketing Director Madeleine Bennett (pictured right) also joined Spotify's US Label Relations team this year, as did Australia-based Tom Mee, who previously spent four years across UMG and Warner.
Like Apple, there's been something of a smash-and-grab from BBC Radio: former Radio 1 Head Of Music George Ergatoudis joined Spotify as Head Of Content Programming, UK in Q1 this year, and wasn't shy in attracting former workmates.

One of the first things Ergatoudis did at Spotify was to headhunt Austin Daboh – the highly respected former music chief at BBC Radio 1Xtra, and a man many considered favourite to replace Ergatoudis after his exit.
In the end, Ergatoudis's old job went to Chris Price, possibly helping make up Daboh's mind to join his former boss at Spotify.
(Just weeks after Daboh's exit to Spotify was announced, the latest UK Rajars arrived. They confirmed that Radio 1's audience had dropped under 10m – its lowest level for more than a decade, with more than a million listeners departing in a single year.)
Three more of Ergatoudis's team at Spotify are also ex-BBC radio: Dexter Batson, Sara Sesardić and Rob Khan.
---

Onto licensing.
Ian Henderson (pictured right) joined Spotify as its Director of Licensing in New York this summer. He worked as MD of Sony Music's operation in Russia before joining Tuneteams in 2013.
Bryan Grone, considered a rising star at Spotify US – and last year named Producer, Original Content at the streamer – worked at Warner/WEA for five years before leaving in 2012.
And check this out: pretty much Spotify's entire label relations team on both sides of the Atlantic have worked at major labels.
Here's a few: Katie Schlosser (US, ex-UMG), Eric Henry (US, ex-Rostrum Records), Michele Santucci (US, ex-Columbia), Nathan Wiszniak (Canada, ex-Sony), Copeland Isaacson (US, ex-UMG Nashville), Alix Rosenberg (US, ex-UMG/Decca), Laura Kirkpatrick (UK – ex-Columbia), Chris Stoneman (UK – ex-UMG), Will Hope (UK – ex-Warner) and Juan Carlos Montes (Latin America – ex-UMG).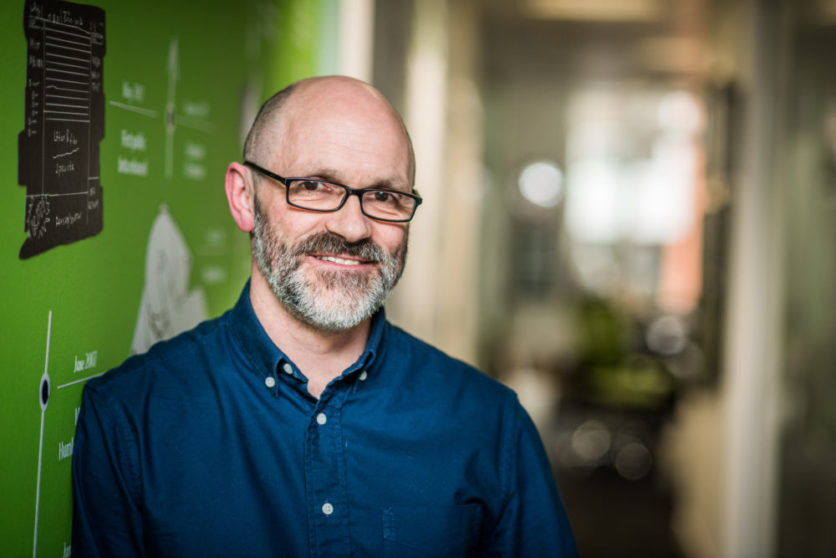 Kevin Brown (pictured) who runs label relations for Spotify outside North America, is unique in having a label and management background, clocking up significant experience at both 3D Artist Management (Coldplay, Interpol, My Chemical Romance) and EMI (Lily Allen, Blur, Coldplay, Radiohead, Gorillaz, Kylie).
It doesn't stop there.
Marc Hazan, Spotify's VP of Content & Distribution, joined from Sony Music in 2011, while there are other ex-label peeps in Brazil (Roberta Pate – ex-Sony), The Netherlands (Jim Kreeftenberg – ex-Warner), France (Antoine Benacin – ex-Sony), APAC (Carter Ng – ex-Sony) and Japan (Akira Nomoto – ex-Sony, Warner and Zomba).
That's not even counting execs from non-rightsholders like Spotify's insightful Director Of Economics Will Page, who joined the company from PRS For Music in 2012 after six years.
---
YouTube
Obviously, when we're talking about YouTube, it's hard to see past Lyor Cohen at the moment. What a momentous hiring.
Will he follow in the footsteps of Jimmy Iovine and Troy Carter by poaching a former colleague or two? And if so, will they come from his Google-backed indie 300, or from Warner Music Group?
One thing's for sure: if Cohen is seeking out ex-colleagues to bounce off at YouTube, he won't need to look very far.

Heather Moosnick was promoted this year to YouTube's Director of Content Partnerships, based out of New York.
Moosnick (pictured right) joined Google in 2013 as YouTube's Director of Label Partnerships following four years at Warner – where, as VP, Global Digital Strategy and Business Development, she worked with one… Lyor Cohen.
---
Elsewhere, YouTube and Google Play's Director of Int'l Music Publishing in New York, Sami Valkonen, has history at BMG.

Then there's Tamara Hrivnak (pictured right) – Director Of Music Partnerships at YouTube and Google Play in San Francisco – who spent five years at Warner before joining the big G.

At least two Google Music Partnerships execs in New York share a music biz background: Joe Bognanno came from the Harry Fox Agency, while Chris Potter previously spent three years at The Orchard.
And before joining YouTube in 2011, Gwen Shen – Head of Americas Label Partner Management, Google Play & YouTube Music (pictured right) – spent nine years at UMG.
There's also Annika Bevington (nee Kjellström), who joined YouTube in 2012 after four years as Warner Music Group's Director of Legal & Business Affairs in the Nordics.
In another key international territory, Ruuben van den Heuvel – Head of Music Content Partnerships, YouTube & Google Play (ANZ & SEA) – is a former SVP of Commercial Development at Sony Music in Asia-Pacific.
Anjali Southward (nee Malhotra), YouTube's Head of Music Publishing, Americas, spent six years at EMI Music Publishing before joining Google in 2011, while Elliot Walker, Music Partnerships Manager in Los Angeles, has almost ten years of music biz history across Ultra Records, Capitol Records and EMI.
In the UK, the well-connected Head of EMEA Music Partner Management Azi Eftekhari joined Google Play/YouTube in 2012 after six years at UMG labels including Mercury.
Her colleague Lizzie Dickson, who looks after Artist Relations and Music Partnerships in London for YouTube & Google Play, joined in 2013 after five years at Universal.
And Victoria Campoamor, Head of Music Partnerships, EMEA, Google Play, jumped from MCPS / PRS For Music in 2014 after 11 years spent working across the two UK music rights organizations.
---
There are no less than 57 executives mentioned here – and this is just a taster of the ex-music biz talent which now resides in the digital kingdom. (For context: Spotify alone employed over 1,600 people last year).
It seems everywhere you look within streaming services, you'll find people with substantial 'traditional' music biz experience.
Who knows what these individuals could have achieved for rights-holders had they decided to stick around… or how missed they'll be in the future.
Lyor Cohen's shock arrival at YouTube proves that, when it comes to music execs jumping into the arms of digital companies, this familiar story is far from over.
It also proves that even the music biz's biggest names can be tempted to join companies they once considered partners… and very possibly opponents.Music Business Worldwide