Music streaming and discovery platform Audiomack launched a separate Creator App in February 2022 to give musicians access to a range of analytics tools.
In May, the creator app hit 1 million installations, and this week, the company launched a new promotional tool within the app called 'Connect Tab', which lets artists send a direct message to all their followers.
Audiomack, ranked as the No.1 music streaming app on Android and iOS in Nigeria, Ghana, and Jamaica, was launched in 2012, and says that it currently serves 28 million music fans and artists monthly across all platforms.
The streaming and discovery service claims to have played a key role in breaking new acts like Roddy Ricch and Kaash Paige; and "served as a trusted partner" to the likes of Eminem and Nicki Minaj, who have put up exclusive releases on the platform.
Artists can use 'Connect Tab' to send messages directly to all their profile followers and Supporters (fans who support artists via the platform's direct monetization tool), or a subset of their Supporters.
The new feature can be used by artists as a tool to preview upcoming releases, including adding a snippet to tracks. It can also be used to promote new songs and albums, and encourage fans to purchase 'Supporters' badges for new or upcoming releases.
Other uses for Connect Tab include hosting AMA Q&A sessions with fans and sharing tour dates or information on merch releases etc.
---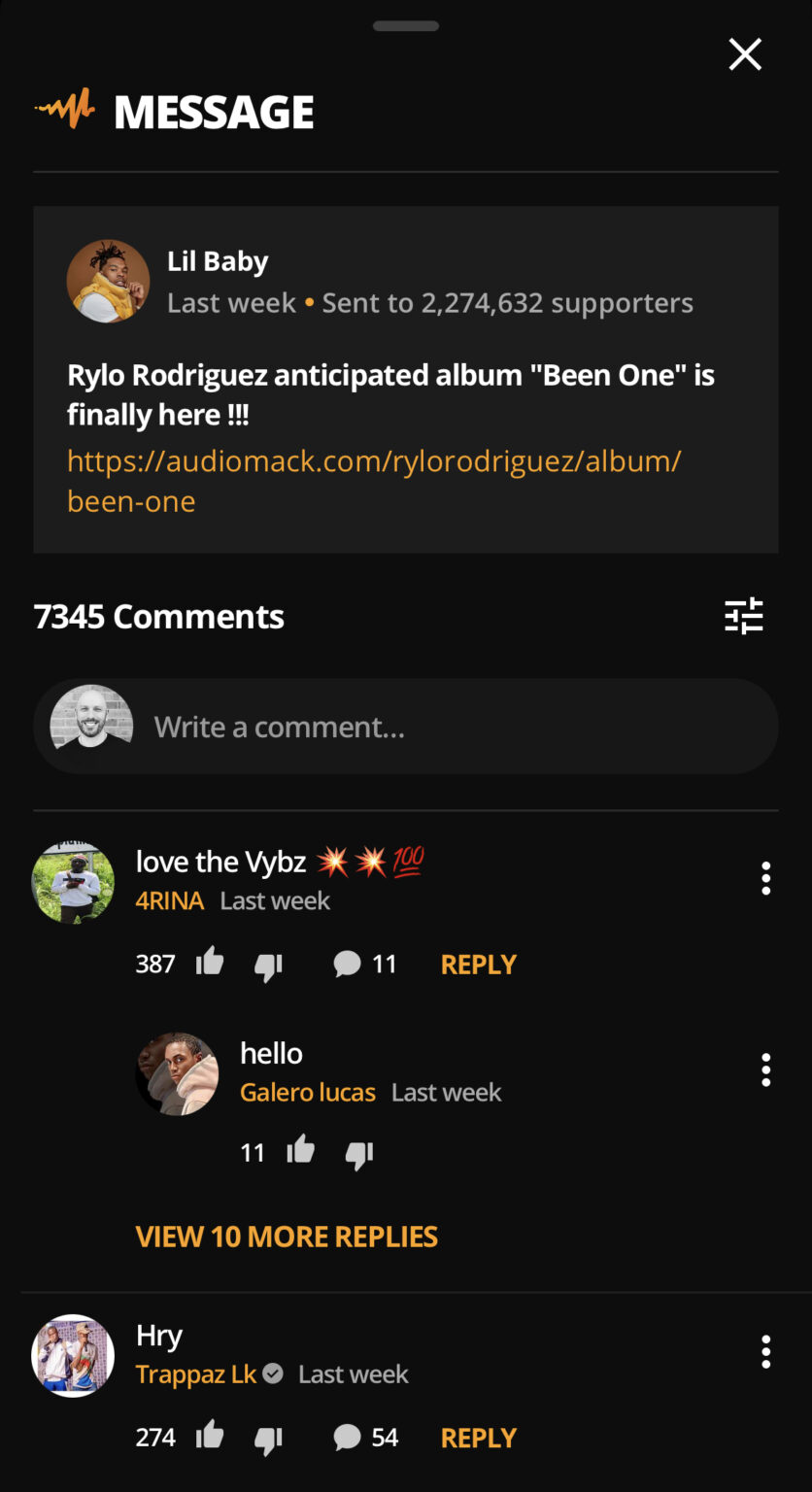 ---
Audiomack says that monthly account follows on its platform have grown 51% in the last year and that the average active Audiomack user follows five new artists on average per month.
The company claims that early reporting indicates that three days after sending a message via Connect Tab, an artist will see an increase in likes by 38% and downloads by 32% as compared to the three days before the message went out.
According to Audiomack, beta users of Connect Tab have sent 2,300 messages, generating more than 50,000 message replies and the average artist message achieves around 20 fan responses.
Audiomack cites rising Nigeria-based artist Guchi as an early success story, having seen her overall plays grow by 21% after using the tool.
Social communication tools for artists to contact fans directly are becoming more common on music streaming platforms.  Elsewhere in the streaming market, in May, SoundCloud rolled out a tool called 'Fans' that lets artists DM their most-engaged fans on the platform.
"Connect empowers artists to talk with fans."

Charlie Kaplan, Audiomack
Charlie Kaplan, VP of Product, Audiomack, said: "Connect empowers artists to talk with fans. Artists can directly message followers on the platform and send exclusive direct messages only to paying supporters.
"When fans reply to messages or comment on songs and albums, artists are instantly notified and can keep the conversation going right from the Creator app. It's the closest connection between artists and listeners in the creator economy."
---
Warner Music signed a licensing deal with Audiomack for key African territories including Ghana, Kenya, Nigeria, South Africa and Tanzania in November 2020, after becoming the first major label to sign a deal with the platform back in August 2019.
Warner Music Group also signed on as the first major label participant of Audiomack's Supporters direct monetization program.
Universal Music Group and Sony Music inked licensing deals with Audiomack in February 2021.Music Business Worldwide