MBW's Stat Of The Week is a series in which we highlight a single data point that deserves the attention of the global music industry. Stat Of the Week is supported by Cinq Music Group, a technology-driven record label, distribution, and rights management company.
---
Netflix delivered good news for investors (and the wider subscription streaming business) this week, reporting better-than-predicted revenue, operating income and monthly Active Users for Q3.
The video streaming giant added 2.4 million subscribers in Q3 (up 4.5% YoY). This paid membership growth comes after two straight quarters of decline for Netflix. According to the company's Q2 2022 results, published in July, Netflix lost 970,000 subscribers in the three months from April to June. In Q1, Netflix lost 200,000 subscribers.
Netflix's total paid subscriber base at the end of Q3 was 223 million. The company forecasts that it will add 4.5 million in  Q4, which would mark 2.6% YoY growth.
In a letter issued to shareholders on Tuesday (October 18), Netflix noted that "after a challenging first half, we believe we're on a path to reaccelerate growth".
"The key is pleasing members," it continued. "It's why we've always focused on winning the competition for viewing every day. When our series and movies excite our members, they tell their friends, and then more people watch, join and stay with us."
Some of the platform's biggest hits across TV and film in Q3 included Monster: The Jeffrey Dahmer Story, Stranger Things S4, Extraordinary Attorney Woo, The Gray Man, and Purple Hearts.
Following Netflix's positive performance in Q3, investors will now be looking to Spotify, the world's largest subscription music service, to see how it fared in Q3.
In Q1 and Q2, when Netflix's subscriber numbers declined, Spotify saw its own paid subs numbers grow. The music streaming giant added 2 million subscribers on a quarter-over-quarter basis in the first three months of 2022, capping off the period with 182 million globally.
In its Q2 results, announced on July 27, Spotify confirmed that it added 6 million net Premium subscribers to its user base in the second quarter, taking its total global subs up to 188 million. That was bigger than the 5 million subscribers SPOT previously told investors it was expecting to add in the second quarter.
---
Looking at Netflix's Q3 results in monetary terms, the company grew its revenues by 5.9% YoY to $7.9 billion during the quarter.
Looking forward, to Q4 2022, Netflix says it is expecting revenue of $7.8 billion with "the sequential decline entirely due to the continued strengthening of the US dollar vs. other currencies", noting that "on a constant currency basis, this equates to 9% year-over-year revenue growth".
Netflix reports that "the appreciation of the US dollar remains a significant headwind for us (and US-based multinationals in general)".
The company also announced that starting with its Q4 2022 letter in January of 2023, it will "continue to provide guidance for revenue, operating income, operating margin, net income, EPS and fully diluted shares outstanding for the following quarter, but not for paid membership".
Netflix says it has made this decision "as we develop new revenue streams like advertising and paid sharing, where membership is just one component of our revenue growth".
---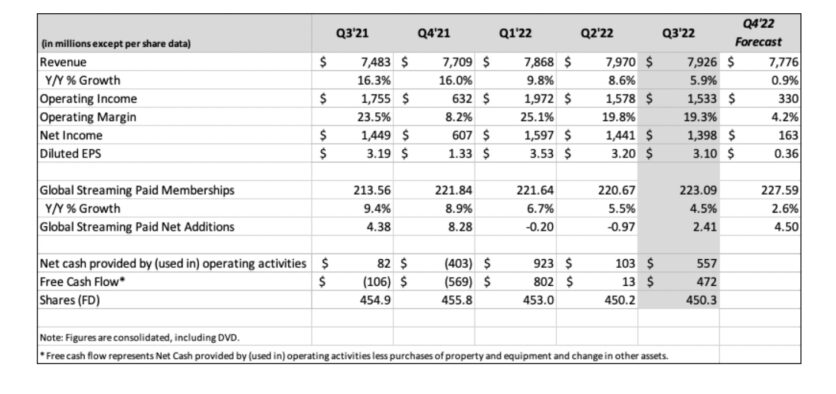 ---
Commenting on the platform's subscriber growth during  Netflix's earnings interview on Tuesday, Co-Chief Executive Officer Reed Hastings, said: "Well, thank God, we're done with shrinking quarters. That's a big feeling of, we're back to the positivity."
He added: "This quarter and the guidance for Q4, are reasonable. Not fantastic, but reasonable. And then we've got to pick up the momentum. Everything the company is focused on, whether that's on the content side, on marketing, lowering prices to the ad-supported, the paid sharing, the thoughtful approach we're doing there lines us up for a good next year.
"We have still got FX. That's a huge hit, as we've explained. That's not going to go away. But other than that, all the stars are lining up very well for us."
"All the stars are lining up very well for us."

Reed Hastings
Netflix's quarterly results come a week after the company announced a new ads strategy alongside its paid memberships business.
The company is launching an ad-supported subscription plan on November 1 in Canada and Mexico; November 3 in Australia, Brazil, France, Germany, Italy, Japan, Korea, the UK, and the US; and November 10 in Spain.
According to the company, cumulatively, these 12 markets account for around $140 billion of brand advertising spend across TV and streaming, or over 75% of the global market.
In the US Netflix will now start at $6.99 per month (compared to $9.99 today) for the Basic with Ads plan. Netflix says content viewed via this plan will have around 5 minutes of advertising per hour.
Netflix says that "the reaction from advertisers so far has been extremely positive and we believe that more choice, especially for more price-conscious consumers, will translate into meaningful incremental revenue and operating profit over time".
---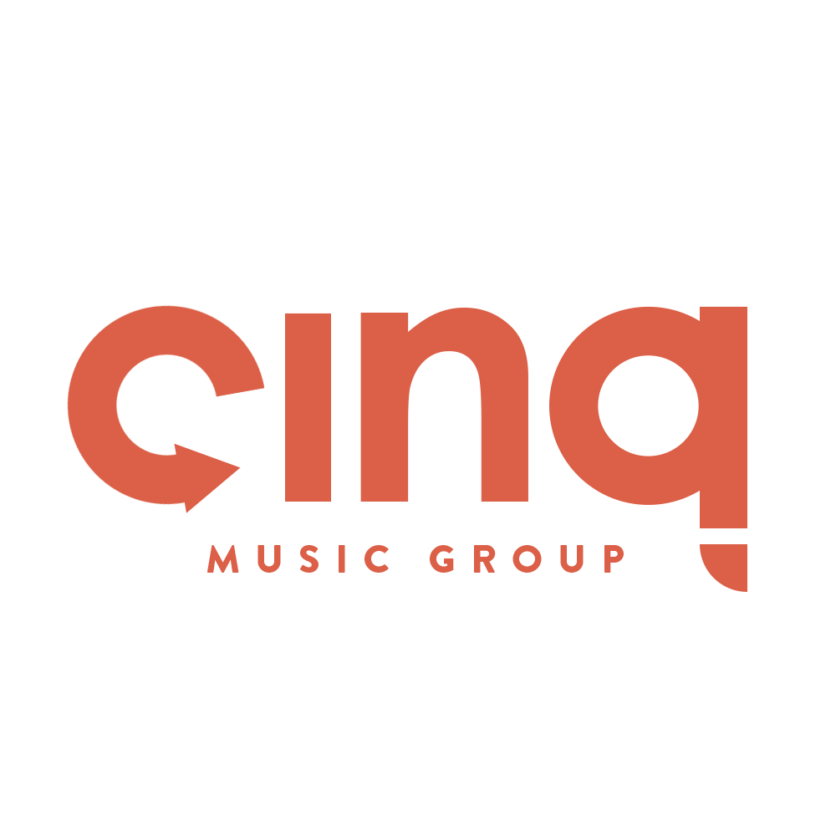 Cinq Music Group's repertoire has won Grammy awards, dozens of Gold and Platinum RIAA certifications, and numerous No.1 chart positions on a variety of Billboard charts. Its repertoire includes heavyweights such as Bad Bunny, Janet Jackson, Daddy Yankee, T.I., Sean Kingston, Anuel, and hundreds more.Music Business Worldwide