Some people were uncertain how Adele might adapt to a streaming-dominated music industry. They needn't have worried.
Spotify has confirmed that the British superstar's comeback single, Easy On Me, broke the global record for day-one streams on its platform after its release on Friday (October 15).
She achieved the same feat on Amazon Music.
Spotify hasn't announced the exact number of streams that Easy On Me – Adele's first new release for over five years – accumulated on its service during its first 24 hours of availability.
However, early data indicates it shattered the previous day-one record on Spotify, which was set by BTS's Butter in May 2021 with 20.9 million streams.
As we often end up explaining here on MBW, Spotify effectively publishes two daily stream-counts for popular tracks on its service: (i) Unfiltered streams, which isn't publicly published (except by record labels on occasion); and (ii) Filtered chart-eligible streams, which is publicly published via SpotifyCharts.com.
This second category represents the total number of chart-eligible plays a track attracts on Spotify each day. MBW understands that only the first ten plays from each individual Spotify user in each 24 hour period are chart-eligible.
The reason Spotify does this, obviously enough, is to try and prevent communities of listeners around the world rinsing tracks on repeat in order to game its charts.
---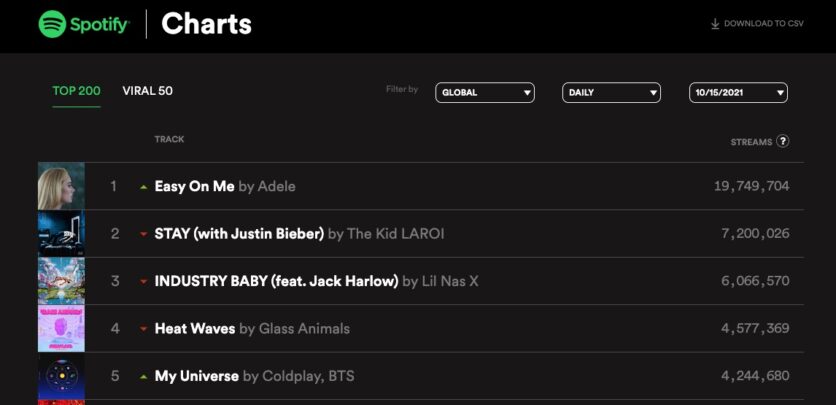 ---
So: according to Spotify's public chart data, Easy On Me racked up a massive 19.75 million global chart-eligible plays on the service during its day of release (Friday, October 15).
That was close to double the number of chart-eligible plays – 11.04 million – that BTS's Butter accumulated during its day of release (Friday, May 21)
---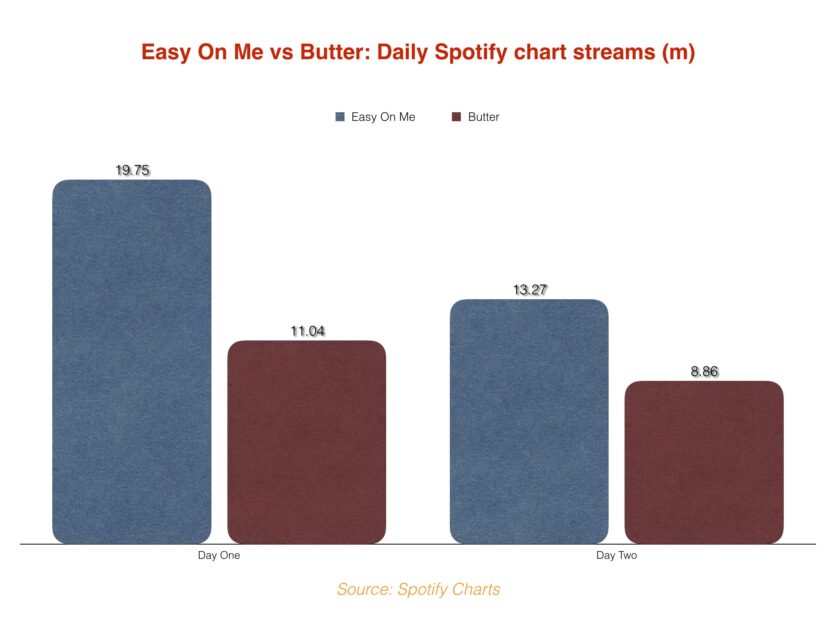 ---
Complicating matters a bit: As reported by MBW back in May, around half of BTS's 20.9 million day-one total streams with Butter (approx. 10m of them) were actually wiped out on Spotify's chart.
In essence, that was because all of these streams were played beyond Spotify's chart threshold for each user (which, as mentioned, is understood to be 10-plays-per-head-per-24-hours).
Further complicating matters: Adele took the unusual step with Easy On Me of releasing the track at midnight UK on Friday, meaning it hit the US in the later hours of Thursday (October 14).
Therefore the first few frenzied hours of consumption of the track in the US – the world's biggest music market – was technically happening on the day before October 15.
Aaaanyway, here are the two main headlines, and ultimately all that matters:
(i) Easy On Me definitely surpassed Butter's 20.9 million day-one total streams on Spotify;
(ii) Easy On Me (19.75m) clocked up nearly double Butter's (11.04m)

chart-eligible

day-one Spotify streams.
Also interesting: Spotify posted on social media that Easy On Me had become its biggest ever day-one record at precisely 8.47pm UK (3.47pm ET) on Saturday (October 15, see below).
---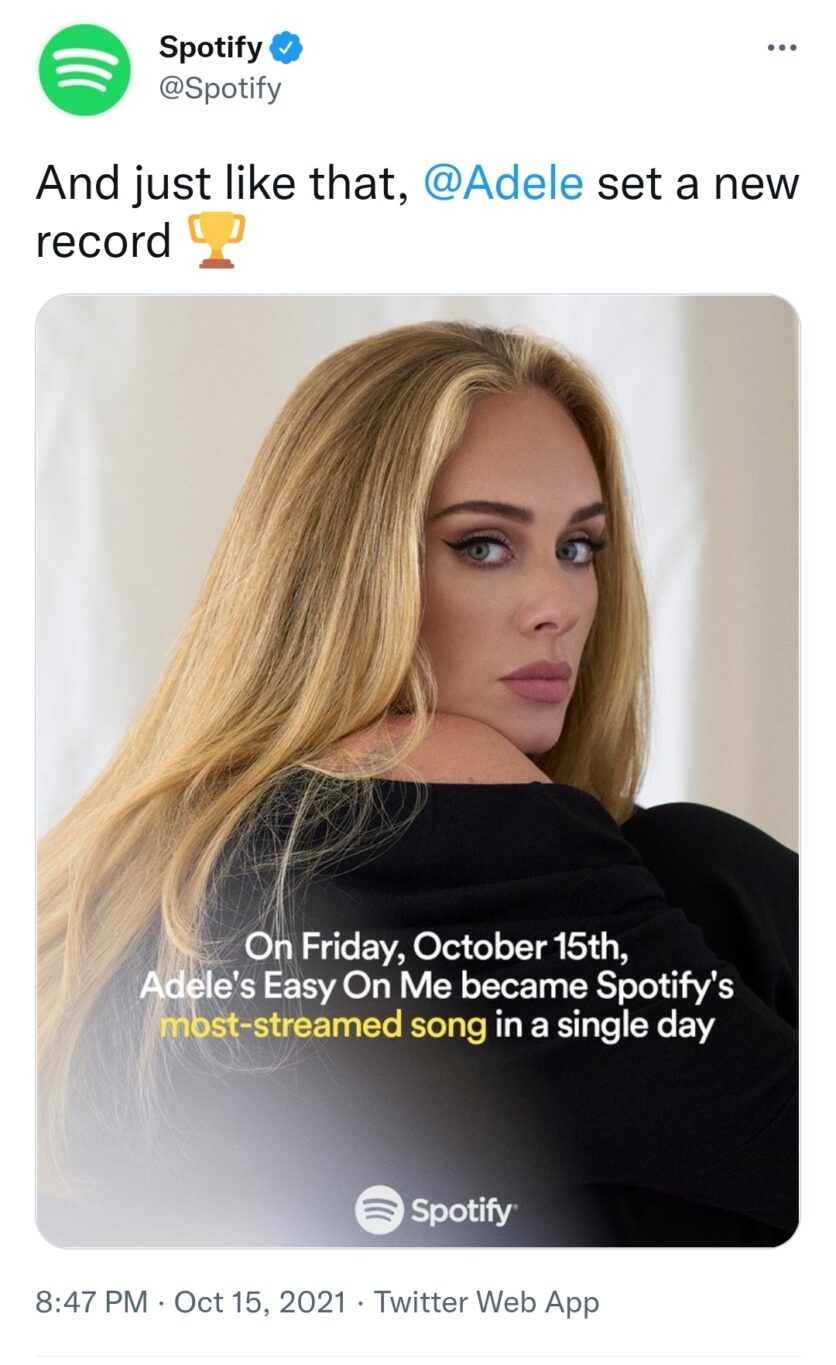 ---
This means Easy On Me must have surpassed Butter's 20.9 million day-one global streams within its first 21 hours of being released… suggesting it crushed the previous record over the course of 24 hours.
UPDATE: Spotify has now confirmed that Easy On Me's total day-one tally on Spotify (including un-chart-eligible streams) was 24 million plays.
One last interesting bit of number crunching: Some 27.5% of Easy On Me's day-one Spotify chart streams (5.435m) took place in the US, according to SpotifyCharts.com.
Some 2.80 million (14.2%) took place in the UK, meaning that the majority of Easy On Me's day-one Spotify streams (approximately 58.3%) took place outside both Adele's home nation, and her adopted nation.
Yep, who'd have thought it? Adele's a truly global star – and a truly global streaming star at that.Music Business Worldwide