If you didn't catch the news over the weekend, Adele's 25 is currently on course to smash records on both sides of the Atlantic.
As revealed on MBW yesterday, the star's third album sold approximately 1.9m copies in its first two days on sale in the US.
That's significantly more than the entire first week sales of Taylor Swift's 1989 last year (1.3m).
The 1.9m figure covers just Friday (November 20) and Saturday (November 21), with more than 60% of sales coming on digital download services.
Adele's performance on Saturday Night Live on the the latter date will have given a further boost to 25's extraordinary commercial performance – it was the third most-watched SNL in the past year.
In the UK, Official Charts Company data shows that 25 went platinum in a single day – that's 300,000 sales.
Industry leaders are now tipping MBW that the LP is expected to surpass 700,000 sales in the UK by the end of this week.
It's a similar story the world over: 25 was the No.1 album in 106 of iTunes' 119 territories last night.
iTunes markets where 25 has failed to hit the top spot so far include Kazakhstan, Honduras and Paraguay.
Yet with all due respect to these countries, there is a chart which means much, much more to the music business on which 25 hasn't triumphed.
In fact, it's completely tanked.
Adele and her team at XL/Beggars & Sony famously decided not to put 25 on streaming services in its opening week.
Arguments continue to rage over the merits of this strategy (the fact she's sold 2m+ units in two days around the world perhaps tells its own story…).
In going 'sales-only', however, Adele and her label(s) must have been braced for a piracy hit.
This is one of the key reasons why record companies elect to put new records on Spotify, Apple Music etc. on day one – the hope that they'll tempt torrenters away from illegitimate services to fully licensed, simple access-based alternatives.
"We started Spotify because we love music and piracy was killing it," Daniel Ek told Taylor Swift in an open letter last year after she 'did an Adele' and kept her 1989 album off streaming services – then pulled her entire catalogue from Spotify.
Said Ek of his company's cumulative payouts to rightsholders: "That's two billion dollars' worth of listening that would have happened with zero or little compensation to artists and songwriters through piracy or practically equivalent services if there was no Spotify."
Which doesn't quite explain this.
MBW has just monitored the ever-changing Top 100 chart of the world's most notorious piracy site, The Pirate Bay, over the weekend and then again this morning (November 23).
(Yes, The Pirate Bay still exists, despite being hit with ISP blocks all over the world. It's easily available via proxies – via Google! – and antagonistically boasts of being 'the galaxy's most resilient bittorrent site.')
The shock news: 25 is nowhere. Literally nowhere.
Below, you can see the 25 most popular music files on TPB as of yesterday morning (November 22) UK time – two days after the astonishingly successful release of Adele's new LP.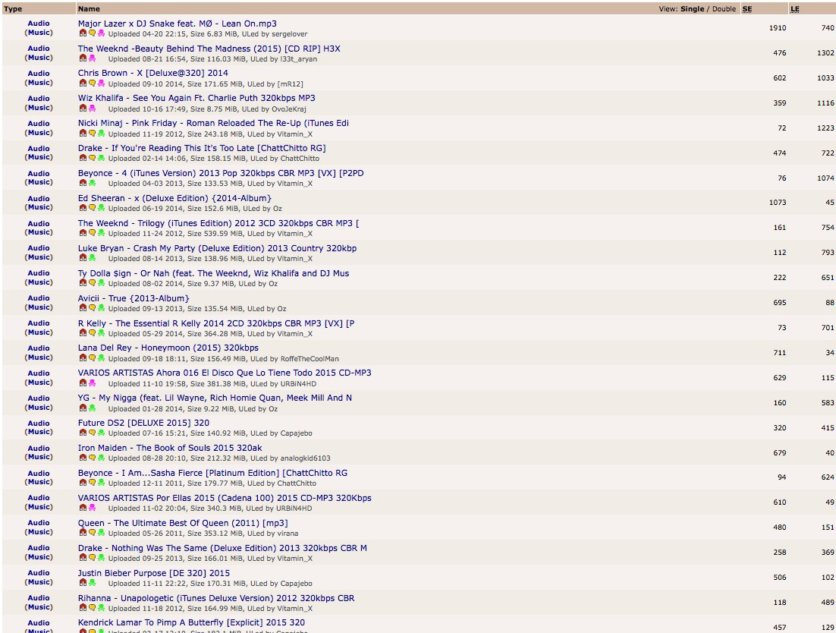 Not only does 25 not feature in the tracks we've featured above – it didn't feature in the entire top 100.
It was the same story on Saturday (November 21) – a day after release – and it's the same story this morning.
Adele did briefly claim a position on the TPB chart yesterday, MBW noticed – at No.63, with her previous release 21 – but she's since disappeared.
(If you're wondering what those numbers down the right hand side denote, it's the number of uploaders – 'seeders' – and the number of people downloading without reciprocally uploading – 'leechers'.)
As you can see, the vast majority of the most popular downloads are records that came out over a year ago, although Justin Bieber's Purpose, released on November 13, makes the cut.
Now, 25 definitely is being pirated.
The most popular torrent of the album on The Pirate Bay today is being seeded by over 1,300 people – both confirmation that Adele has some non-law-abiding fans, and that Beggars/Merlin hasn't been able to obliterate the opportunity to get hold of 25 illegally.
Update: On TPB's less infamous rival, KickAss Torrents, 25 is more popular, rankings-wise – it's at No.4 on the portal's music chart today with 707 seeders.

Despite this, 25 currently appears nowhere near as popular on The Pirate Bay as releases from Major Lazer, The Weeknd, Wiz Khalifa, Chris Brown and 96 others.
Major Lazer's Lean On (feat M0 and DJ Snake), the No.1 torrent on the site, currently has almost 2,000 seeders.
(TPB doesn't determine between albums and singles, just files.)
As for YouTube, Beggars/Merlin seem to have gone nuclear.
Every time MBW has managed to find a stream of the full 25 album on the Google service post-release, it has already been hit with a copyright takedown.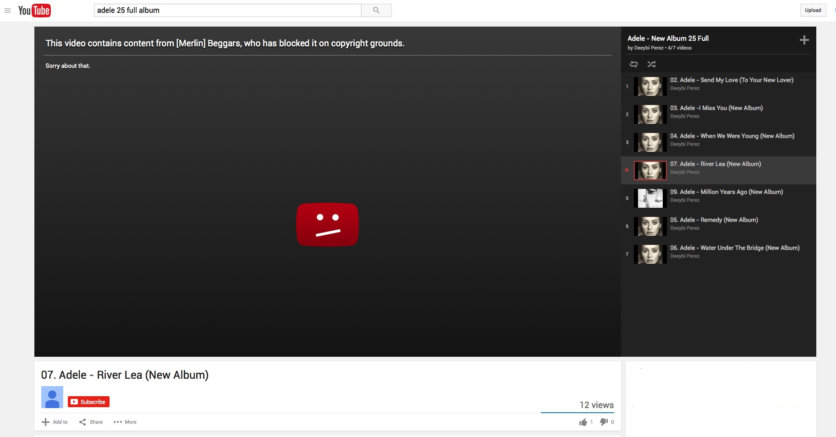 So what does this tell us about the modern music business?
That all depends on your angle.
On the one hand, it might simply serve to prove quite what a unique case Adele is: her fans want to get hold of her records in their millions, but they are not particularly interested in using the world's most notorious torrent site to do so.
Clearly, they are more than happy to pay. (Many of them also probably think 'seeding' is what you do with the geraniums packet your niece gives you for Christmas.)
Meanwhile, Adele's fellow blockbuster artists Justin Bieber and One Direction have both just set consecutive all-time records on Spotify, proving that an early appearance on the service with their new albums worked for them in spades.
So… no jumping to hard and fast conclusions allowed.
Yet 25's severe lack of popularity on The Pirate Bay raises a very important question for the music business: what, exactly, has Adele lost by not putting her music on streaming services in week one?
Because the idea that her decision would 'drive people to piracy' is now starting to look like bunkum.Music Business Worldwide