The wholesale value of Australia's recorded music market climbed 4.94% last year, but don't get the party poppers out just yet: the market's value is still over a third down on where it was a decade ago.
Still, the figures from ARIA demonstrate the first growth in Australia's recorded music market in three years – to AUS $333.5m (US $252m) – and come off the back of a 10% decline in 2014.
The growth in 2015 was driven, unsurprisingly, by streaming.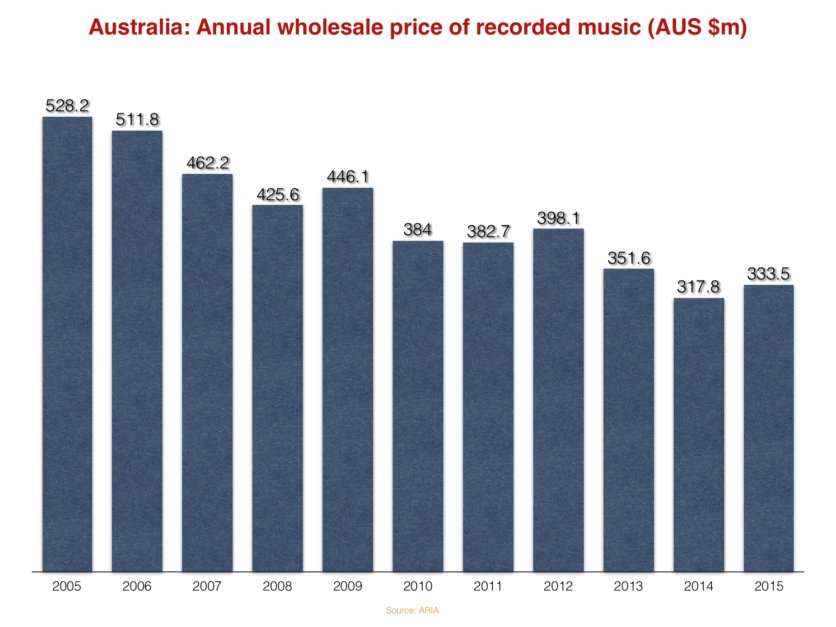 Subscription income doubled in the year, up from AUS $23m to AUS $46m (US $35m).
Yet perhaps the most discussion-worthy stat in ARIA's data is that relating specifically to ad-funded streaming; the segment of the market which has been most under-fire from the global record industry of late.
ARIA's numbers give us a different slant on the likes of YouTube, Vevo and Spotify's free tiers because they're wholesale figures; ie. the amount of money that came through the door at record companies after retail and other expenses are deducted.
Ad-funded income rose 179.26% in Australia in 2015, up almost three times from AUS $8.9m the year before to AUS $25m (US $19m).
It's becoming common parlance in the record industry – and a key lobbying tactic of the RIAA and BPI – to compare annual ad-funded income to that of vinyl.
It's a perfect mechanism to illustrate what some see as the unfair income trickling in from YouTube and others.
In the US last year, for example, vinyl generated US $416.2m while on-demand ad-free formats made just US $385m. Quite the shocking stat.
Yet in ARIA's figures for Australia, vinyl was far behind ad-funded revenues last year, at just AUS $8.9m.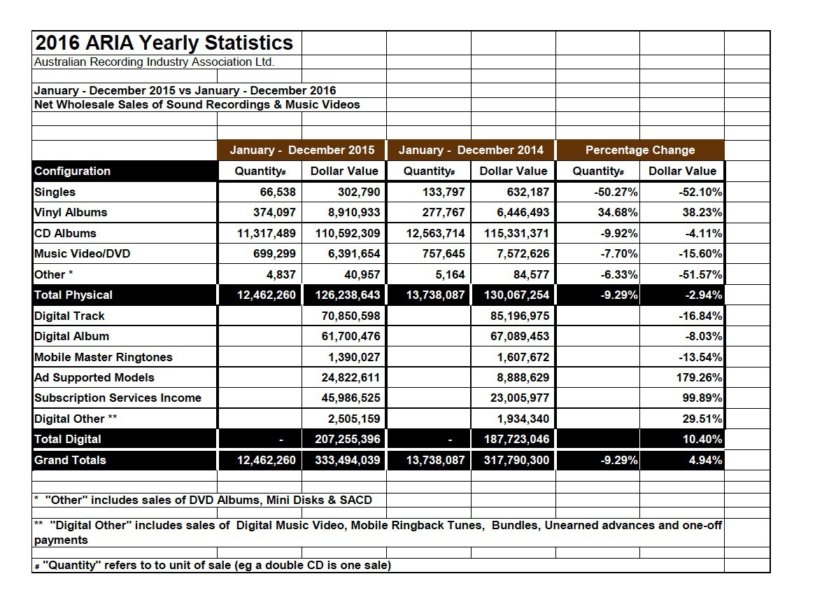 Why was there such a difference?
Two reasons:
Crucially, the RIAA's figures are retail-based – ie. what each format generates at the point of sale / stream before retail deductions. As you can imagine, vinyl takes a heck of a lot more outgoings to manufacture, distribute and sell than a track on Spotify;
Not that those in charge of ad-funded platforms should be feeling too proud about their performance in Oz: ad-funded's AUS $25m revenues in 2015 were still almost half the size of cash from subscription services (AUS $46m / US $35m), and less than a quarter of the size of CD's income (AUS $110.6m / US $83.6m).
No surprise, then, that physical continues to have a huge impact on the Australian market: according to MBW analysis, CD, vinyl and DVD combined claimed 38% of total wholesale income in Oz last year, with streaming on 21%.
Despite suffering heavy declines, download was still king of the market.
Digital track sales fell 16.84% to AUS $70.9m (US $53.6m), while digital album sales declined by 8% to AUS $61.7m (US $46.6m) – a combined haul of AUS $132.6m (US $102.2m).
In 2015, digital accounted for 62% of the overall Oz market by value, continuing its rise from a 59% share in 2014 ('other' below is mainly made up of ringtones and other digital products).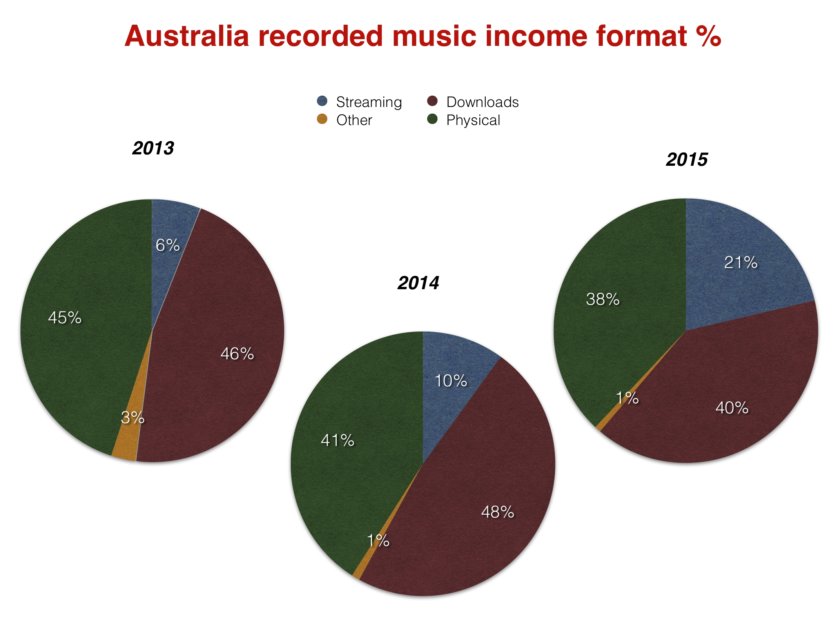 Denis Handlin AM, ARIA Chairman and Chairman & CEO of Sony Music Entertainment Australia & New Zealand and President, Asia said: "It is exciting to see our local industry return to growth in 2015. The music business has continued to manage its way through times of challenge and transition.
"While the work with Government, ISPs and other service providers to ensure artists and record labels are properly rewarded for their creative efforts is far from over, Australian music fans are embracing the many legitimate platforms where an incredible range of local and international music is widely available.
"This result is a credit to the continued high quality work being produced by our brilliant local artists, as well as to the tenacious approach our local industry takes in marketing and delivering music to fans across the country."
"While the work with government, ISPS and other services providers is far from over, australian music fans are embracing the many legitimate platforms."

Denis Handlin, ARIA / Sony
Overall revenue from physical sales fell just 3% in 2015 compared to the 18% the previous year. Vinyl sales rose 38% last year.
ARIA CEO, Dan Rosen commented: "It is a testament to the on-going innovation and resilience of our local music industry to see a return to growth in 2015. Australian music fans are consuming more music than ever before and did so across an unpreceded number of formats from streaming and downloading on mobile devices, to buying CDs and vinyl at local record stores.
"Already in 2016, we have seen some big Australian releases and a growing number of local artists hitting the international stage. No doubt there is more to come, which will set the stage for celebrations later in the year of the 30th Anniversary of the ARIA Awards."
Australia was the world's sixth biggest recorded music territory in 2014, according to the IFPI – behind the US, Japan, Germany, the UK and France.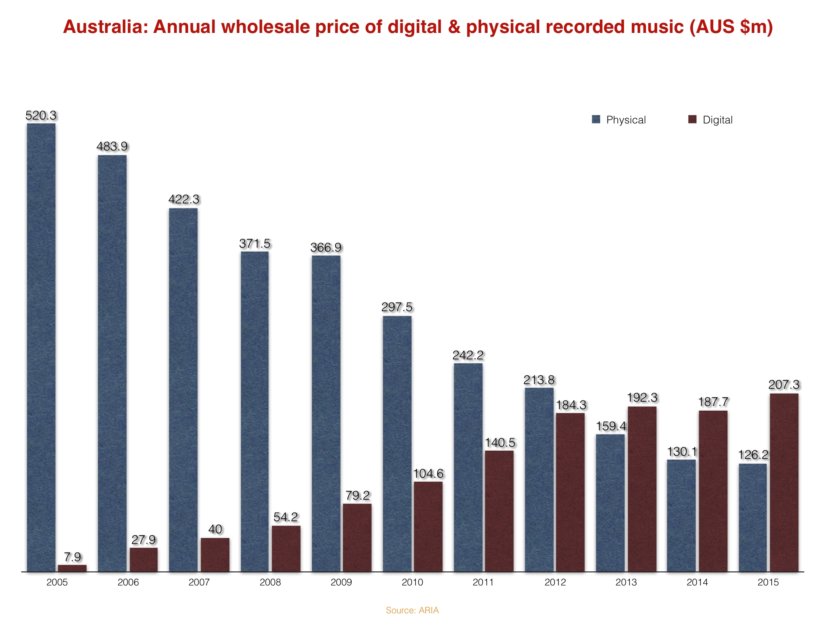 [Pictured: Sia, whose Elastic Heart was the biggest-selling track by a local artist in Australia last year]Music Business Worldwide