This is turning into the greatest will-they, won't-they since Ross and Rachel.
After dismissing a buyout of Pandora as "not likely" last week – sending the streaming platform's share price tumbling – it appears SiriusXM has changed its mind.
According to a report in the New York Post, Sirius Chairman Greg Maffei told investors at a private dinner on Tuesday (Jan 10) that the satellite radio giant is still very interested in an acquisition move.
Maffei (pictured), also the CEO of Sirius majority-shareholder Liberty Media, apparently admitted that he had concerns over Pandora's losses (which hit $253m in the first nine months of last year).
"It's not a well-run company, they haven't executed," the Post quotes Maffei as saying.
A further source suggested that Maffei believes: "Sirius would look at [Pandora] at the right price."
---
These comments come in contrast to quotes from SiriusXM's CFO David Frear last week, when he openly dismissed the likelihood of a Sirius/Pandora buyout during an interview at Citibank's 2017 Internet, Media & Telecommunications Conference in Las Vegas.
The possibility of a Sirius takeover of Pandora first emerged in July last year, when Liberty Media offered to buy the Tim Westergren-run streaming music company.
Liberty's spurned offer was reportedly for $15 per share, which valued Pandora at $3.4bn. Pandora's current market cap sits at $2.8bn.
This all becomes particularly interesting when you consider that, yesterday, Pandora announced it was axing 7% of its US workforce. MBW estimates that the move will affect around 100-150 jobs.
Pandora said the cuts would "allow [us] to focus and realign existing resources on execution and make further investments in product innovation to drive advertising revenue and subscription growth".
One wonders if a sudden, significant reduction in headcount might also make Pandora seem a little more attractive to would-be buyers…
---
Additionally, we saw some coded language from Pandora yesterday that may have set off alarm bells amongst rightsholders.
The firm told investors that it planned to "leverage [our] analytics platform and ad insertion logic to drive additional revenue and realize leverage in content costs".
What, we wonder, will 'leveraging content costs' entail?
Especially when the majors all crowed about the direct deals they had struck with Pandora across its services in September last year?
---
What we do know: across the whole of 2015, Pandora paid out $610.36m in 'content acquisition costs' to the music biz – off revenues of $1.164bn.
However, this payout figure included $65.4m of a $90m legal settlement agreed with labels in 2015, regarding plays of pre-1972 recordings.
Without this settlement cash, royalties burned through 46.8% of Pandora's annual 2015 revenue haul.
In the first nine months of 2016, meanwhile, Pandora paid $522.2m for content, while posting revenues of $992.23m.
Here, royalties cost Pandora 52.6% of its total revenue tally.
Which begs the question: where is that percentage figure going to move next…
---
Pandora attracted 77.9m active listeners at the close of Q3 2016, down from 78.1m in the same three-month period (July-Sept) of 2015.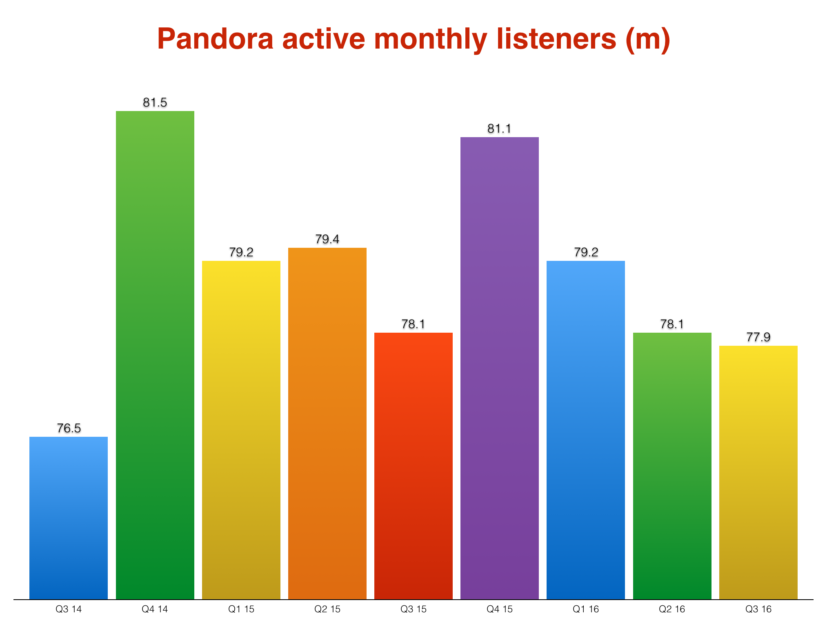 Music Business Worldwide