One of MBW's most popular articles this week has regarded the 'Sad collapse of the album in America'.
If you're an LP fan – and considering they're still the industry's most lucrative product, you probably are – the stats make for depressing reading: according to Nielsen Soundscan data, full-year LP sales in the US across all formats dropped by a shocking 61.5% between 2004 and 2014 – from 667m all the way down to 257m.
But now Nielsen has released its in-depth report about 2014 in the States. And it appears the album might not be completely doomed after all – so long as it's not being sold in a massive retailer like Wal-Mart.
Independent stores and 'non-traditional' retailers? They're doing just fine.
Total album sales in the States dropped by 11.2% to 257m in 2014. Digital album downloads – a market which is dominated by iTunes – dropped 9.4% to 106.5m.
But it's in the physical world where things get interesting. Vinyl LP sales had a stormer, but to no great effect on the wider market –  up 51.8% to 9.2m.
And on paper, CD sales had a howler, falling 15% from 165.4m to 140.8m; the biggest format hurting by the biggest amount.
But to really get an accurate picture of physical album sales, it's important to understand where CD's decline is taking place – because it ain't Rough Trade New York.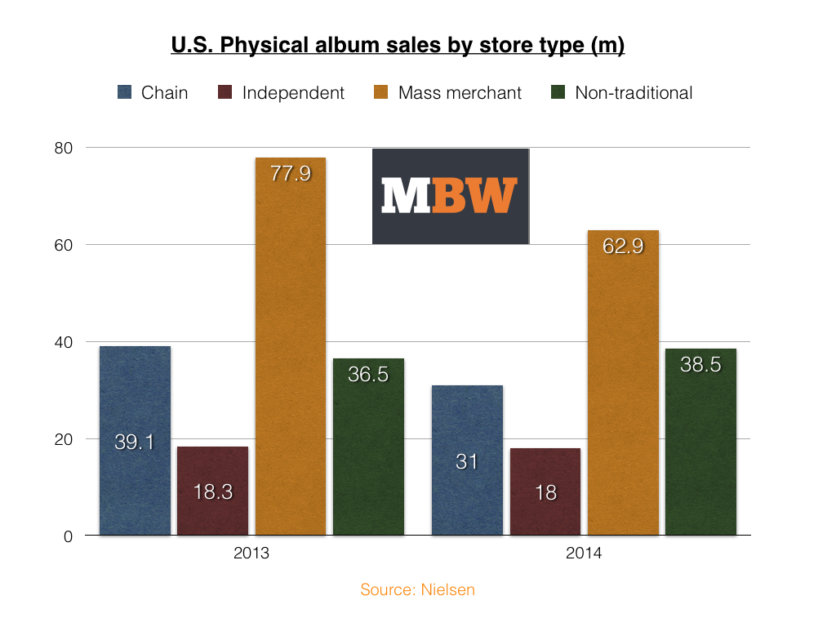 According to Nielsen, physical album sales in chain stores across America were slashed by a fifth in 2014 – plummeting by a massive 20.6%, from 39.1m to 31m.
Meanwhile, 'mass merchant' stores – like Walmart and Target – suffered a similar fall, with album sales crashing 19.3% from 77.9m to 62.9m.
Between them, these two types of retailer alone saw 23.1m album sales wiped off their bottom line in 2014 – making their tills almost entirely culpable for America's annual decline in CD sales.
As for independent US music stores, their year in album sales was flat – down just 0.5% in unit terms to 18.2 million.
But the positive story of the year in US physical music retail was the 'non-traditional' outlets – including direct-to-fan sales, CD purchases at gigs and internet retailers such as Amazon.
Their sales of physical albums increased by 5.2% to 38.5m units – meaning they are now a bigger category for overall music purchases than the chain stores.Music Business Worldwide