As the music business continues to try and derail the threat of online torrent sites, a even slipperier enemy gathers pace.
An army of apps which allow users to rip mp3s from the likes of YouTube and SoundCloud are already in abundance on official channels, including Apple's.
Look what happens when MBW tapped 'YouTube' into our iOS App Store search earlier today: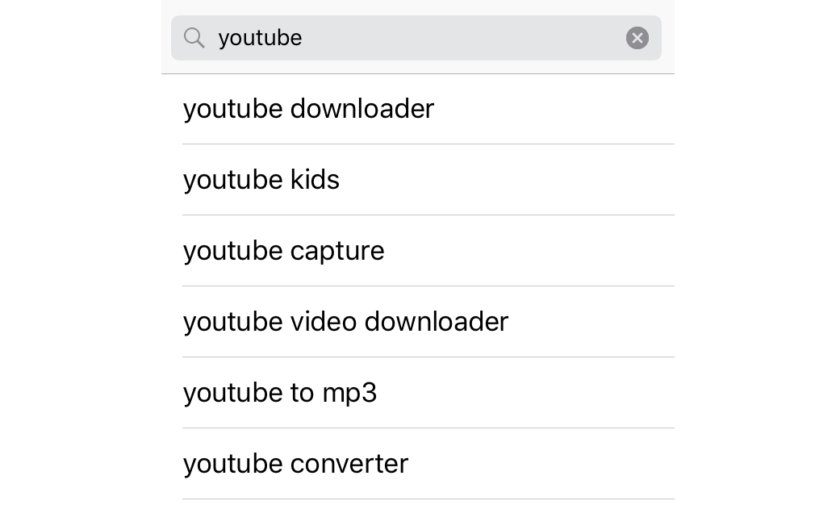 The App Store autofill bar you see above, just like Google's, puts the most popular searches around the world at the top.
Names of apps available on the iOS App Store which enable the mobile ripping of YouTube videos into sound files included MyMP3 and QWE Downloader.
Speaking of Google…


And here's a quick glance at how the specific search of 'YouTube to MP3' compares in volume on Google to Spotify and Apple Music in recent years…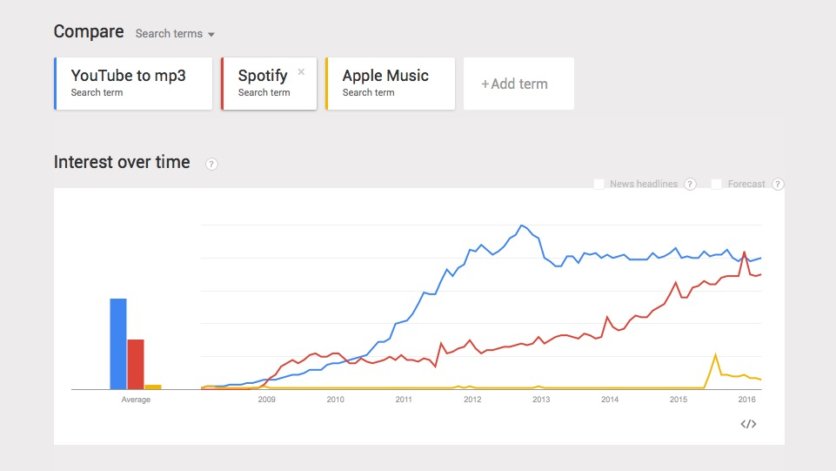 Now there's a new YouTube converter trying to make that blue bar go up even further.
MBW just received a press release from Mp3cola.com – 'a free online Youtube & SoundCloud to MP3 conversion tool'.
Although the language of this PR is a little suspect ('dedicates music lovers a great experience in converting and downloading YouTube and SoundCloud to MP3 file'), the flagrancy should not be dismissed.
The PR reads: "Users take an opportunity to discover the prosperous videos and tracks from other reliable and substantial platforms as YouTube, SoundCloud, MixCloud, Vimeo, Facebook, and Instagram. Mp3cola.com supports users the best-converted videos in the shortest time with ensuring completely safe."
'Prosperous'.
MP3Cola.com, owned by Cola Media Inc, says it makes its money from 'awesome advertising' from which 'users can conveniently click to get the essential information'.
From what MBW has seen of the site today, it's perhaps no surprise that this 'awesome advertising' on desktop appears to be powered by GoogleAds.
You don't need us to tell you how much of this money will work its way back to artists and songwriters.
Why isn't this illegal?
Mp3Cola's quite brilliant terms & conditions page answers that question simply and effectively:
1) Using our website is legal.
2) Downloading copyrighted material is not legal.
There you have it.
No surprise that the acronym DCMA is put up in lights on this page, with a reminder that 'downloads are requested by users themselves'.
Here's MP3Cola's pitch versus its competitors: "Without supplying the individual information regularly filled in the registration, as well as installing the software users normally required, users have nothing to worry about online attacks or being infected with malware and spyware programs.
"This MP3 conversion tool is incredibly different from its competitors due to keeping users away from this harmfulness."
In addition, the platform allows users to convert tracks into ringtones ready-made for their phones.
Mp3Cola boasts of being 'integrated with tons of operating systems' including Linux, Mac, Windows and – on mobile – iOS and Android.Music Business Worldwide