"Big Jon's just a different breed. All of us recognise that he found us as seeds. Back then, we didn't know how to blossom."
Seasoned readers of music biz hagiographies, please adjust your eyebrows.
Pharrell Williams isn't speaking this way about Jon Platt to suck up to the guy who inks his cheques.
Technically, Williams isn't even signed to Warner/Chappell, the major publisher where Platt is now making waves as Chairman & CEO.
(Williams remains a Sony/ATV client, though the fact he recently transferred his pre-2010 catalogue over to Platt's professional home tells its own story.)
Neither is this one of those pre-briefed B2B media stroke jobs – when artists go full ventriloquist with approved pleasantries about their corporate allies.
We know this for a fact.
Because Pharrell Williams didn't see us coming.
---
A throng of music biz operators have crammed into Hollywood's Conway Studios to hear Pharrell's nascent creations with country good-timers Little Big Town.
Truth be told, this genre-bending project isn't top of MBW's agenda.
We're here for one reason: to ascertain why Jon Platt seems to form such unbreakable connections with superstar and gonna-be songwriters alike – so much so, that mere weeks after joining Warner/Chappell in 2012, he was followed into the building by Jay Z and Beyoncé.
Room suitably wowed, Pharrell slinks towards Conway's exit – before we sheepishly stand in his way, and prod an uninvited microphone under his nose.
As soon as we mention Platt's name, Williams visibly relaxes, and a knowing smirk breaks out.
"Not often do chairmen of publishing companies come and sit in a session for six or seven hours, then leave the studio and go run a business," he says.
"Big Jon operates in a glass building. He doesn't have anything to hide; he's incapable of it."

Pharrell Williams
The Neptunes man won't volunteer exact details of how Platt "straightened my situation out" when they first met 20 years ago – but it's clear this is a debt which, in Pharrell's mind, won't easily be wiped clean.
The best clue comes with a cryptic observation: "Often times when you enter the publishing game, the deals are not as favourable as they seem."
Williams reserves his strongest praise for what he views as that rarest commodity in the music publishing circus: the fact Platt is hopeless at lying.
"Publishing is a space that still needs a lot more… regulation," says Williams – proving that you don't reach his lofty status in the music biz without learning how to drop truth-bombs diplomatically.
"Big Jon, though, he operates in a glass building. He doesn't have anything to hide; he's incapable of it."
---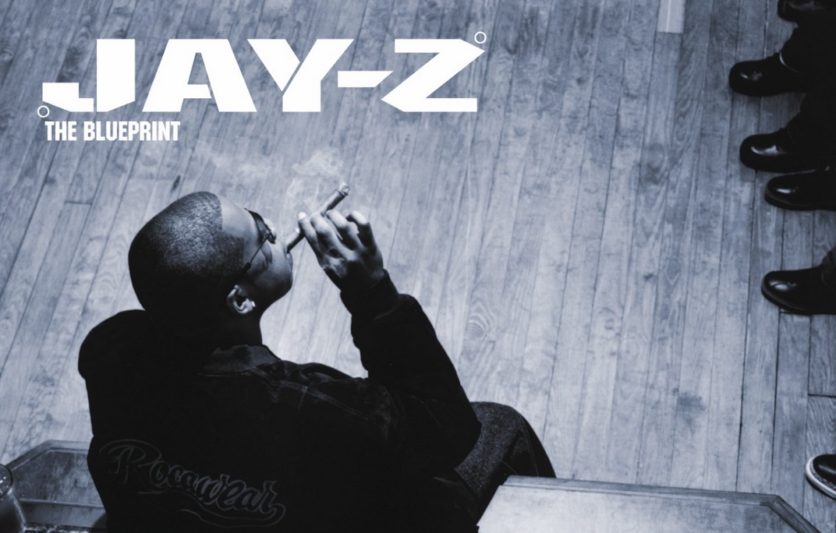 The following afternoon, sat adjacent to Platt's imperial speaker setup in Warner/Chappell's Los Angeles HQ, we're beginning to see what Williams means.
Within just 20 minutes of our interview, Platt has made a significant confession about his past.
"I worked a side job at sporting goods store in Denver when I was in high school," he explains.
"A guy came in and he wanted a pair of shoes, but when the time came to pay, he realised he didn't have enough money.
"He seemed nice enough, so I changed the price to what he could afford."
A trivial misdemeanor, but one with momentous consequences; not just for Jon Platt and the string of giant songwriters he's worked with – from Pharrell to Kanye West, Jay Z, Usher, Beyonce and Drake – but for the music business at large.
---
The beneficiary of Platt's offhand price reduction was one Thomas Edwards, a notable local DJ and, it transpired, a man with a gift for remembering faces.
Edwards tracked down Platt outside his mom's house and, as a thank you, offered the teenager a hands-on introduction to DJ'ing – ingredients Platt built on to become Denver's go-to hip-hop tastemaker at nightclubs in the mid-'80s.
As Platt's parochial fame grew, so too did his power to help break untested artists like Arrested Development – and the music biz started flocking his way.
Platt's fast-growing connections led to EMI Music Publishing A&R Steve Prudholme, and the pair hit it off.
"I actually figured out EMI's Keypad code and would go there all hours of the night."

Jon Platt
In the coming years, Prudholme would sign Platt's first ever management client, production duo Madukey.
Not only that, but on leaving EMI in 1995, Prudholme insisted that his Philadelphia-born friend succeed him.
"I was always at EMI's offices in Los Angeles during [my management] days, blasting music or making tapes for meetings," says Platt.
"I actually figured out their keypad code and I would go there all hours of the night."
---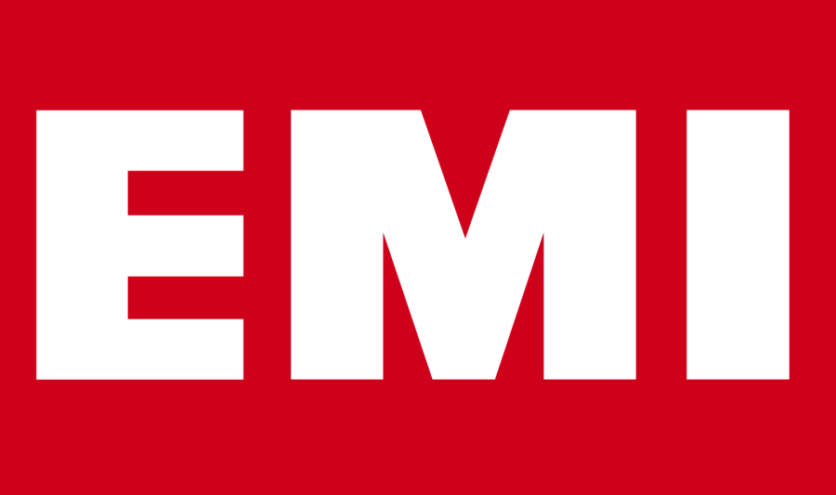 Platt's only barrier to his dream music business job was the no-nonsense interviewer for Prudholme 's vacant seat: EMI A&R hotshot, Jody Gerson.
Yes, that Jody Gerson.
The now-boss of Warner/Chappell's fierce rival, Universal Music Publishing.
"The first time I went in to see Jody, I had on jeans and a T-shirt – I didn't really have the money for much else," recalls Platt with a chuckle.
"She started by saying something like: 'Nice clothes for your interview,' and I just thought: 'Oh, damn.'"
Let the record show: on both occasions MBW sits with wildly successful Warner/Chappell boss Jon Platt in 2016, he is wearing jeans and a T-shirt.
"Next time I saw Jody, she said: 'Listen, I interviewed a lot of people, and I just wanted to let you know personally I'm not going to hire you.'
"My stomach hit the floor; I was in a daze. Then she goes: 'Jon, I'm joking! The job's yours.'"
Gerson, who remains good friends with Platt to this day, could be forgiven for having mixed feelings about this decision.
---
In Q1 this year, Platt's first quarter as CEO of Warner/Chappell, the publisher posted its highest US market share for a decade.
According to Billboard stats monitoring the Top 100 radio songs in the US, Chappell took a 22.6% share across the quarter, gaining more than five points year-on-year.
This followed an annual 2015 performance which saw Warner/Chappell crowned the No.2 publisher by share of U.S. airplay – a position it then retained in first three months of this year.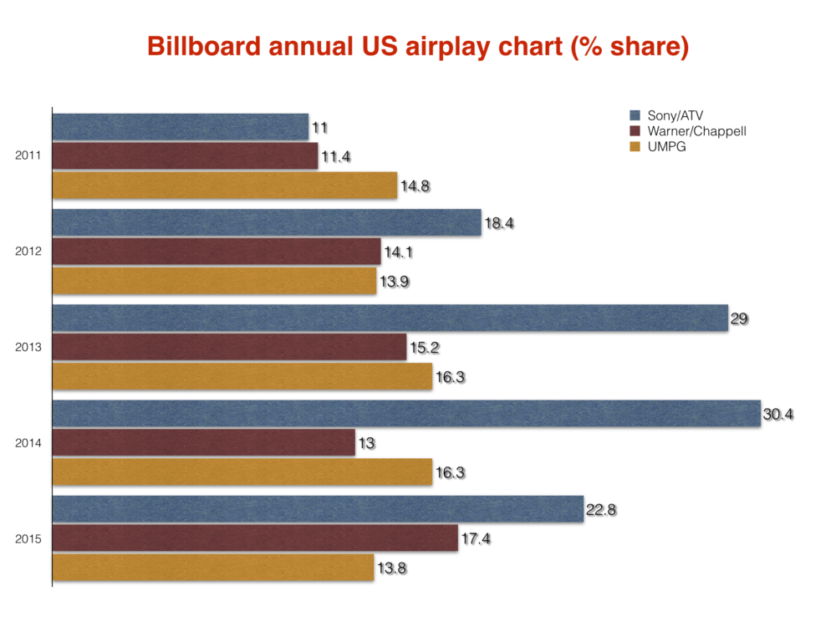 Such success has been driven by Warner/Chappell writer/artists/producers like Lukas Graham, Nico & Vinz, MNEK, Justin Tranter, Julia Michaels, Melanie Martinez, twenty one pilots, Mike Will Made It and Mike Dean.
All of them were signed after Platt joined the major in September 2012, in addition to Jay Z, Beyonce, Slash, Alice Cooper and that pre-2010 chunk of Pharell's catalogue.
"There are a lot of people in this business who can give a good meeting," says Platt. "The list gets a lot smaller when it comes to people who can get results.
"Many publishers can give a songwriter the same size cheque. Our advantage at Warner/Chappell is what happens afterwards.
"That's when the real work starts, and when it falls apart with some others."
---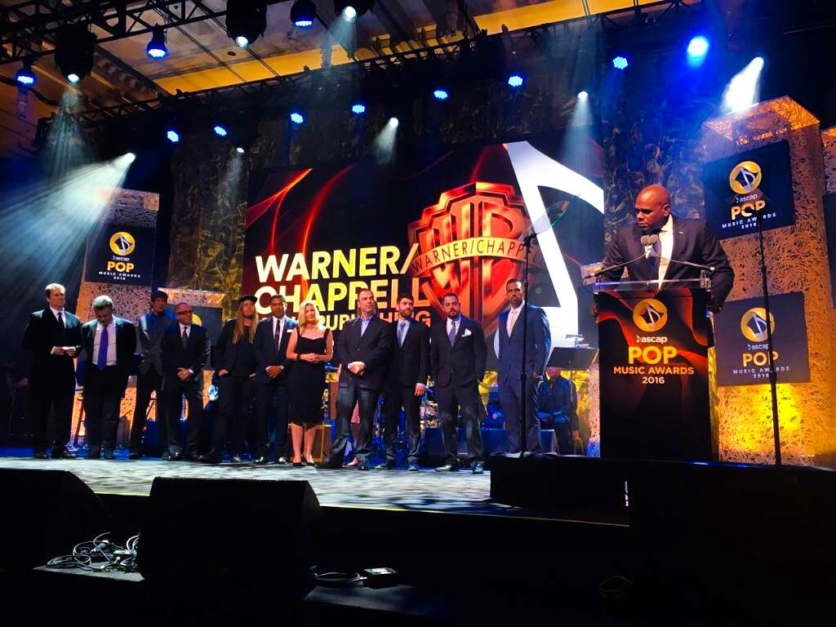 Q1 this year also saw Warner/Chappell's global revenues grow by 13% year-on-year, with digital income up 44% – news to make Len Blavatnik grin.
Meanwhile, Chappell was named Music Publisher of the Year at the 2016 ASCAP Pop Music Awards – a title it's claimed three times since Platt pitched up, having not won it for a decade before 2012.
"What defines us is our dedication to our songwriters," says Platt. "I'll tell any songwriter: if you're just looking for big money, you should go elsewhere. If you want a career, come with us."
"I can do without signing photos. Those things that say: 'Hey look! We goT the trophy!'"

Jon Platt
He adds: "I can do without the signing photos, those things that say, 'Hey, look! We got the trophy!'
"The trophy for us is when songwriters achieve success."
He's not lying: tracking down snaps of Platt aside his glittering array of creative conquests for this article has proven near-impossible.
Also, it hasn't gone unnoticed by MBW that Warner/Chappell signed Rihanna the other month, ahead of her monster album ANTI.
At Platt's behest, there was no press release.
---

One striking thing about Jon Platt's record at Warner/Chappell so far is the diversity of the company's hitmakers.
Platt is exceedingly aware that competitors in the industry like to pigeon-hole him as a strict maven of US-based R&B and hip-hop.
But that doesn't explain why Warner/Chappell was the No.1 country publisher in the US in Q1 – thanks to Platt's long-time Nashville colleague Ben Vaughn and writers such as Nathan Chapman (who won a Grammy for Taylor Swift's 1989), Liz Rose (another Swift co-writer), Dave Cobb, Eric Paslay and Chris Stapleton.
Nor does it chime with the fact that Warner/Chappell secured Publisher Of the Year gongs in 2015 at both ASCAP's Country and Latin Music Awards.
When we quizzed Pharrell why he thought Warner/Chappell might be enjoying such a run of prosperity, he replied:
"Jon tells you: 'That songwriter is going to be special in a couple of years.' Then in a couple of years you look up, and they're killing it.' It's just what he does."
"This business is a road of 'nos'. You sign a songwriter and it's 'no, no, no'. You've got to ride that out."

Jon Platt
"This business is a road of 'nos'," explains Platt. "You sign a songwriter and take them around everywhere and it's 'no, no, no'. You've got to ride that out."
He adds: "Years ago, a lawyer named Vernon Slaughter told me: 'There's no losers in this game, only those who quit before their turn comes.' I've never forgotten it."
A prime example is Justin Tranter; the musician who'd signed four failed record deals before his songwriting career caught fire last year with Justin Bieber's Sorry.
Platt credits much of Chappell's success to his young team, especially co-heads of US A&R, Ryan Press and Katie Vinten. The latter started out as Platt's assistant during his 17 year tenure at EMI.
"I began bringing the assistants into the A&R meetings at EMI, and it didn't go down so well with some of the more established executives," he reveals.
"But my philosophy is, why not have as many ears on the music as possible? What's to be scared of?"
---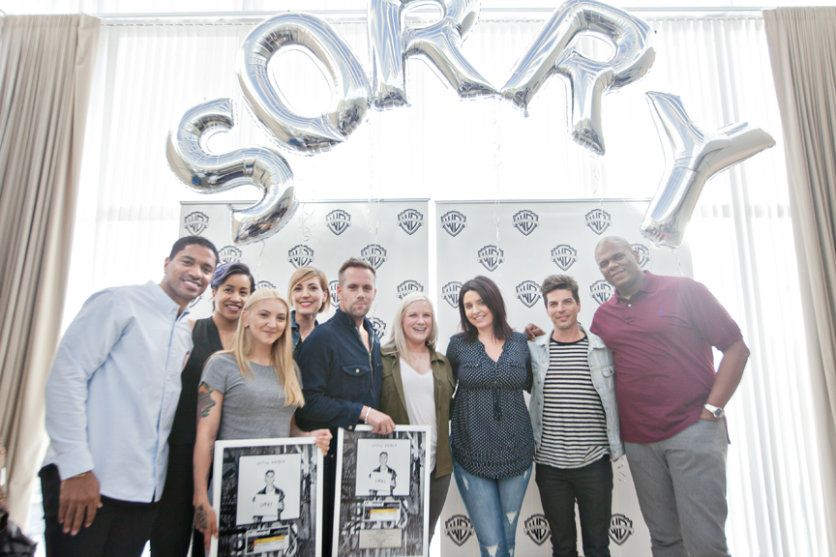 Platt seeks "the eye of the tiger" in both his executive and creative talent – something he says Vinten, Press and Vaughn demonstrate in abundance.
But that doesn't mean he always expects perfection.
"The biggest thing you can give anyone in this business – whether songwriters or people who work with you – is the opportunity to fail," he says.
"Somewhere along the line, the music business got caught up into a mentality that said: 'Every single thing has to be successful, as fast as possible.' Now most people are too frightened of failure.
"That's not reality, and it's not human. I've made mistakes in my career, and all of them made me better."
"Somewhere along the line, the music business got caught up in a mentality that everything had to be successful, as fast as possible. That's not human, and it's not reality."

Jon Platt
Platt describes himself as a "pro-songwriter chairman", and his recent decision to host Nashville-style 'No.1 parties' in LA – essentially, all writers who contributed to a No.1 record being celebrated in front of their peers and family – evidences his romance for the craft.
Yet to paint his leadership as cuddly wouldn't be accurate. There's also a tougher, more demanding side to him – one which refuses to entertain second best.
"I need people around me who can take tough criticism," he admits.
Platt once told a major league songwriter whose effort had waned: "The only reason you got a shot in this business is because someone else took a day off. Don't be that guy."
He explains: "Sometimes when you're having real success, the story people are waiting for is not a pat on the back – it's your demise.
"I always tell people at Warner/Chappell: let's not have that story be written. Not on our watch."
---
This is perhaps a wise attitude when you consider that despite Warner/Chappell's recent triumphs, it isn't without its weaknesses.
The gulf between the company's soaring success in the US last year and its damper global performance is especially worth consideration.
Warner's annual worldwide publishing market share has declined from around 14% to 12.4% since Sony/ATV's 2012 buyout of EMI Music Publishing was green-lit by regulators.
Unlike Billboard's publisher rankings, these figures take into account all rights controlled by each publisher, giving UMPG (2m+ copyrights) and Sony/ATV (4m copyrights including EMI) a natural advantage.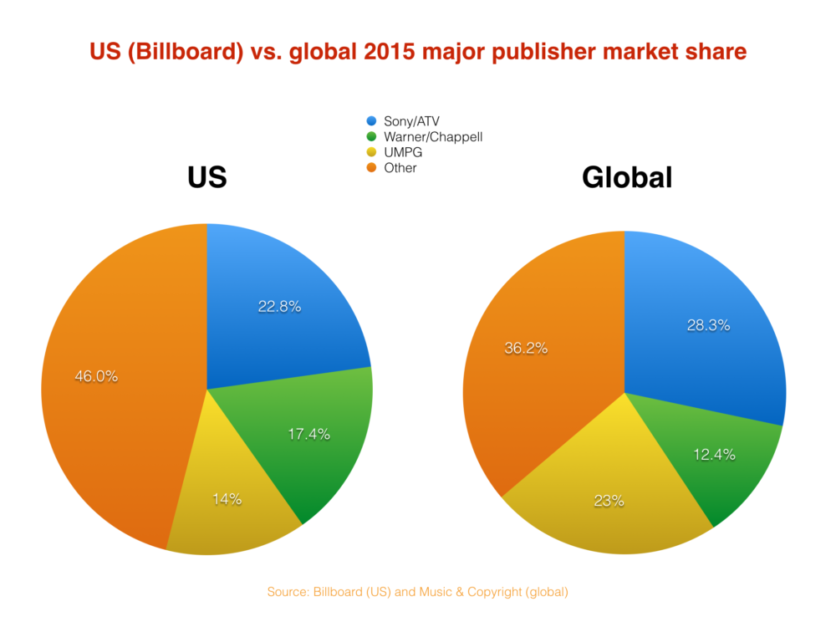 Platt believes Chappell can do better at pegging back his gargantuan rivals on a global level, driven by executives like Sweden's Lars Karlsson and new UK boss Mike Smith, whom Platt calls "one of the best A&R guys in the business".
"20 years ago all I was responsible for was me," says Platt. "Now I'm responsible for 447 people around the world – so I have to do this right.
"Not a day goes by that I don't think about that. My decisions affect these people's lives, and if it affects one of them negatively, that's not okay with me."
---
Platt's social circle now includes the first couple of popular music, Mr and Mrs Shawn Carter – although the exec makes clear this friendship was only made possible by the buzz of shared achievement.
Platt signed Jay Z to EMI in 1997, largely thanks to a mutual introduction by Roc Nation co-founder Jay Brown.
The man they call Hova has since credited Platt with revolutionising publishing for songwriters reliant on samples, as well as hand-picking the song which became one of his biggest hits – Empire State Of Mind.
Signing Jay Z was a breeze compared to Kanye West, whose signature Platt had to fight tooth and nail for at EMI after an aggressive approach from Zomba.
Hearing that West's Zomba deal was "done" by West's lawyer only heightened Platt's determination.
"I called Kanye direct, and he was asleep, living in Jersey. I said: 'Listen man, we've been trying to do a publishing deal for a long time. Let me ask you a question: All things being equal, you coming with me, right?"
Kanye said yes.
Against the clock, Platt not only matched but improved upon Zomba's smartly-constructed three year contract, layering on added monetary incentives. He snatched the deal at the eleventh hour – literally.
"I was at a McDonald's drive-thru at 11pm when I got the call to say that deal was confirmed," he remembers. "The adrenaline was flowing through me. Marty [Bandier] never discouraged me from being super-competitive."
He adds: "Kanye wasn't a famous artist at that point– he was a hot producer. But I was certain he was going to be the guy.
"When I saw Through The Wire on BET later that year, real tears came to my eyes. I knew how bad he wanted it.
"Everything he said he was going to do back then, he did. He's an inspiring person, and he's a genius."
---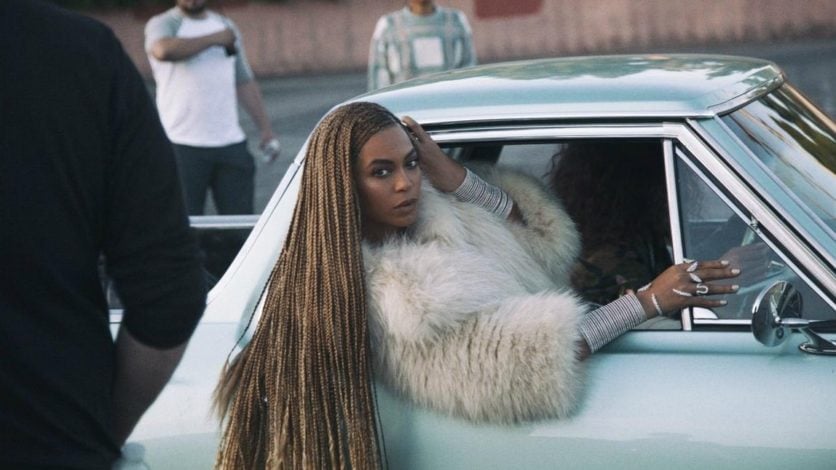 Platt only uses the 'g' word twice during our discussion.
The second is reserved for Beyoncé, with whom the exec has built up a trusted working relationship over a decade, having signed her ahead of her second album in 2005.
Platt acknowledges a muted but positive impact on Beyoncé's last, self-titled LP – especially hit track Drunk In Love – but the duo's rapport hit new levels with the creation of 2016's chart-topping Lemonade; a bold artistic statement which has knocked out fans and critics alike.
He adds: "My approach to music is this: all I'm listening for is any moment of greatness – a verse, a lyric, the bridge, the melody… anything.
"Beyoncé approaches her writing process in a similar way, which is why we click. But then she'll take that moment of greatness and turn it into something insane.
"I knew lemonade would be special. To watch what it's done in the world, culturally, has been crazy."

Jon Platt
"What can I say? She's the best there is, man."
Of Lemonade, he adds: "In my opinion, this is her career moment. She worked her ass off on this album.
"I knew it would be special. To watch what it's done in the world, culturally, in our community, has been crazy.
"I was in London for the Ivors the other week and a young manager came up to me. She said: 'The things Beyoncé's talking about, every woman wants to say.'
"She was crying real tears. That's what this record is doing for people."
---
This is all a far cry from the moment, back in 1995, when Platt was first given his break at EMI.
A few years earlier, Public Enemy's Chuck D had encouraged Platt to plot a route into the music business, and delivered some life-changing advice:
"You're the man in Denver. But unless you dream bigger, that's all you're ever gonna be."
Now, he'd done it – all the way to a skyscraping major music HQ in the City Of Angels.
And then, imposter syndrome set in.
"I remember sitting in that EMI office, looking out over Sunset Boulevard, and just thinking, 'How the hell am I going to do this?'
"I was 30 at the time, and I'd spent most of my adult life being a DJ. I saw all these 20-something A&Rs around me doing their thing.
"I was literally having a conversation with myself, and eventually I figured it out: 'I'm just going to outwork them all. That's the only thing I can control – my effort.'
---

Weeks later, Platt flew to Atlanta on the hunt for a lyric writer, Marqueze Etheridge, who'd just co-created a track with promising group TLC.
Etheridge was untrusting of the music business machine, but Platt managed to bring him on side.
Following a meeting of minds at a barber shop, Etheridge committed to a publishing deal – and within months, TLC's Waterfalls became one of the biggest smashes in R&B history.
"After that, I became the Waterfalls guy at EMI, and I was rollin'," recalls Platt.
"I remember telling myself: 'It's on now. I'm going to work even harder – and I'm going to do even better.'"
Hasn't he just.Music Business Worldwide