Pex, the Los Angeles-based analytics firm that monitors social networks worldwide, has published an analysis of the 'the state of YouTube' for 2019 as an update to its 2018 report.
In the 2018 study, Pex found that less than 1% (only 0.64%) of all videos on YouTube are ever viewed more than 100,000 times.
That figure did not cross the 1% mark in 2019 either, with just 0.77% of videos ever reaching more than 100,000 views.
Breaking down Pex's analysis even further reveals that the majority of YouTube videos (88.4%) generated fewer than 1,000 views (see below).
(All data published by Pex is based on performance of all publicly available videos as of December 31, 2019.)
Elsewhere in the report, Pex notes that music "became 'more valuable' on YouTube" last year.
As previously reported by MBW back in April, despite making up just 5% of all content on the platform, music actually accounted for 22% of all views last year (see below), a 2% increase from 2018.
The Entertainment category, meanwhile, accounted for 10%, People and Blogs (21%), Gaming (37%) , and Other (19%) while Film & Animation also accounted for 5%.
---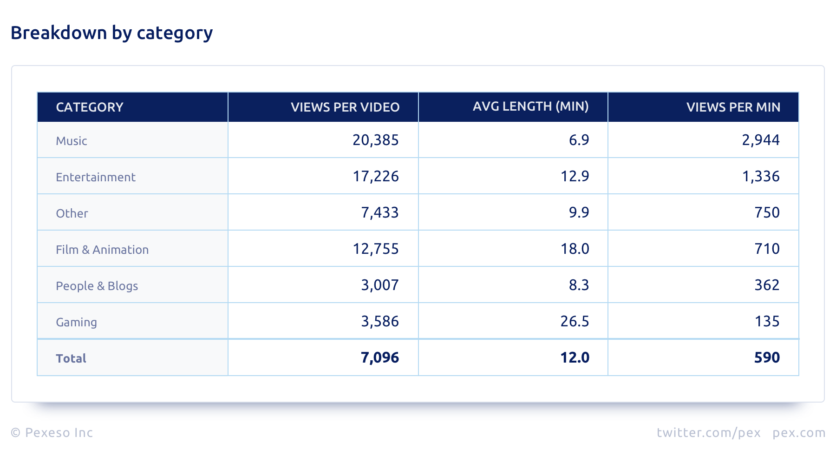 ---
Music was also responsible for 83% of videos exceeding 1 billion views on the platform last year.
Entertainment manages only 1.5% of such videos, while Gaming comprises just 0.5%, in spite of, what Pex describes, as "explosive growth in Gaming uploads".
The majority of new videos (33%) are uploaded to the Gaming category according to Pex.
---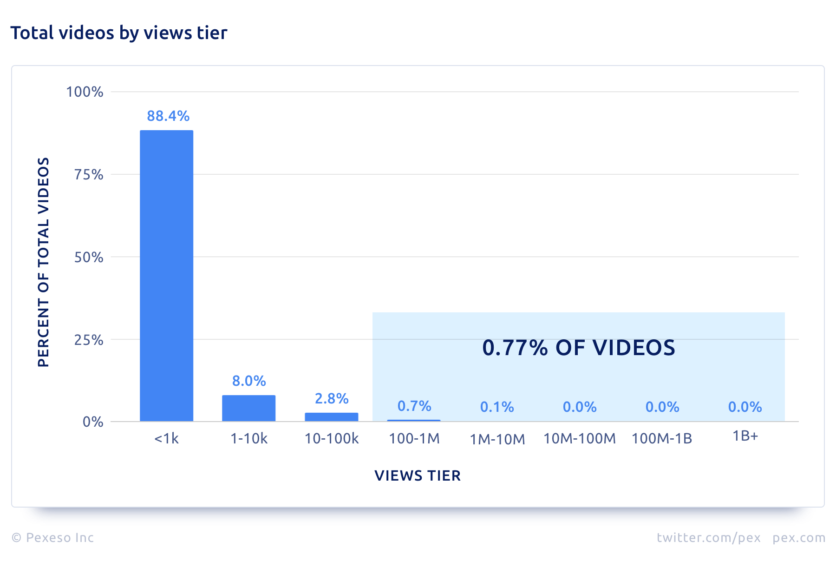 ---
Digging deeper into Music's share of views on the platform tells us the following:
For the "10-100m" and "100m to 1 billion" views tiers, Music has the largest share of total videos, with a 30% and 57% share of those two tiers, respectively.
In comparison, for the same view tiers, Entertainment comes in second place with 25% and 17%, respectively.
In terms of views per video, music is the platform's No.1 category.
According to Pex, Music's 2,944 views per minute is more than double that of Entertainment and roughly 22 times greater than Gaming.
---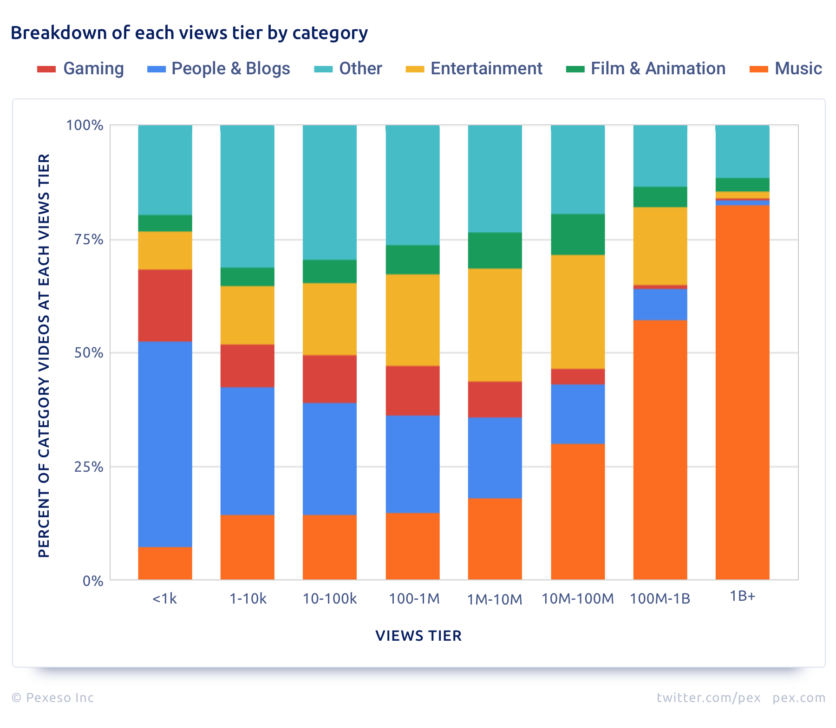 ---
Writing in a blog post, Pex Analyst Justin Koh states: "In summary, 2019 proved to be a continuation of the YouTube distributions we witnessed in 2018.
"Gaming is on its way to becoming the majority of the platform's content. However, Music and Entertainment videos bring the majority of the views, despite being only 15% of the platform's videos.
"Music is also becoming more valuable year-over-year, increasing its share of total views.
"As other platforms like TikTok have become more and more popular, YouTube remains the dominant video platform and continues to grow, with the number of uploads per user still increasing in 2019."
MBW wrote about Pex in March when they acquired San Francisco-headquartered startup Dubset in a deal reportedly worth more than $25m.Music Business Worldwide