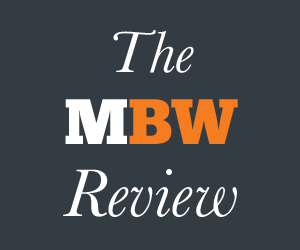 The MBW Review offers our take on some of the music biz's biggest recent goings-on. This time, we take the magnifying glass to Spotify's earnings call today (July 26) to get a flavor of how the company is equipping itself against some tough competition in the marketplace. The MBW Review is supported by Instrumental.
---
No, we didn't get our numbers muddled.
Earlier today, MBW sent a news alert to our email subscribers containing two curious figures about Spotify's Q2 2018 results:
(i) The company's paid-for subscriber base grew by 8m in the three months to the end of June, up to 83m; and
(ii) Its total Monthly Active User (MAU) count – including both free and paid users – rose by 7m in the same period, from 173m to 180m.
We know what you're thinking.
Eh? How could Spotify's premium user base have grown faster than its total user base in the quarter?
Because something pretty weird happened: Spotify's global ad-funded user count actually went down by 1m between the end of Q1 and the end of Q2 – from 102m to 101m.
---

---
This dip initially freaked Wall Street: Spotify's share price on the NYSE stumbled by over 5% in premarket trades earlier today.
But after some calming words from Daniel Ek (pictured) during the company's earnings call, SPOT shares have now bounced back to above $197 and remain on course for another all-time high close.
"If the premium business grows faster than our expectations, we're going to have fewer free MAU's than we were expecting, which creates a headwind for the free business," explained Ek.
"[If] the paid business is growing faster than we expected, we will have more revenue than we expected, and we will have higher margins than we expected – because the paid business has higher gross margins than the free business does."
For artists and record labels, of course, such rhetoric was unnecessary: the news that premium Spotify subscriptions are growing faster than 'free' users will be music to their ears.
In fact, premium users made up 46.1% of Spotify's total MAUs in Q2 2018, an increase from 42.7% in Q2 2017.
---

---
As you can probably tell, MBW's had its calculator out again.
Here are six other interesting takeaways from today's results…
---
1) Spotify is in with a shout of topping 100m subscribers by the end of the year
In March, Spotify issued guidance that it expected to reach somewhere between 92m and 96m paying subscribers by the end of 2018.
Thanks to its impressive subs growth in Q2, it's got a little ballsier: in the company's latest guidance, it's predicting a year-end paying subs base of 93m to 97m.
Larger institutional shareholders will surely now be pushing for the magic number.
Spotify finished June with 83m subscribers, adding an average of 2.67m per month in the Q2 quarter.
If it could keep up this momentum throughout the rest of the year, Spotify would close 2018 with 99m subscribers.
Throw in the possibility of some new territorial launches in significant territories such as India (if the major labels allow it) and 100m doesn't seem impossible.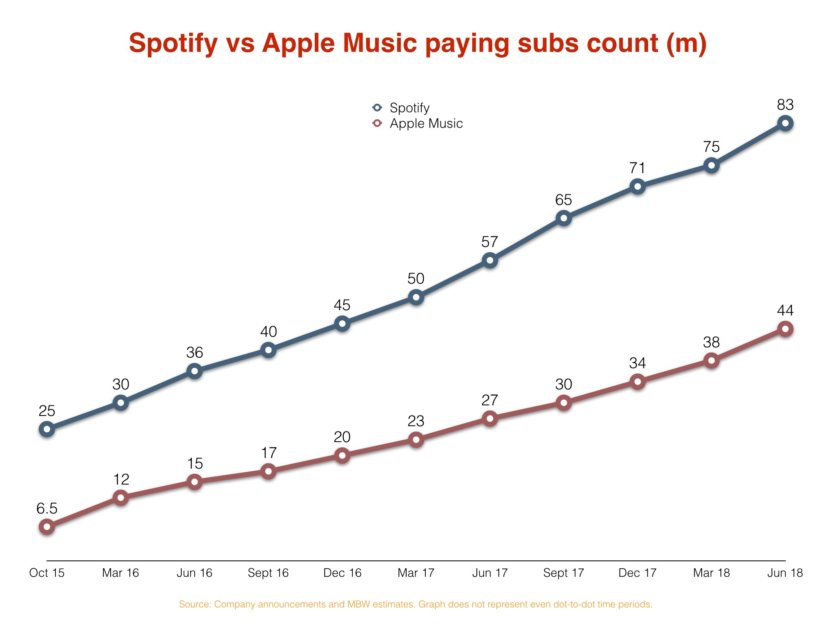 One thing seems certain: with Spotify and Apple now adding over 2m subs a month, and with Apple Music at an estimated 44m current global subscribers, it seems likely that the two services will share more than 150m paying subscribers by the end of this year.
Where will those subscribers live?
Spotify doesn't give away that exact information, but it does break down in percentage terms where its MAUs and subs reside.
We've done the maths for you in terms of approximate millions of users. Voila: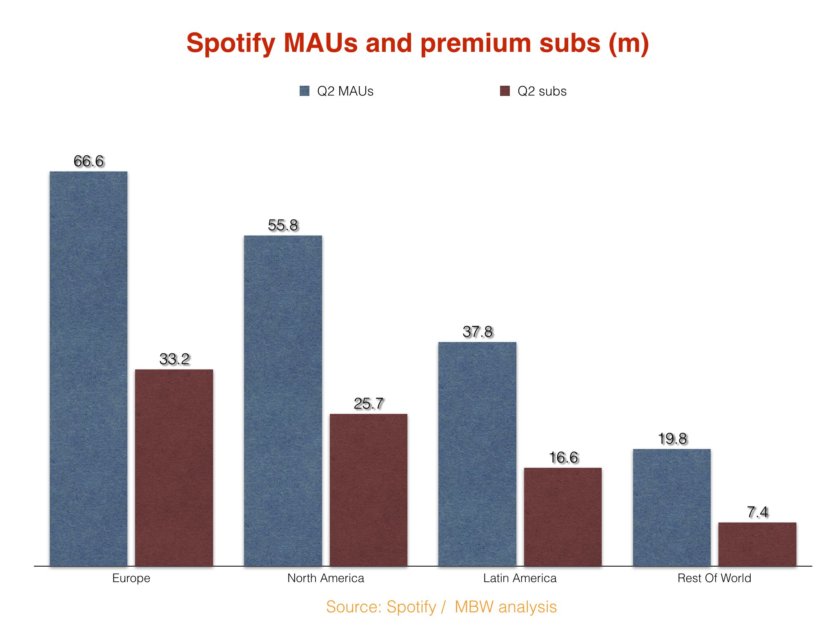 ---
2) Those losses remain ugly
Spotify's revenues in the second quarter grew by 26% year-on-year at €1.273bn ($1.5bn), matching the year-on-year revenue growth the company saw in Q1.
In the first half of 2018, then, Spotify has banked €2.412bn ($2.92bn), putting it in contention for a €5bn year for the first time.
However, its losses will still give investors cause for concern.
First, the good news: Operating losses stood at €90m in Q2, bringing total H1 operating losses in 2018 to €131m. At the same half-year stage in 2017, Spotify had significantly higher operating losses: €218m.
Overall losses still really hurt, however: largely thanks to a whacking €302m quarterly finance cost, Spotify suffered a pre-tax loss of €392m in Q2.
And in the first half of this year, Spotify's pre-tax loss was €572m.
In the past three-and-a-half years alone, Spotify has lost (pre-tax) €2.56bn – or $3bn at current exchange rates.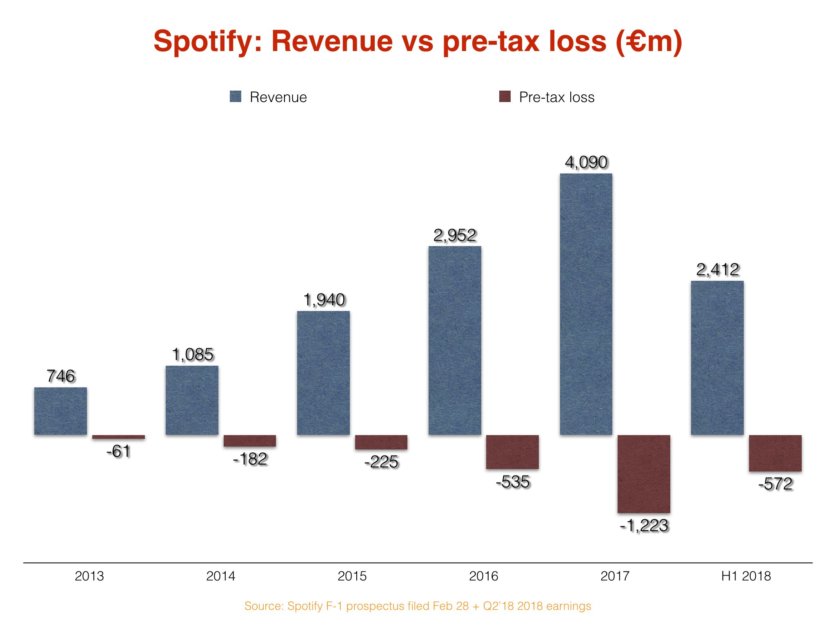 ---
3) Daniel Ek has confirmed Spotify is striking direct licensing deals with artists
Right now the UK national media – and many of its citizens – are starting to worry quite a lot about Britain's impending exit from the European Union, aka Brexit.
If a deal cannot be reached with the EU, Britain is now threatening a 'No Deal' Brexit, from which all sorts of madness could subsequently take place – including, we're warned, nationwide food and medicine shortages.
Britain's Prime Minister, Theresa May, recently gave an interview where she was asked if the government was stockpiling food and drugs for this eventuality. She suggested the British public should actually feel "reassured and comforted" by the fact such preparations were underway, should the worst case scenario take place.
Today, speaking to investors, Daniel Ek gave his very own "reassured and comforted" speech, on the controversial topic of Spotify reportedly striking direct, one-on-one licensing agreements with unsigned artists.
"in some cases, we license from labels and in others [we license from] artists."
"Before we begin the question-and-answer session, I want to address one thing that's been written about a lot over the past few weeks around Spotify signing direct licensing deals with artists," said Ek, waking up the gathered analysts from the outset.
He added: "Licensing content does not make us a label, nor do we have any interest in becoming a label. We don't own any rights, any music and we're not acting like a record label. Our agreements are specific to Spotify and are not exclusive.
"We want to grow the number of labels and creators on the platform, as well as the number of creators using our tools and services. So, in some cases, we license from labels and in others [we license from] artists if they own the rights to their own music."
Ergo: they're doing it.
---
4) Ad-funded revenues are now generating less than 10% of Spotify's money
Despite plenty of ambition and opportunity for advertising in the world of ad-funded audio, as a piece of Spotify's revenue mix, it continues to disappoint.
According to the firm's Q2 results, advertising was responsible for €123m in revenue in the quarter – up by just €20m year-on-year.
Premium revenues, meanwhile, climbed to €1.15bn in Q2 2018 – some €246m bigger than they were in Q2 of the previous year.
That all means that advertising revenues now account (in terms of Q2 2018) for just 9.7% of Spotify's total revenue pie.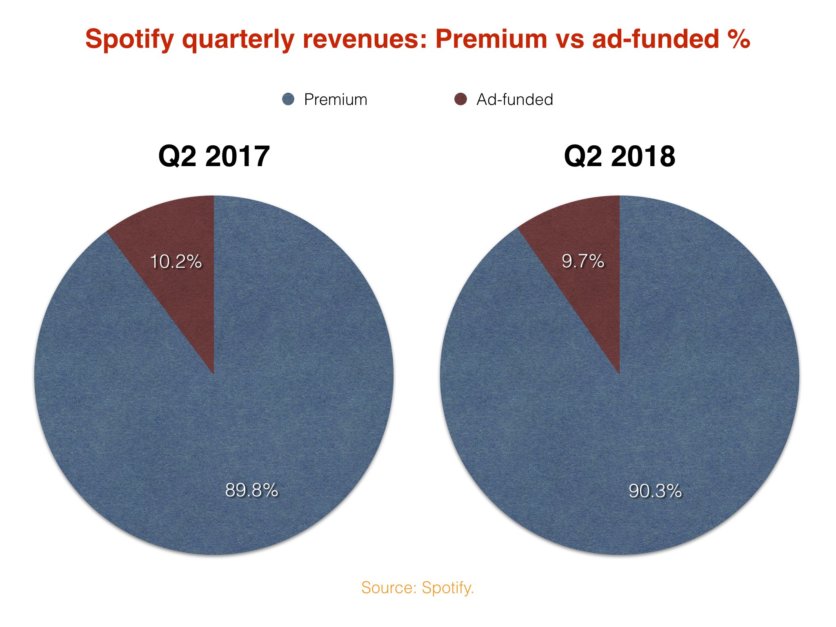 ---
5) Churn: IT's going down, not up
A report issued on Monday (July 23) from Consumer Intelligence Research Partners (CIRP) brought some negative vibes to Spotify's earnings announcement today.
CIRP's survey suggested that Spotify suffered from a surprisingly high 16% 'churn' rate of paid subscribers in the US in the second quarter of 2018.
"We attribute this to a competitive US market," suggested CIRP – a clear reference to Apple.
"US churn continues to decline year-over-year and is now below 4%."
A 'churn' rate, if you didn't know, is the percentage of Spotify subscribers leaving their accounts, either to exit the service or downgrade to its ad-funded tier.
What was alarming about CIRP's figures was that the 16% US-focused number was much higher than the circa 5% global churn rate Spotify has confirmed in the past.
Thing is, Spotify publicly states that its churn rate is a per-month figure – ie. it's derived from a quarterly number, then divided by three.
We checked with CIRP, and their number is a quarterly one. ie. It hasn't been divided by three.
If it was, it would come out at 5.3%. Entirely in line with expectations.
Not that any of this matters, because earlier today, Daniel Ek very clearly said, "I've seen a couple of news articles reporting an increase in [US] churn, as a result I think of Apple competition… in fact [that] is not what happened."
He added: "US churn continues to decline year-over-year and is now below 4%."
So there you go. A lot of fuss about nothing.
---
6) Spotify's going to be profitable! For a quarter… Then it'll have to compete with Tencent
As you've no doubt read on MBW in recent weeks, Tencent Music Entertainment (TME) is planning to IPO in the United States later this year.
The company, a rival to Spotify, is said to expect a post-public valuation in the region of $30bn.
Thanks to a stock-swap deal agreed at the end of last year, Spotify acquired a 9% share in TME, which at this valuation would be worth just shy of $3bn.
In a shareholders' letter sent out today, Spotify noted:
We own TME shares. These are held in long term investments on our balance sheet. A TME IPO would trigger a fair market value adjustment to the carrying value of our investment recognized in other comprehensive income. The gain could be significant. The accounting treatment for such a gain could trigger a tax benefit large enough to generate positive Net Income for us in the quarter of the IPO. If such an outcome were to occur, it would be a one-time, non-recurring event. The following quarters we would expect the business to once again generate a Net Loss.
---

The MBW Review is supported by Instrumental, which powers online scouting for A&R and talent teams within the music industry. Their leading scouting platform applies AI processes to Spotify and social data to unearth the fastest growing artists and tracks each day. Get in touch with the Instrumental team to find out how they can help power your scouting efforts.Music Business Worldwide