The resurgence of vinyl sales among music fans has been going on for some time now, but the trend marked a major milestone in 2022.
According to data recently released by the Recording Industry Association of America (RIAA), annual vinyl sales exceeded CD sales in the US last year for the first time since 1987.
Consumers bought 41.3 million vinyl records in the States in 2022, compared to 33.4 million compact discs.
That wasn't just due to the surging popularity of vinyl; it had to do with the declining popularity of CDs as well.
Revenues from vinyl jumped 17.2% YoY, to USD $1.2 billion in 2022, while revenues from CDs fell 17.6%, to $483 million.
Yup: Vinyl now generates more than double the annual cash that CDs do in the States (see below).
---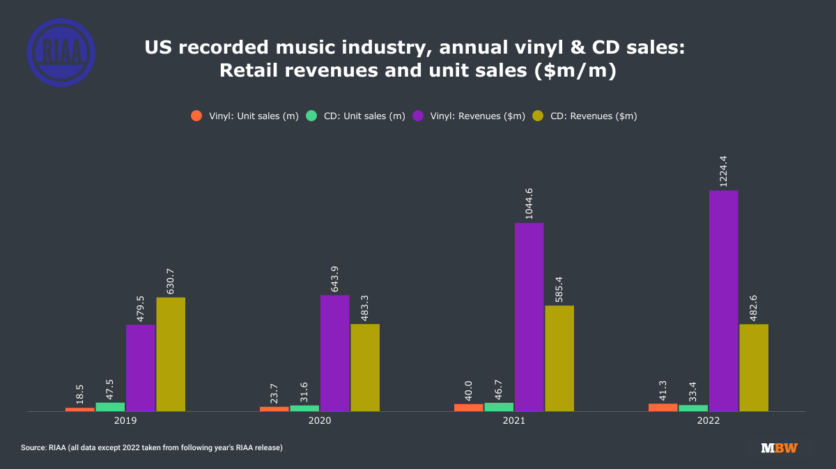 ---
This might not come as a surprise – after all, CDs have been a dying technology for decades, first thanks to the iPod and downloadable music files, and now thanks to streaming services like Spotify, Apple Music and YouTube Music, which in 2022 accounted for 84% of recorded music revenues in the US.
Meanwhile, vinyl has become old-school cool, propelled at first by the staying power of the format among nightclub DJs, and now popular even among those who don't jam to house and techno.
Yet new research from music sales data company Luminate sheds new light on what actually happens to this vinyl after it's been purchased.
In the company's recent "Top Entertainment Trends for 2023" report, Luminate found that "50% of consumers who have bought vinyl in the past 12 months own a record player, compared to 15% among music listeners overall."
Naturally, this also means that 50% of vinyl buyers… don't own a record player.
(These findings, premiered at SXSW by Luminate CEO, Rob Jonas, last month, were based on 'wave 2' of a 'Music 360' survey, which saw over 3,900 US-based respondents surveyed.)
---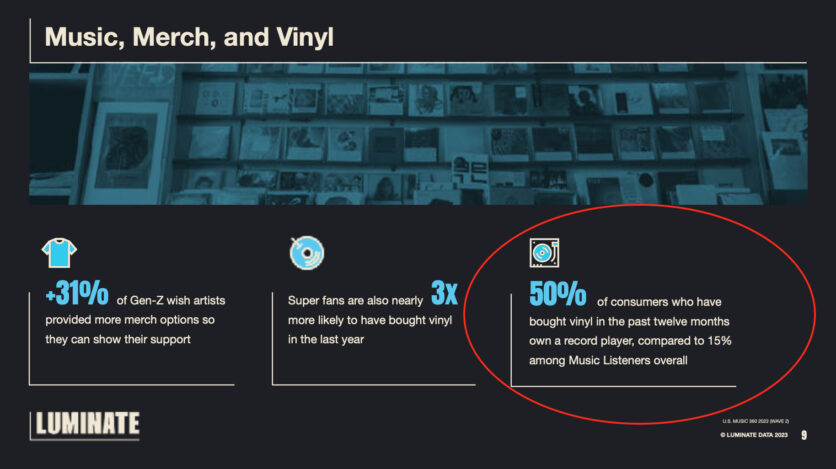 ---
So what, exactly, is going on here?
This isn't the first time market researchers have noticed a distinct disconnect between vinyl purchases and turntable ownership.
In a 2016 survey, ICM found that 41% of vinyl buyers own a turntable but don't use it, while another 7% said they don't own a turntable at all.
So vinyl records are… decorations? A new version of a wall poster?
Yes, but it's more than that. For many vinyl buyers, it's as much about seeing and touching the music they like, as much as it is about listening.
In 2016, in response to the ICM poll, the BBC went to a UK record store and found a customer who bought vinyl but didn't own a record player.
"I just collect them and put them on my wall, I think it looks great," student Jordan Katende told the Beeb.
He added: "I literally do it based on how it looks, or if I feel like I have a connection with the artist… If I think it'll look good on my wall, so be it."
There's also the gifting market to consider, of course: People buying vinyl not for themselves, but for their friends and family on birthdays and other special occasions.
Perhaps the most discussed driver behind vinyl's rise in music biz circles, though, is the so-called "superfan".
In a 2020 interview with The Times of London, Rob Crutchley of the UK music trade industry group BPI said "superfans" were powering a "buy-to-own rather than buy-to-listen" trend.
"A proportion of people are buying vinyl because they're a superfan, so even if they don't actually have a turntable they're still keen to support the artist and have the artifact itself," he said.
"Sometimes it can be because they're catalog titles that are being re-pressed in a new edition — maybe a run on a different colored vinyl — other times it might be a new title that has a limited press on a certain format."
---
In its 2023 report, Luminate defines superfans as "music listeners who spend above average (median) time AND money on music, actively discover new music, participate in music-related activities on social media, and plan on attending a live music event in the next 12 months."
Three core behaviors set these 'superfans' apart from others, Luminate found:
First, they engage in social signaling (i.e., they want people around them to know about their passion for a particular genre or artist);

Secondly, they view music as an expression of their identity;

Thirdly, they engage in a community centered around music.
All of which suggests that the music industry could make serious money off of superfans' love for vinyl in the coming years – regardless of whether or not they end up playing the format on a turntable.Music Business Worldwide