The UK's music sales figures for 2016 are in.
And while on the surface there's good news, there are some serious warning signs for the British industry to take into account.
We'll get to that in a minute. First, the annual lancing of self-evident madness.
The BPI has just issued stats telling the world that the UK's recorded music business rose 1.5% last year in volume terms. Bust out the bunting?
Unfortunately, this figure refers to the trade body's 'track/streaming equivalent album' method – whereby the volume of single-track downloads and streams are backwards-converted into 'album sales' via a completely made-up metric. Like, completely made up.
As MBW has said before, there is no more point to this idea than measuring your daily communication in 'email-equivalent faxes'.
As much as you can see why the BPI does it – to Pritt-Stick together two incompatible eras of music listening – it is a silly and confusing attempt to cling on to increasingly old-world market indicators.
Which all means our only sane option for useful analysis is to break out each music format's performance from 2016, cross reference it with what happened on the year-end charts – and then examine what this might mean for the future of the domestic UK business.
Conclusion: whether it's Rag'N'Bone Man, Anne-Marie, Dua Lipa, Calum Scott or someone we haven't heard of yet, the UK music business desperately needs a fresh star to make a major impact on its pop charts this year.
It's also got to face up to three very difficult questions: (i) When should it give up on the artist album?; (ii) How can the streaming charts be made more 'British'?; and (iii) Will it soon be time to put the Official Singles Chart out of its misery…?
---
1) When SHOULD the UK music business give up on the artist album?

Hands aloft: by even asking this question, we're in Devil's Advocate territory. Yet it's increasingly looking like a poser which deserves serious contemplation.
The evidence: the biggest selling album of last year in the UK was a hits compilation – Now That's What I Call Music! 95.
In fact, all three of the best-selling new albums released in 2016 were Now!-branded (with 93 and 94 nestling in behind their younger brother).
In terms of 2016's best-selling artist albums alone, the year's top two – Adele's 25 and Coldplay's A Head Full Of Dreams – were released in 2015.
Just three of the year's Top 10 biggest-selling artist albums were issued in 2016 – led by Alfie Boe & Michael Ball's Together at No.3 – and two of them (David Bowie's Blackstar and Elvis Presley's The Wonder Of You) were from artists who are sadly deceased.
Talking of which… shall we sensitively deal with the age thing?
"By MBW's calculations, the average age of artists behind the UK's Top 10 albums last year was 44."
By MBW's calculations, taking into account posthumous ages in addition to various band/duo members, the average age of artists behind the UK's Top 10 albums in 2016 was… FORTY FOUR.
As John Lydon once said: 'If there's not a rebellious youth culture… there's no culture at all.'
Bear in mind that the more youthful artist albums in the Top 10 were lifted by the Official Charts Company's decision to convert streamed tracks into album chart sales (see: self-evident madness, above) – namely Justin Bieber (22), Jess Glynne (27), Little Mix (24) and Drake (30).
So what of those people still buying albums? No getting around it: swathes of them are either switching to streaming or stopping altogether.
UK album sales (across vinyl, digital and CD) have been slashed in half since 2008 – down to 68.6m last year.
They fell 15.7% in 2016, with CD sales dropping 11.7%.
Digital albums plummeted by almost a third (-29.6%) in the year to their lowest point since 2009.
As for vinyl, it jumped 52.6% last year to 3.2m sales. Welcome news, but still largely insignificant – making up just 4.7% of total CD/LP/digital album sales.
"Ah!" we hear you exclaim. "That's because you're sifting through the ashes of yesterday's music industry. Streaming will completely dominate this market over the next few years."
Gold star. And it's great news for companies with huge catalogues.
As for those basing their businesses on breaking new domestic artists? That's where things get a bit scary…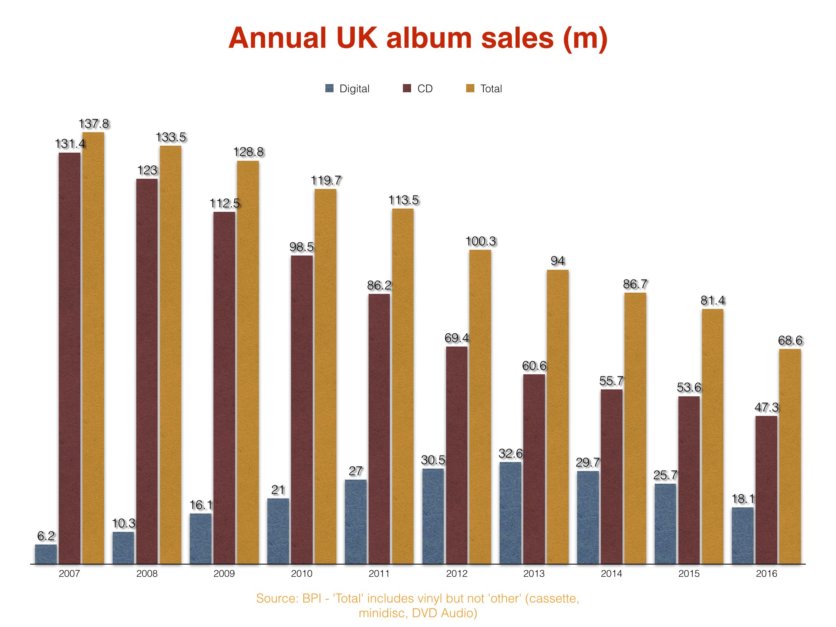 ---
2) Can anything be done to make the streaming charts 'more British'?

While audio streaming volume jumped 67.5% in the UK 2016, its annual growth in the market is actually starting to slow – down from +81.1% in 2015 and +97.3% in 2014.
Nothing terminal about that – its growth can't keep doubling forever.
Yet it's worth considering that the US is not suffering the same loss of velocity, with audio streaming volume leaping 82.6% in 2016 (and subscription streams more than doubling, up 124.2%) according to market monitor BuzzAngle.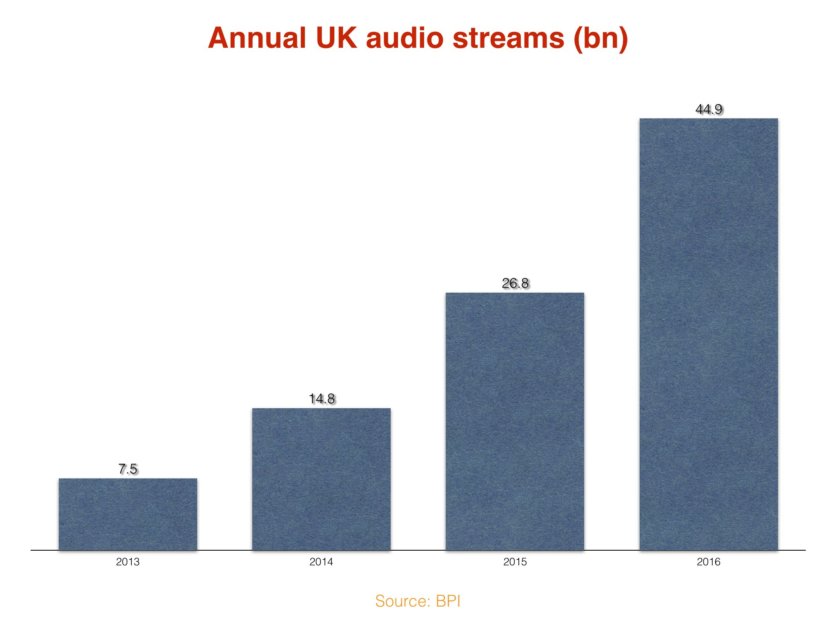 More worrying for the British music business is the near-complete dominance of the streaming charts by non-UK artists.
The Top 4 most-streamed artists of the year in the UK (not including YouTube) were from North America: Drake, Justin Bieber, Rihanna and Kanye West.
Only two UK artists made the Top 10: Coldplay at No.5 and Ed Sheeran at No.9… and neither of them released a new album in 2016.
Likewise, the Top 4 most-streamed songs of the year in the UK (again, not including YouTube) were from non-British artists: Drake's One Dance, Sia's Cheap Thrills, Mike Posner's Took A Pill In Ibiza and Lukas Graham's 7 Years.
The most painful stat: No less than nine-and-a-half of the Top 10 most streamed audio tracks in the UK last year came from non-UK artists.
That's 'and-a-half' because there was one Brit in the mix: Calvin Harris's This Is What You Came For (feat. Rihanna – the other half) was at No.5.
Here's an interesting fact about Calvin Harris (pictured): in September, The Sun reported that he was giving up on the idea of recording albums and instead focusing on perfecting a regular string of single releases.
"Calvin has always been a forward-thinker and believes just releasing singles is the way forward," said a source. "Albums are time-consuming and limit artists to cycles rather than having a persistent presence in the charts."
We refer you, once again, to 'Devil's Advocate' question (1).
---
3) WILL IT SOON BE TIME TO PUT the UK singles chart OUT OF ITS MISERY?

Oh dear, oh dear, oh dear.
While we're in the mood for bold questions… the Official UK Singles Chart is looking in dire need of revolution. Or, you know, Dignitas.
We've covered its deathly dull, sluggish nature before. Things are now going from bad to worse.
Last year, there were 11 No.1s in total (including Justin Bieber's Love Yourself, which had already hit the summit in 2015).
Eleven songs. That's less than half the number of separate chart-topping singles seen a year before (24), and less than a third of those recorded in 2014 (38).
Going further back, it's the lowest tally of No1 singles for six decades – since 1954.
If 2015/2016's descent continues this year, the UK will have five Official No.1 Singles in 2017. Five!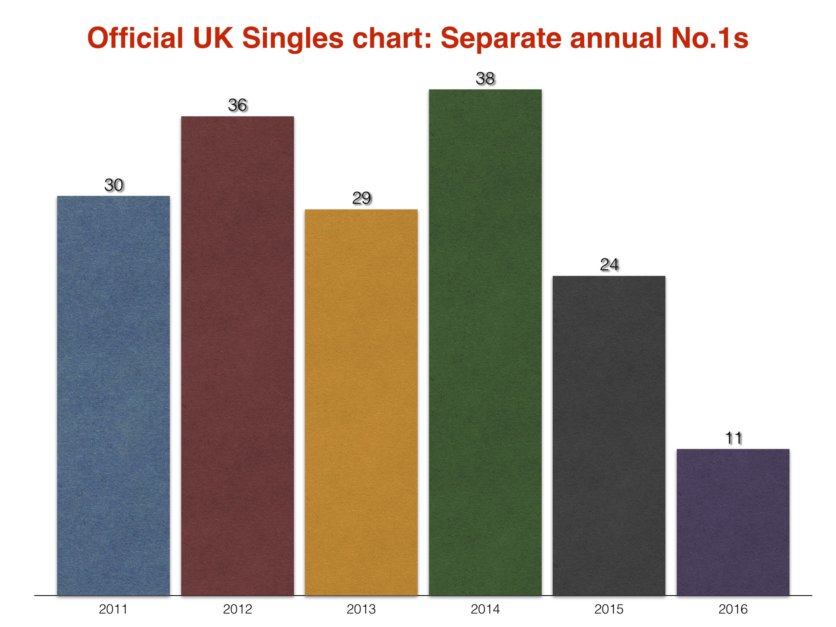 The reason for this slow churn at the top is, of course, streaming's mutating dominance – and download's shocking collapse.
No surprise, then, that the Official Top 10 Singles list of 2016 was largely identical to its Most Streamed Songs list. Once again, Calvin Harris was the only Brit to make the cut.
That's because in a typical week, around 80% of UK singles chart 'sales' in 2016 actually came from streaming services where, as we've already seen, British tastes veer strongly towards non-UK artists.
Towards the end of 2016, the Official Charts Company attempted to boost the download's power by increasing the ratio of streams required to achieve a single 'sale' by 50% – from 100:1 to 150:1.
In doing so, it visibly put the download on life support. The numbers suggest it won't make much difference.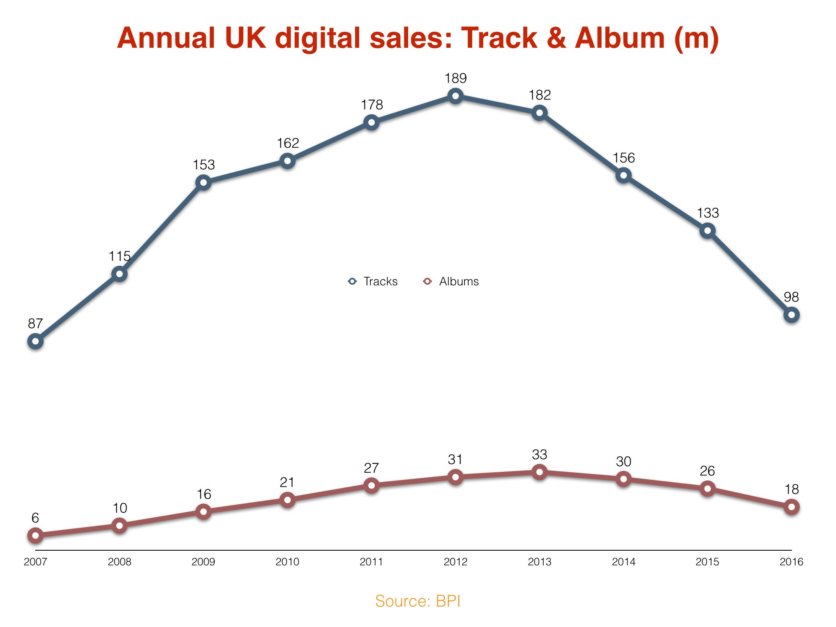 Last year, says the BPI, track downloads fell by 26.2% to 98m. Just four years prior, in 2012, almost double this number (189m) were purchased.
At this rate, in 2017, total UK track downloads will fall to somewhere around 70m.
Reverse engineering the Official Singles Chart 150:1 sales 'equivalent' metric, this will equate to 10.5bn chart eligible streams.
In December 2016, says the BPI, the UK started streaming tracks a billion times every week.
One will live, the other will die.
As we've seen in territories such as Sweden and Norway, is a question of when, not if, the download flatlines into irrelevancy.Music Business Worldwide