Sony Music has for the first time broken down its global recorded music income by format – with streaming comfortably ahead of download.
The new figures only cover the three months to the end of December last year worldwide (calendar Q4), which perhaps explains why physical music was able to take a 45% share of total revenues.
"After 15 years of decline, we see signs that the [decline of the] music market is finally bottoming out due to the rise of streaming services such as Spotify and Apple Music."

Kenichiro Yoshida, Sony Corp
Digital income stood at 43%, with streaming taking a 24% chunk of the overall pie and download revenues contributing 19%.
The 12% 'other' you can see below covers licensed revenue (public performance, broadcast and sync), as well as merch and live income from 360 deals.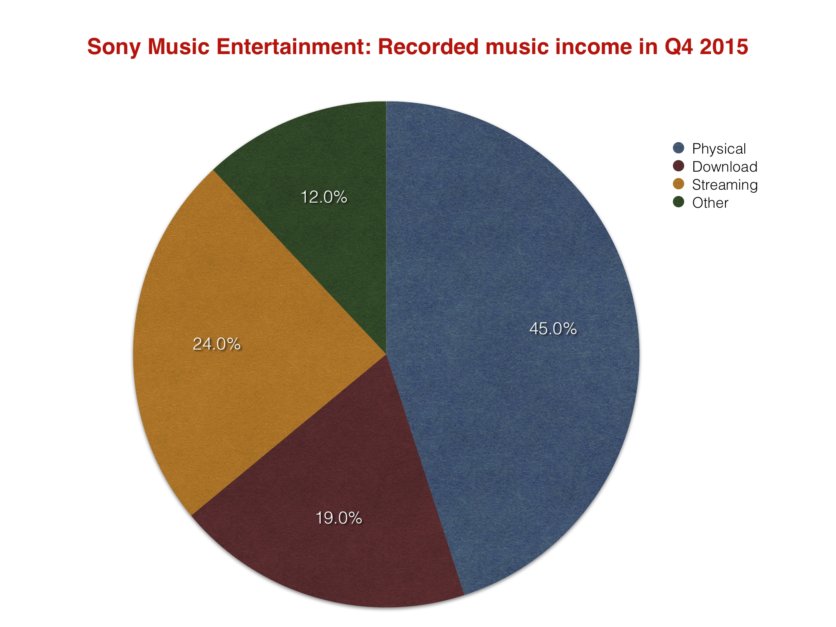 In the same quarter of the prior year (2014), physical music took 50% of Sony's recorded music income, with digital on 38% and 'other' once again on 12%.
Sony Corp Executive Deputy President and CFO Kenichiro Yoshida told investors on Friday (Jan 29): "We are [seeing] quite significant momentum in music streaming.
"Because of that, we see signs that [the decline] of the music market is finally bottoming out due to the rise of streaming services such as Spotify and Apple Music after 15 years of decline."
Kazuhiko Takeda, SVP of Sony's Corporate Control Department; added: "We're very positive [about] the growth in the streaming market. To some extent, it's replacing the download business, but the growth is positive.
"We expect it to keep going and accelerate… we expect [Sony's] Music business to be on the rise again."
---
A true like-for-like comparison with Sony's fellow majors is difficult as both Vivendi/Universal Music Group and Warner Music Group are yet to report their financial results for the three months to end of December.
However, here's a very rough at-a-glance juxtaposition, covering the first nine months of 2015 for UMG, Sony in Q4 of that same year, plus the full 12 months to the end of September 2015 for Warner.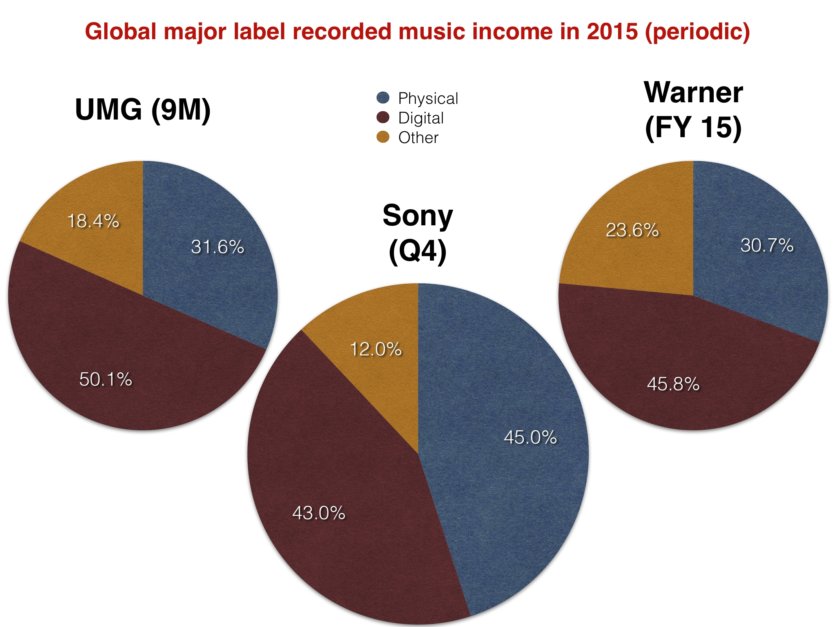 (Until UMG and Warner's Q4 results are known, this should be taken as a very rough comparison. Warner's 'FY 15', remember, covers the 12 months to the end of September last year. Other factors complicating matters include the fact that Warner reports the revenue of its artist/label services division in 'other' alongside 360-deal revenue. Also, Universal's digital share (50.1%) may be flattered by the fact the nine months here doesn't include any Christmas/Q4 period – while Sony's numbers are completely reflective of Q4 2015.)
---
Sony has also revealed the ten records which attracted the most revenue into its company in the three months to the end of December last year.
They were, predictably enough, led by Adele's 25.
Sony, via its Columbia label, issues the record in the US – where it sold 7.44m copies in six weeks alone in 2015.
Adele, 25
One Direction, Made In The A.M
Elvis Presley, If I Can Dream: Elvis Presley with the Royal Philharmonic Orchestra
Bruce Springsteen, The Ties That Bind: The River Collection
Little Mix (pictured), Get Weird
Carrie Underwood Storyteller
Pentatonix Pentatonix
Bob Dylan The Cutting Edge 1965-1966: The Bootleg Series, Vol. 12 (Bootleg Vol. 12)
Chris Brown Royalty 12/18/2015
ELO Jeff Lynne's ELO – Alone in the Universe
---
Total sales across Sony's Music division increased 8.2% in the final quarter of last year, the company's Q3, to 181.2 billion yen ($1.51bn) primarily due to the impact of the depreciation of the yen against the U.S. dollar.
At constant currency, this figure was up 4%.
It includes Sony's recorded music sales, in addition to its 50% share of Sony/ATV's publishing activities and 'Visual Media and Platform', which involves includes various service offerings for music and visual products and the production and distribution of animation titles.
Operating income in the division increased 1.5 billion yen year-on-year to 27.4 billion yen ($228 million).Music Business Worldwide